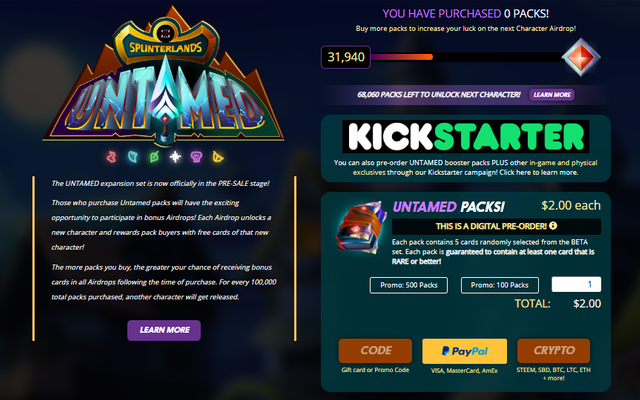 ---
I don't believe there's one Splinterlands player out there, that missed the announcement
But just in case, let's also link the announcement post from @steemmonsters that gave the kick-off for the Splinterlands Untamed Kickstarter Campaign where you can pledge for all kinds of cool stuff, but most importantly: get packs from the brand new Untamed collection!
---
I'm certainly very curious to see the new cards that will be released in the Untamed packs
Because new cards are just cool, and especially because we will now finally get a complete different series of cards that you can play with. This will be a game changer for every player out there. I'm sure the pros in the top rankings will quickly adapt their gameplay to beat even the new collection of cards, but I'm sure a lot of us players will need to practice a lot before getting used to all these new possible cards in your opponents team. It's not that they are releasing 1 card at the time, but as far as I understand this will be a complete new collection out there. Although I will probably lose quite some battles, I'm also very excited to "start over" with a bunch of new cards. Because it kind of feels like partially starting over.
---
The Kickstarter campaign for Untamed comes with many cool perks
Real life cards, t-shirts, a book or maybe even your name mentioned in the game, there are quite a few cool packages out there for those that want to pledge. Check out the campaign for yourself in case you haven't done that yet. Maybe you've always desired those physical cards, they probably will be real collectors items... In case these pledges aren't for you, did you know that you can pre-order the Untamed card packs already? The same way as you bought the beta packs before they ran out.
Unlock characters and receive airdrops!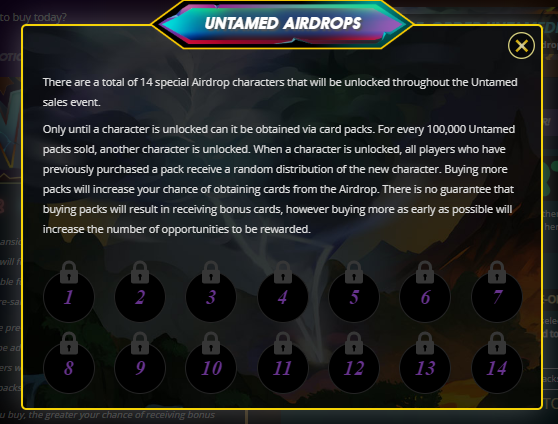 If you login to Splinterlands and click on packs you will see this info below: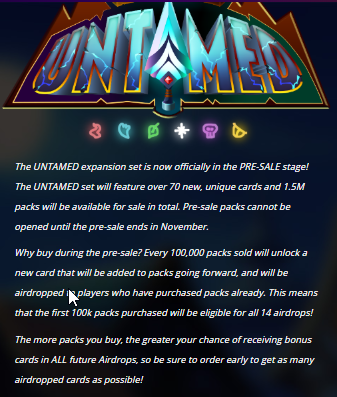 @aggroed explains it a bit more in the Splinterlands discord server as well: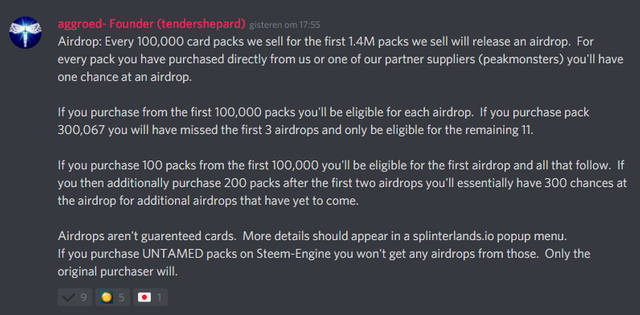 So, the sooner you buy some packs, the more chance you have getting a new character airdropped in the future. I also read that at this moment some legendary summoners have been unlocked as well. That makes me super excited, because the last round of legendary summoners, I received 6 of them and one of them was the GFL Prince Rennyn. Hoping for the same luck this time..
Great to see how quickly the new collection got announced, I hope I will be able to play with the new cards soon.
~Anouk
---
Do you like my Splinterlands content, but you don't have a Steem account yet to battle in the Splinterlands? Please use my referral link to sign up for this awesome game on the Steem blockchain! When you buy the starter pack, you get the Steem account for free, meaning you can also start earning by writing content on Steemit.