Splinterlands Lunch VOUCHERS

I just took my wife out to a new restaurant which opened up down our street.
It was yummy Syrian style food - Asuto beef and vegetables baked into a pastry.
I am not a food blogger or a Millennial so I haven't got didn't originally get a photo of it - but it is yummy in my tummy!
[UPDATE] I went back for lunch today and remembered to take a photo.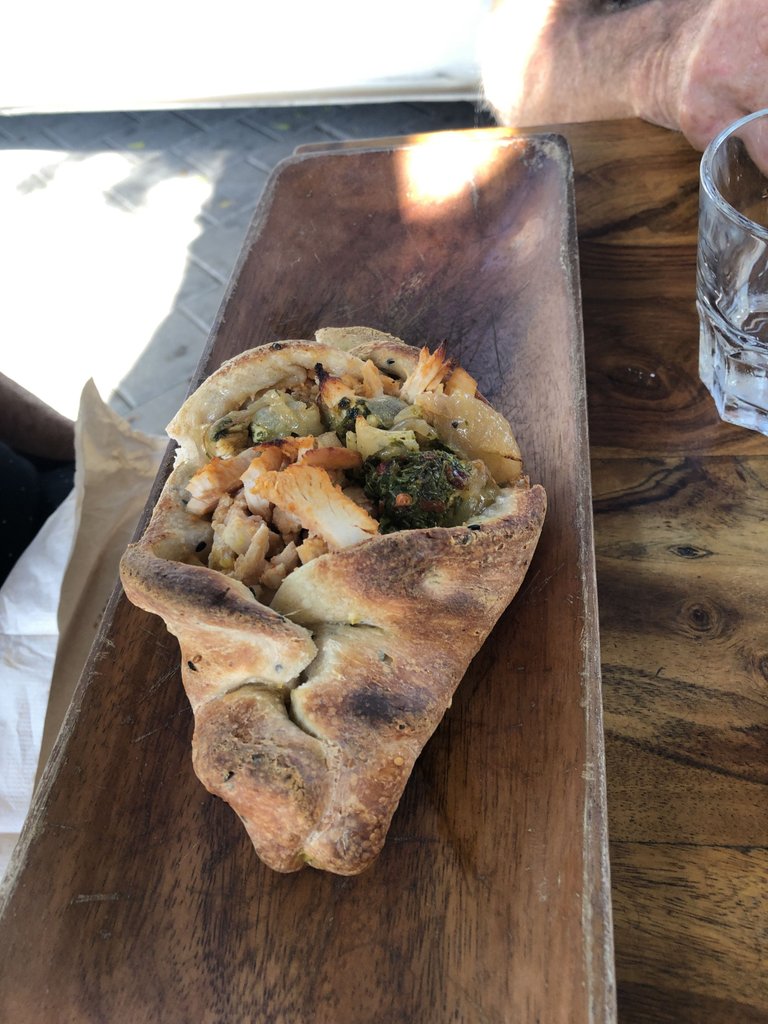 It looked a bit lot like this, but better, with pulled Asuto rather than mince chicken.
What was particularly special about the lunch is that I paid for it using two Chaos Legion VOUCHERS.
Earlier today I had decided to sell a very small proportion of the largesse that God has bestowed upon me via the good graces of Splinterlands.
I sold some Chaos Legion Vouchers on Hive-Engine for about $19 each then bought SWAP-LTC with the proceeds.
I then withdrew the SWAP-LTC to my Crypto.com account, topped up my Visa card in SGP with the LTC and paid 122 NIS ($38) for lunch.
That's 2 VOUCHERS for a tasty lunch for two!
I chose LTC because it has good volume on Hive-Engine, has relatively low fees for on-chain transfers and I can top up my Crypto.com card with it directly.
I think this is an important demonstration that Splinterlands assets are not funny or fantasy money (even if they have fantasy names).
With just a few clicks I turned a fairly esoteric token that I have a hard time even explaining to normies into succulent food.
Despite the conversion of VOUCHERS to food involving intermediate swaps to 5 other currencies (HIVE, SWAP-LTC, LTC, SGP, NIS) I did a quick calculation and I seem to have only lost a few percent on all these conversions combined.
So Thank You Splinterlands, Hive-Engine and especially @aggroed, @yabapmatt and the team: May God bless you and you continue to go from strength to strength.
---
Please vote for my Hive witness. (KeyChain or HiveSigner)
---
---