Hey Splinterlands fans
So the end of the latest season has come and gone and I managed to reach gold 3, which isn't the best finish but it scores me 22 cards. I managed to get 3 gold cards out of it, so it wasn't a bad pull for a season.
My deck is now worth just over $250 should I cash it in and I intend to build on it since it seems to be the only thing in the STEEM ecosystem still holding its value.
Now I'd like to streamline my deck and build towards a better finish next season.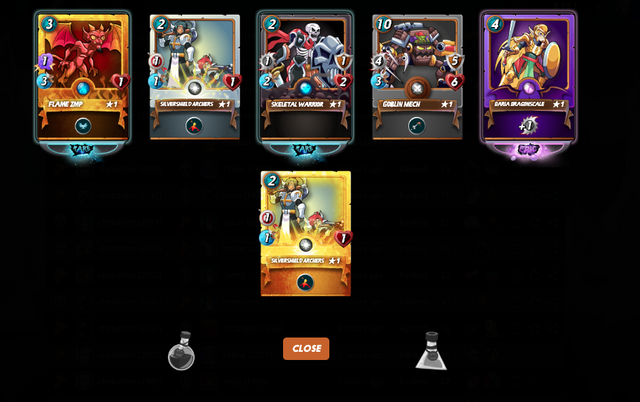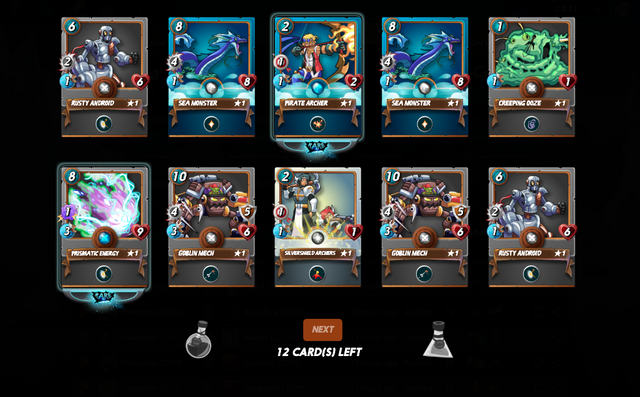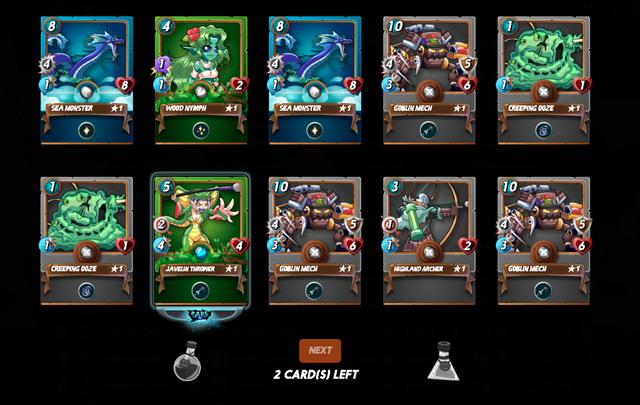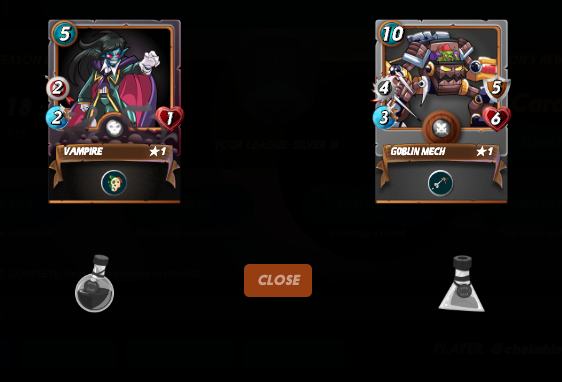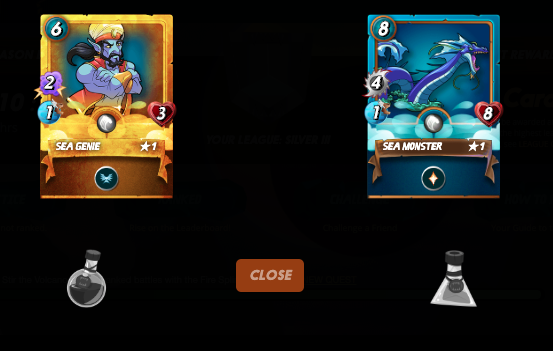 Let's swap
I'm trying to build a stronger deck to compete and levelling up monsters is the only way I'm going to get there so I'm keen to swap and perhaps help each other level up our monsters.
Cards I'm keen to move on
NAGA FIRE WIZARD - 8 available
EXPLODING DWARF - 27 available
IMP BOWMAN - 5 available
SEA MONSTER - 23 available
PIRATE ARCHER - 12 available
WOOD NYMPH - 26 available
MUSHROOM SEER - 9 available
JAVELIN THROWER - 3 available
SILVERSHIELD ARCHERS - 29 available
VAMPIRE - 27 available
UNDEAD MINOTAUR - 30 available
HIGHLAND ARCHER - 47 available
RUSTY ANDROID - 22 available
CREEPING OOZE - 17 available
GOBLIN MECH - 42 available
HOBGOBLIN - 14 available
Cards I'm keen on
I'm looking for any of these cards so i can level up my monsters. If you have any spares laying around I'll be willing to take them off of your hands
UNDEAD PRIEST - 2 more to level up
PHANTOM SOLDIER - 2 more to level up
MANTICORE - 1 more to level up
BLACK DRAGON - 1 more to level up
RULER OF THE SEAS - 1 more to level up
SILVERSHIELD BARD - 1 more to level up
MERMAID HEALER - 1 more to level up
PIT OGRE - 1 more to level up
CLAY GOLEM - 1 more to level up
LORD ARIANTHUS - 1 more to level up
TWISTED JESTER - 1 more to level up
Are you stil playing splinterlands? If not why have you given up? Why not lease out your deck if you don't plan on playing.
Let's connect
If you liked this post sprinkle it with an upvote or resteem and if you don't already, consider following me @chekohler


---
| Buy & sell STEEM | Donate LikeCoin For Free | Earn Interest On Crypto |
| --- | --- | --- |
| | | |