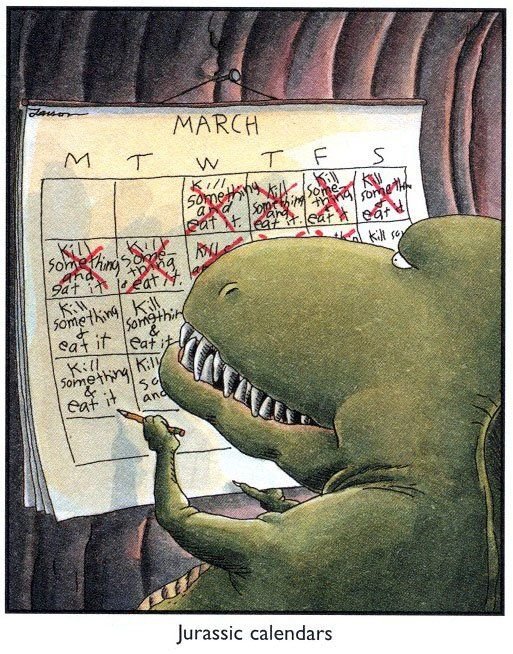 The Far Side - by Gary Larson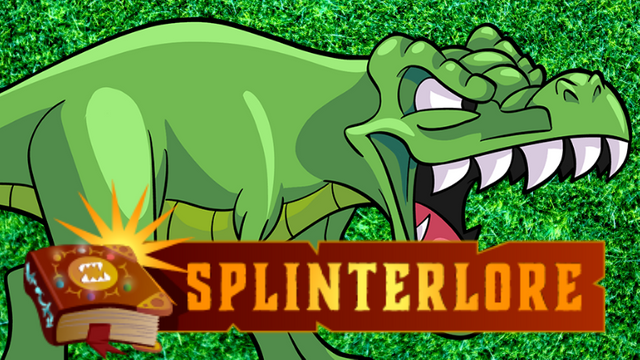 ---
Rexxie
Splinter - Anumün
Class - Tank
Size - 2750 Chickens
Lifespan - For their immense size, Rexxies live comparably short lives to other monsters. By its mid twenties, a Rexxie usually has rickety, failing joints, and if still alive by thirty, it is unable to walk. Thanks to territory battles, Minotaur hunts and other poaching, few Rexxies ever make it to their natural end. Some Khymian activists have complained that the mere shock of summoning a Rexxie to a Mount Mox tournament battle is enough to shorten its life by as many as five years.
Weapon - Rexxies make use of tooth and claw in their attacks when necessary, but enemies are usually trampled to mush by their huge footfall. In the open of Anumün, Rexxies only attack when their territory is invaded, but those in the Grasslands tend to careen vigorously toward any motion whatsoever.
Habitat - Rexxies originate and thrive in the Giant Grasslands of Primordia, where they can hide in the deep grasses, but they can travel wherever they please in the Splinter. The are much more comfortable in their home territory of Primordia than in the open of Anumün, even with the added challenge of constant Minotaur hunts. If they approach the villages of Humans or Goblins too closely, Rexxies are in danger, for they are feared and hated by the people of Anumün.
Diet - These beasts eat anything they can get their teeth around, with a strong emphasis on meat. The fly-ridden piles of Rexxie droppings sometimes can be seen from a distance, towering above the tallest grasses of Primordia. This fact suggests that Rexxies eat even more than necessary for survival, which could also explain their ever-growing numbers.
Allies - Rexxies have no specific alliances. They kill and eat indiscriminately, but the Spirit of the Forest is incredibly fond of them.
Enemies - Rexxies are especially repulsed by Dark Eternal Missionaries from Mortis. The mere sight of one can send a Rexxie into a blind rage. These beasts are usually considered unintelligent, but perhaps on some instinctive level the Rexxies understand what it means to be enlisted to the dark.
Pastimes - Sometimes Rexxies fight with one another over territory, but any day that they kill something and eat it is a good day. They also spend a lot of time scratching; life in the Giant Grasslands of Primordia is apparently very itchy.
---