I'm so happy Splinterlands is living up to all expectations and beyond. After I first discovered how the mechanics of the game work over a year back and caught the wave of addiction it can cause for a player, I assumed this would be a winning ticket for the STEEM blockchain. And it most definitely hasn't disappointed. The overall polish, slick interface and stylish graphics have gone on to mesmerize thousands more over time. Oh, I also forget to mention. You can earn crypto playing too!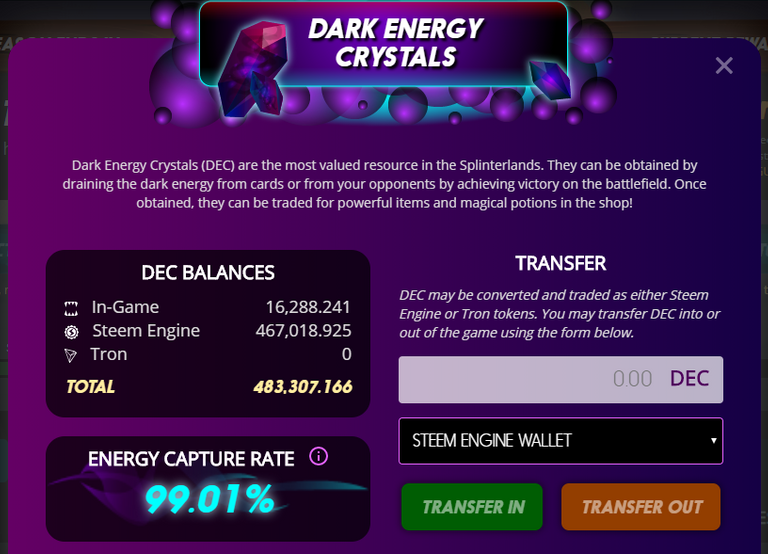 ---
There are, in fact, numerous ways to bag yourselves some tidy remuneration whilst interacting on the Splinterlands platform, however I'll only be referring to one of them in particular. Thanks to the introduction of in-game currency DEC, we've got a token which can be accumulated and traded straight on the Steem-engine platform too. But as more and more players arrive, so does the demand for the token. And it's certainly being reflected in the price.
First off, a big congratulations are in order for reaching a staggering $2.2 million marketcap for Splinterlands. Every dollar of it being a respectful testament to the hard work and dedication of @aggroed and @yabapmatt for putting together such an awesome product for us in the first place. But yeah, this is also causing DEC to go up in price. I checked Steem-Engine yesterday and saw it reach the an incredible 0.306 STEEM! Awesome! I managed to buy my stash of DEC at around the 0.23x to 0.24x range. But given the potential player base as well as the limited supply of tokens, this price could easily go much higher.
It's crazy because Splinterlands is fast growing it's own unique community, separate even from Steemit itself. It's only a matter of time until we get organised Splinterlands events that will attract players from all around the world, similar to the famous "Steemfest". I see an exceedingly bright future in this project hence reckon it also makes sound sense to invest in it too. The cards can very easily go up in value too in addition to the tournament rewards and, of course, DEC tokens.
I'm currently sitting at near half a million DEC right now and plan on only increasing that number. Hope you guys do the same, be it by acquiring new cards to upgrade your existing collection or simply participating in tournaments. What an killer Dapp we have on the STEEM blockchain. Just loving it!

Hope you enjoyed this post, please look out for more on the way... (author: @ezzy)
---