Card Giveaway #3 Dygycon edition!
I hope you all enjoyed Dygycon!
Did you find all 21 hidden objects? I did but man was it infuriating!
Did any of you try to catch the biggest fish and tweet it out for the special badge? I caught one or two but I got really bored sitting and waiting to click "catch" 50 times only to be greeted by the same stinking fish... I also despise twitter so between those two things I really didn't see a point.
But enough chit chat lets get to what you all came for!
Today's card is... drumroll...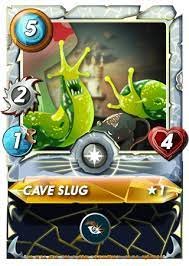 Cave slug!
Cave slug is a great beginners card from the life splinter. I like this card a lot. I use it fairly regularly and I wonder what you all think about it?
Rules!
Same as always you have to only post a comment below and say "I want it" or "sign me up!"
Upvotes, likes, and reblogs are not required but I would be delighted if you would because every one helps me out!
To know if you're the winner tune in live tomorrow night at 7PM EST to my livestream on youtube.
My Youtube channel is located here https://www.youtube.com/channel/UC8rqniwH1nzaeGOP1-1cNXQ
Subscribe to my account here on peakd.com to know whenever I post a new giveaway and subscribe to my youtube to know whenever I go live!
Now for the winner of the last giveaway of the wizard of eastwood was
Giemo!!! Sorry I totally spaced again on taking screenshots but I did indeed send him his winnings!
All right everyone tune in next time for the next giveaway!
---
---