Welcome to another Steem Monsters giveaway!
Say what you will about the fighting ability of the Vampire, one thing everyone must conceed, he's a pretty debonair fellow. I mean who else in all the realms of the Splinterlands could pull off battleing in a cape and tuxedo? That friends is class!
If you haven't developed a high level Vampire yet, I'm here to help. I'm giving away this card to one lucky winner when this contest closes at post payout time.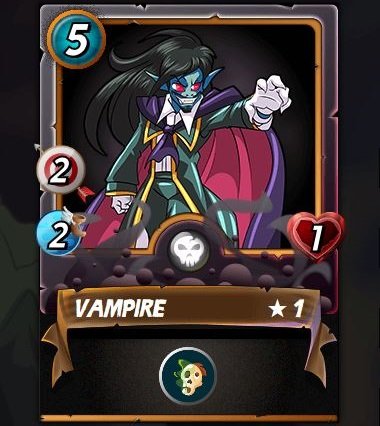 If you're just starting out and trying to build a strong Death Splinter deck, you need a powerful Vampire to drain the life from your opponent's monsters all while looking ever so dapper in the arena. But, if the Vampire doesn't fit into your master plan for Splinterlands domination, you can always send him to the melting tank and extract the 15 Dark Energy Crystals locked within the card.
The choice is yours, if you're lucky enough to win this giveaway.

How To Enter The Giveaway
For a chance to add this Vampire to your Splinterlands deck, just leave a comment with your Splinterlands account name. Only 1 entry per person. The contest will end at the 7 day point of payout for this post, when I will use a random comment selector to choose the winner.
Good Luck!

Be sure to check out my other Splinterlands giveaways:
Silvershield Archers Giveaway
Rusty Android Giveaway

I'm a proud member of