Let's play a simple game - Find the Splinterlands NFT Card ID and win DECs!!
Did you know?
Every monster card in Splinterlands is a NFT (Non Fungible Token) with a unique card ID. The card in your collection is unique and different from the other millions of Splinterlands cards even if they are the same monster, same edition or same level.
Every Splinterlands card has a unique card ID and it looks like this C3-79-UUT7TSLVN4
C3 represents the edition, in this case this is a Rewards card.
79 is the monster type, the Highland Archer
and UUT7TSLVN4 is a unique code for this particular card. It is a 10-character alphanumeric code that uniquely identify this card from the rest. The characters sequence is probably randomly generated and there can be trillions of possible combinations.
Let's play a game
So now you know that each Splinterlands card has a unique card ID and there are millions of cards out there in players' collections. Have you wondered if there are any card ID that contains a legitimate English word? I would like you to find that out!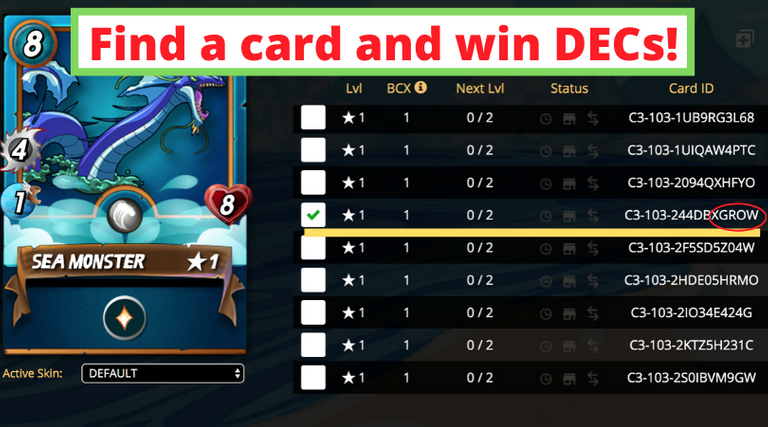 Take a look at this Sea Monster with a card ID that contains the word GROW in it. This is a valid English word, according to Oxford dictionary.
Now I challenge you to find a card that contains an English word too.
Rules
Contains an English word in the card ID that is verifiable by using www.oxfordlearnersdictionaries.com
Minimum number of length of word is 4
You must own the card. If you found it in the market, you should buy it!
Prize
4-letter word = 100 DEC (limited to the first 20 entries)
5-letter word = 800 DEC (limited to the first 5 entries)
6-or-more-letter word = 5000 DEC (limited to the first 3 entries)
Once you found a valid card, simply make a comment with this link so that I can verify it. https://steemmonsters.com/cards/find?ids=C3-103-244DBXGROW replace the id with your card ID.
So go out there and start card hunting now. Good Luck!
---
---