New untamed cards just came out and there are 70 of them and people are opening and
PeakMonsters is about to make an update to support all the new cards and changes.
So this is your notice that now that it's up we're making the final touches and will release our update soon as the developer is back at a computer (sometimes with time zones and real life it's hard to time things with what another company does)
... IN THE MEANTIME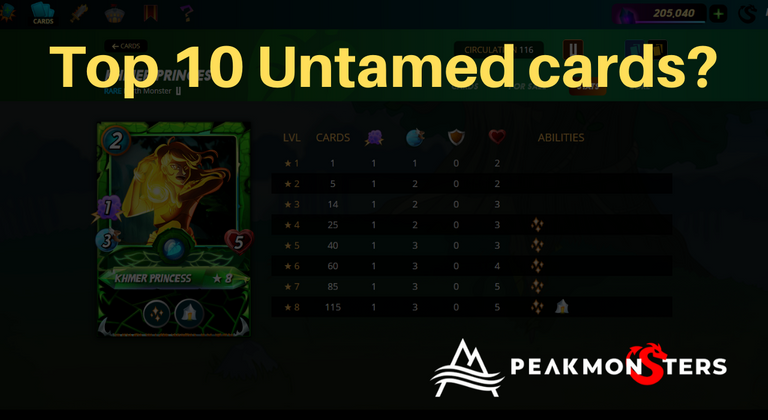 We'd love to know what you think the top 10 new untamed cards are... ranked.
@jarvie will give an example in this post of his quick assessment.
TOP 10 EXAMPLE
I have no way to know if this list is correct or if it will reflect on prices... but it's a fun thing to do. And we'll take other people's ranked lists and make an official pre-season MVP designation like ESPN or something like that.
My list is a PREVIEW before any game play happens.
One thing to note is that i'm analysing based on the full potential of the card ... meaning max ability. All of these cards reserve one amazing trait at max level. If you're not looking at that max level you'd get a VERY different top 10 list
#1 KHMER PRINCESS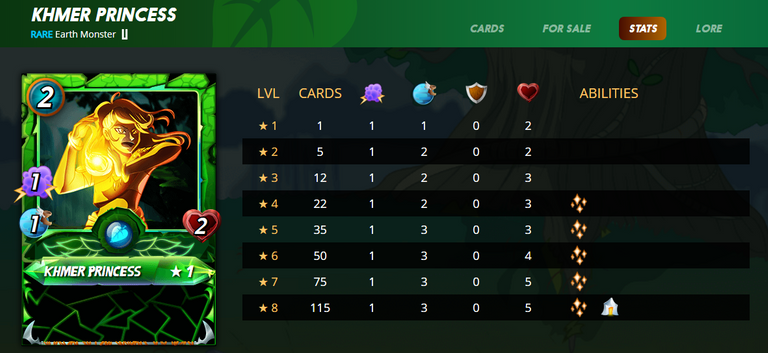 Already a decent number of people are guessing this is the most likely card to get nerfed (meaning a change to the stats to make it less powerful)
I would agree with those people... it seems like a great card but the issue is it's only 2 mana and that's the problem.
#2 CORNEALUS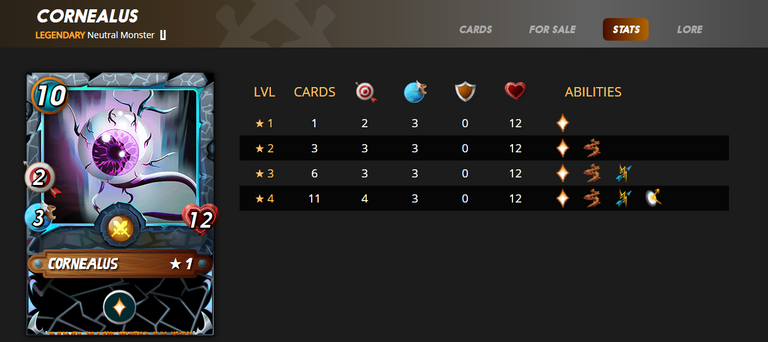 Another neutral card and another card people will build strategies around. It's like the powerful Lord A ... however it has quite the attack as well. Rerturn fire makes it perfect for the first ranged position. With big mana games this card may become a must have.
#3 CURSED SLIMEBALL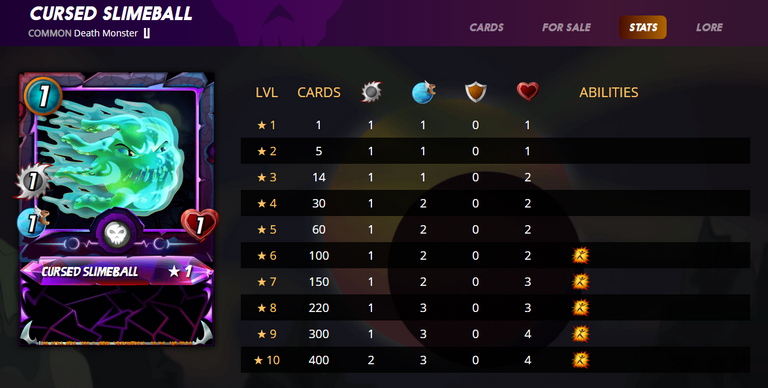 Here's the thing why would you want more than 100 of these cards... all you're really trying to do is level it up to get REPEMPTION and thus you almost want it to die and thus punish all enemy cards with -2.
That's why I rank it so high.
#4 SPARK PIXIES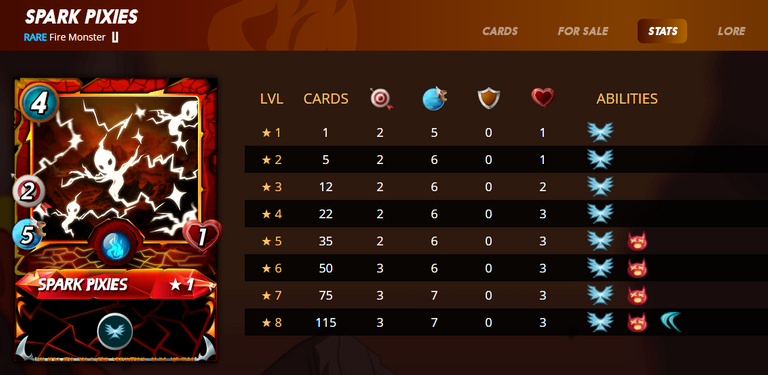 We already know the Cocatrice is a pretty poweful card. Well imagine having one that was ranged instead of melee, that was faster, another good card for earthquake games AND had stun which sounds like is gonna be an interesting card for untamed since several cards will have KNOCK OUT like the Kobold Bruiser and the Elven Defender. That's an amazing 1-2 punch putting this card with one of those two cards. And it's ability to dodge is just alround a great card.
#5 DARK HA'ON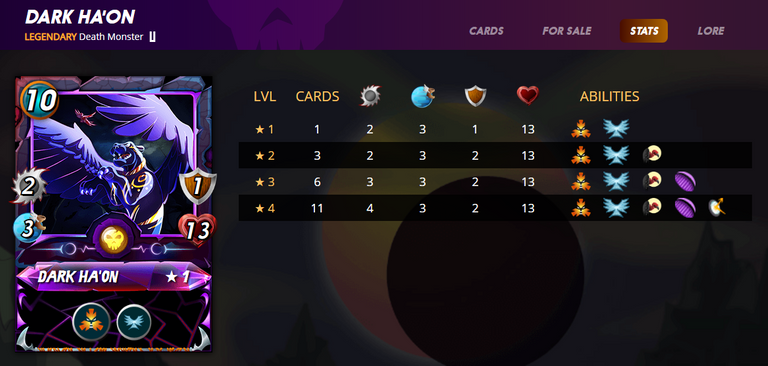 I feel like people are going to be able to develop really cohesive strategies around TAUNT. And this seems like one of the best new cards with Taunt. Sure it's likely only gonna get used in high mana games but it may be a staple of high mana games specially since other black cards will work so well with it.
#6 HORNY TOAD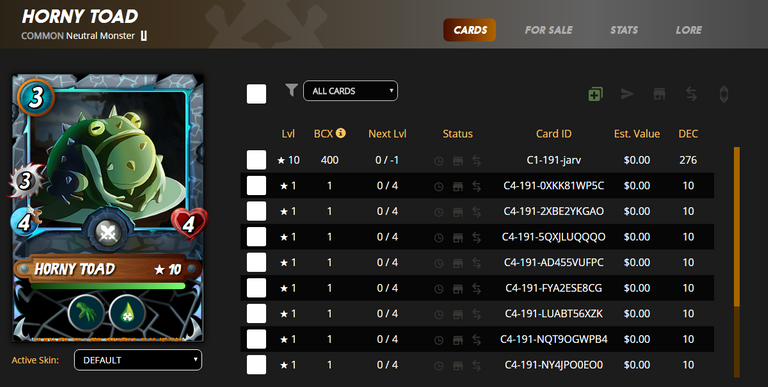 Neutral makes it valuable and also the fact that it's one of the only 3 mana reach cards. I feel like poison game is only very strong on Black splinter... therefore giving a low cost neutral poison is gonna be very desirable. It's also the lowest mana neutral this entire season... a season that is gonna see new 12,13 and 14 mana games.
#7 ALBATROSS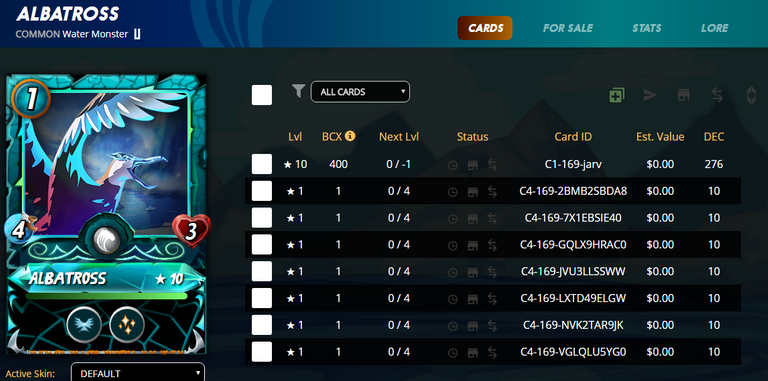 I think we've learned by now that all 1 mana cards are pretty popular and useful. With lower mana cap games it just gets even more useful. And heal is always a good card to have... people have designed multi-heal strategies on white splinter for a while and now we'll see more with blue now that there are THREE healing options just in blue with a 4th neutral option.
#8 Coral Wraith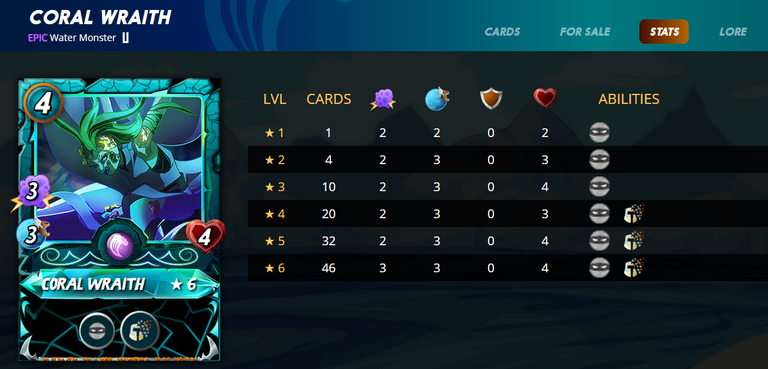 By itself it's a solid card that probably doesn't deserve top 10 placement but because it's a blue magic card and it's sneak I think it will be highly coveted. You can get a 4 sneak attack out of it with two different summoners 3 if you count archmage. Then the shark is also a 4 sneak attack and you've paved the way with the rust of this coral wraith. I think this is solid and even though it has a low HP I don't think you have to worry as much about that with a sneak card.
#9 SOULSTORM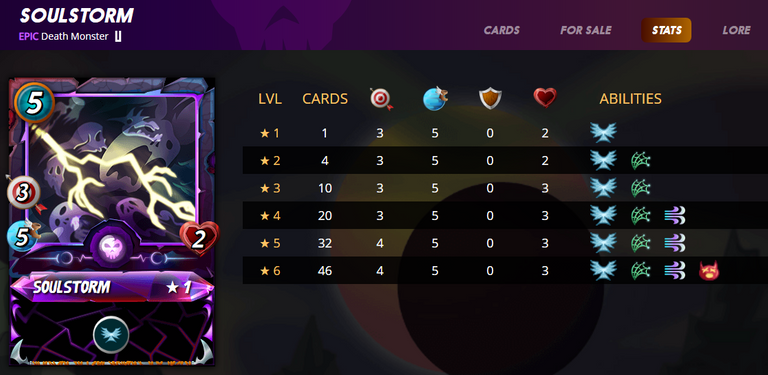 Cards that you kind of design an attack around rank high on my list. This one seems to decimate a team that you feel is gonna do ranged attack specially if you use the new black summoner then ranged doesn't have a change. But even if you're not against ranged you can likely hide this card pretty well and use it to stun pretty nicely or use it when all cards snipe. Also 4 abilities on an Epic is unheard of... and it's only 5 mana.
#10 SCALE DOCTOR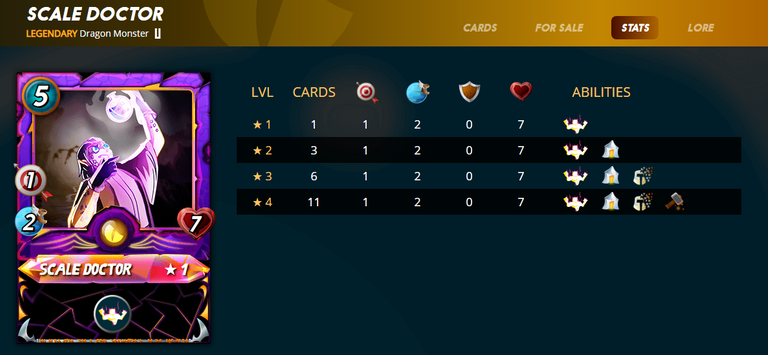 Compared to other 5 mana legendaries (which there aren't many) this is the one I'd want to use. It's great for playing the ARMOR strategy games and adding +1HP on all those dragon cards in high mana games which usually are games where armor are likely important.
To be honest i'm not sure if it deserves a top 10 ranking... but it was the most interesting dragon card so i gave it the final position.
---
HONORABLE MENTION
TORTISIAN CHIEF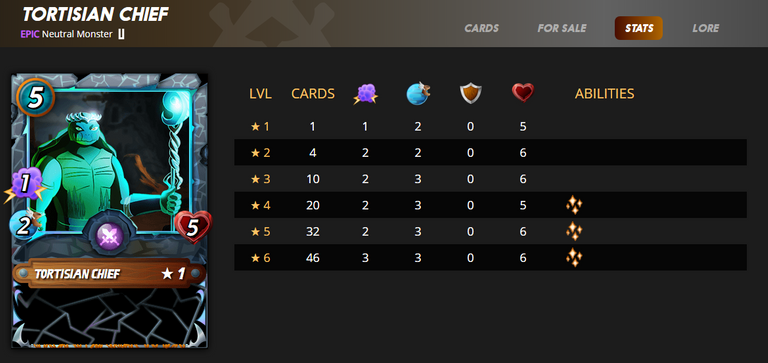 It's maybe barely on par with the magi sphinx in terms of stats (you get heal and loose one magic) ... but being the only neutral in the whole game that can heal I think it will be very desirable. Specially for those that want to do double heal or even triple heal.
ELVEN MYSTIC

Usually Neutral cards are some of the most in demand cards in the game... however I just happen to have a feeling that dealing with magic attacks will become more and more important so the ability to SILENCE or double silence will be very valuable. Not a lot of HP considering magic reflect but it should still last a while if it's protected from attack.
FAILED SUMMONER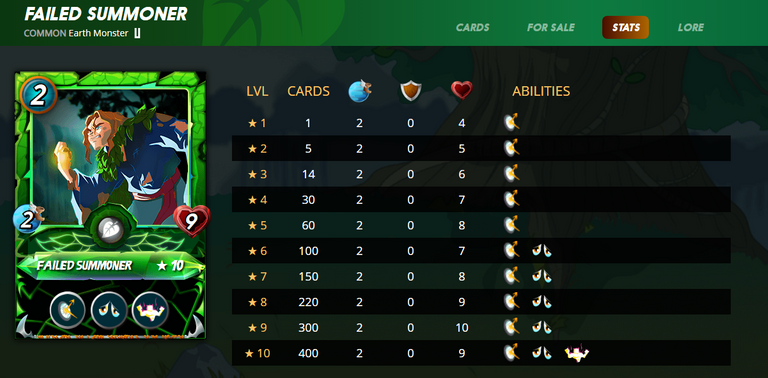 That's 2 new awesome 2 mana cards in the green splinter... they're gonna be amazing in low mana games. Not only does this card have high hp as do many other Green cards but it also has strengthen which means green has become even more the splinter of health. This card by itself is nice but because of it's splinter it for sure deserves honorable mention.
DEATH ELEMENTAL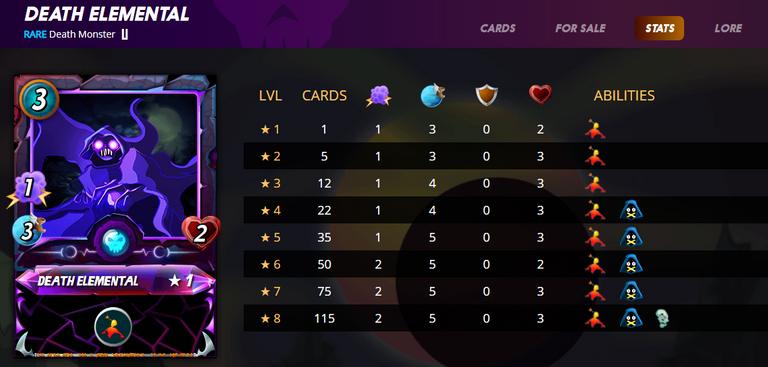 Silence, weaken and snipe altogether in one 2 magic attack card. It's pretty amazing. But you really have to hide it from getting attacked. If it didn't have snipe then magic reflect would probably make it somewhat useless like the fallen specter... but it's snipe so it has a bit more of a chance to survive and at least survive 2 rounds. I've said before it's gonna be interesting seeing teams with multiple silence cards when they feel the other team may be going magic. The neutral elven mystic makes it 3 different cards a black splinter could play that silence.
BONE GOLEM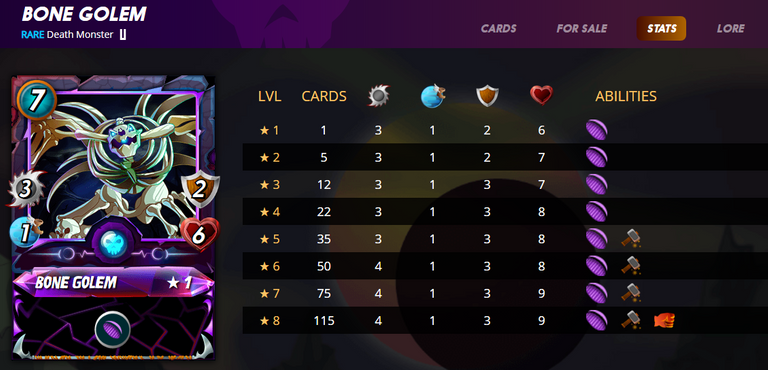 It has armor and then repairs it's own armor and is protected against magic with void. It's slow and will likely miss a lot and may not be the kind of card you actually want o put as a tank because of how much he may miss so he's gonna be ok but probably best in reverse speed games. I'm not sure how often it will actually get to use it... but probably a really great card for reverse speed or when you are ok to put a melee anywhere. It's 7 mana so it's not a cheap spend.
EDIT: I don't know if this one should actually be even honorable mention... it has some utility and specific use cases... but as a 7 mana card it's not particularly outsstanding. But I may be proven wrong.