Electric Traditional Jellied Eels - Splinterlands Weekly Challenge
Splinterlands keeps the challenges up to high standards, mixing monsters and abilities tasks. This time is the Electric Eels, a card that I never ever used before.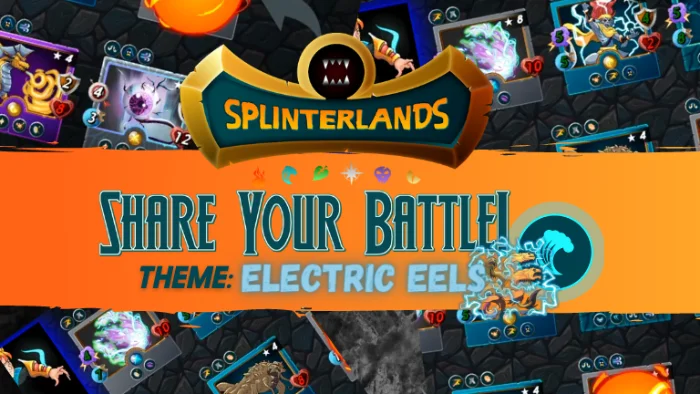 The first thing I can think when hearing "eels" is the disgusting Jellied Eels dish that is somehow popular in England. Chopped eels are boiled in spicy stock and forming a jelly when cold. This was a cheap food source for Londoners, as they could catch them with nets from the river Thames. I bought a pot once just to try it but I wasn't impressed! Eels are for fighting not for eating!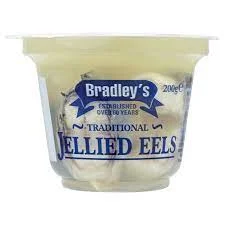 The Electric Eels are a rare promo card from the Water Splinter. It has Reach at level one and gains Blast at level five. I never used this card because I didn't had it in my deck. The solution came from WAX, where I found it cheaper than on the Splinterlands market.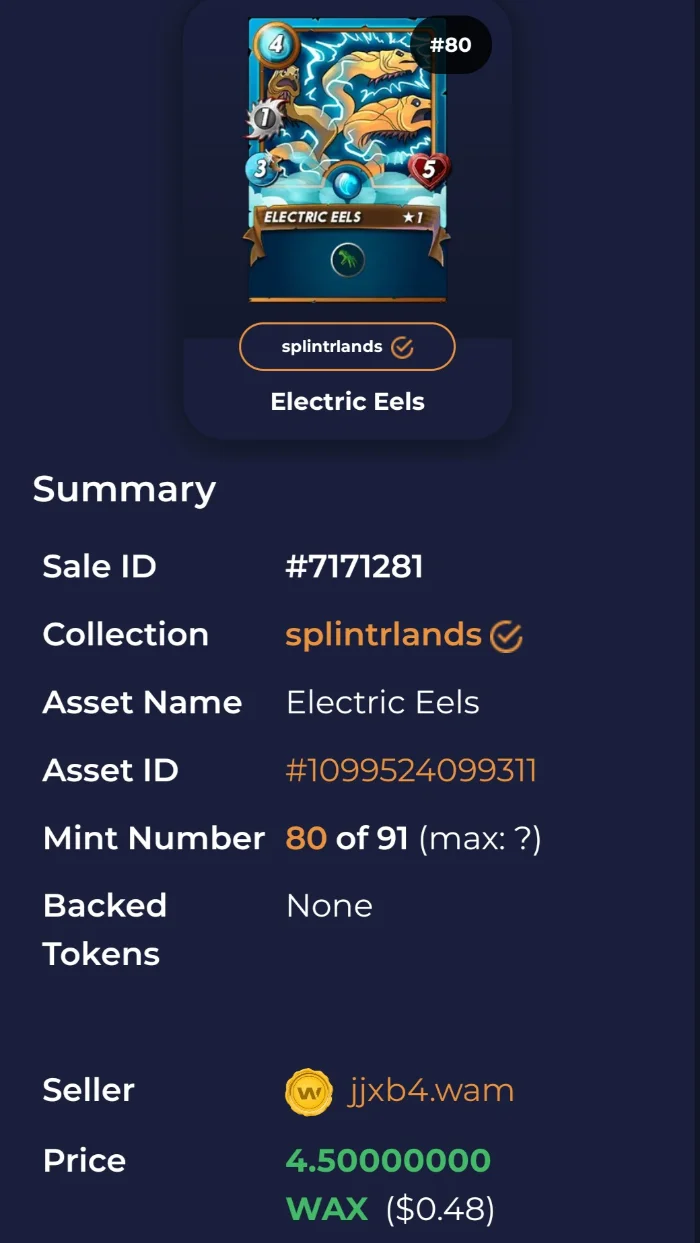 The Electric Eels are best to be used as melee damage from behind a strong tank. The card cost is 4 Mana and has 5 Health Points, 3 Speed and 1 Melee Damage. The Reach ability allows the Eels to attack from the second position, and at level 5 will do additional damage to monsters adjacent to the target thanks to the Blast ability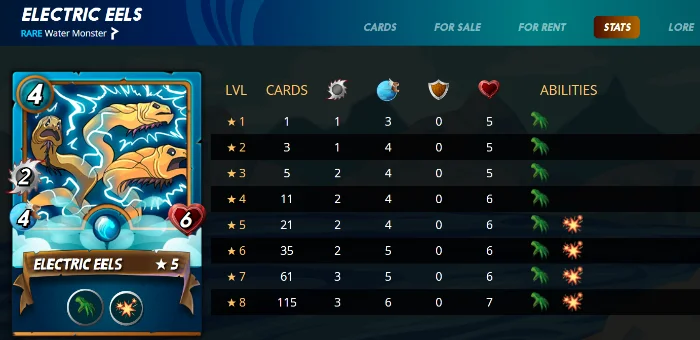 Battle Details and team line-up: Mana cap 27 with no ruleset made it easy to select a competitive team.
Bortus (Summoner): -1 magic damage to all enemies

Sea Monster: Main Tank with Heal

Electric Eels: Off-Tank/Melee Damage with Reach

Sand Worm: OP Melee Damage

Crustacean King: Healing support

Furious Chicken: Strategical wildcard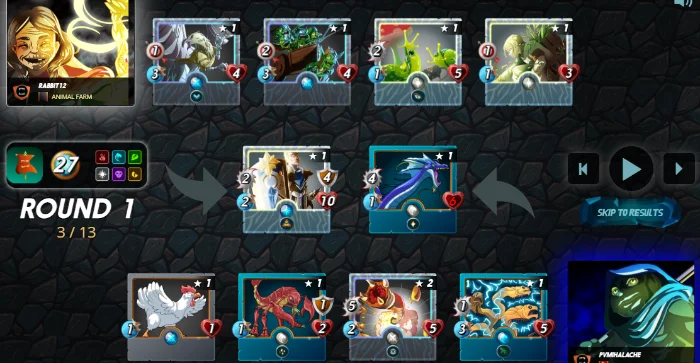 The enemy Life Splinter team was focusing on high Health and ranged attacks from behind the ShieldBearer The start of the battle was competitive and at the end of Round 2 both the Sea Monster and the ShieldBearer were down! The Crustacean King did well to keep the Sea Monster alive so much, enough for the Sand Worm to prepare the one shot-one kill mode!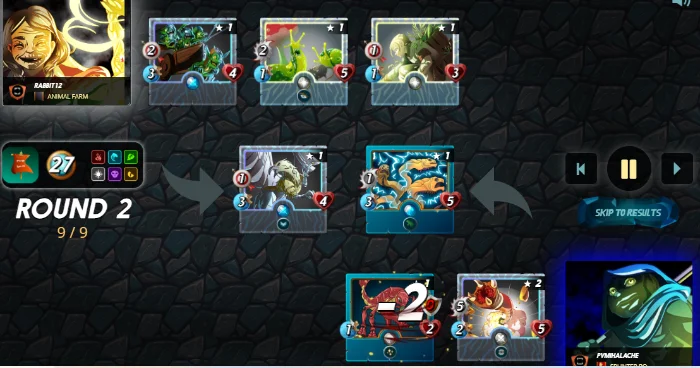 The issue with having so many ranged monsters behind a strong tank is that once the tank is down, the rest of the fight is a massacre! The Electric Eels are still up and fighting.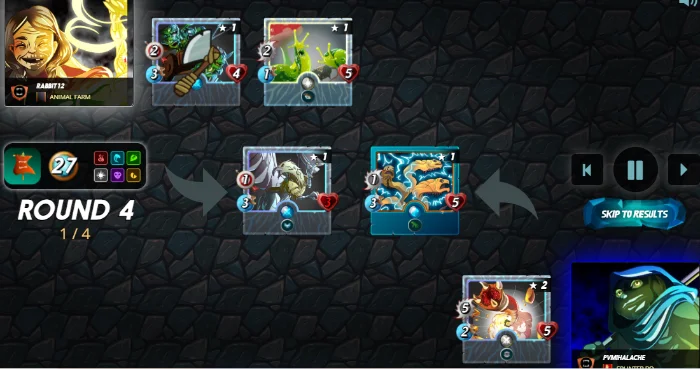 It was a home run once the rangers had nobody to protect them. Eels and worms great team work in delivering killing blow after killing blow! See the full battle here!
Conclusion - For only one Mana more, the Wave Runner offers one more melee damage and one extra speed point, even if it has only 4 Health Points. Comparing it with the Electric Eels, the shark fits better in my team. However, I will still consider the Eels for battles when I don't have 5 mana left to use the Wave Runner.

Resources:
The fountains: PipeFlare ZCash, GlobalHive ZCash  & Get.ZEN
Publishing bundle: Publish0x, ReadCash, LBRY & Presearch
This article may have been published on ReadCash or Publish0X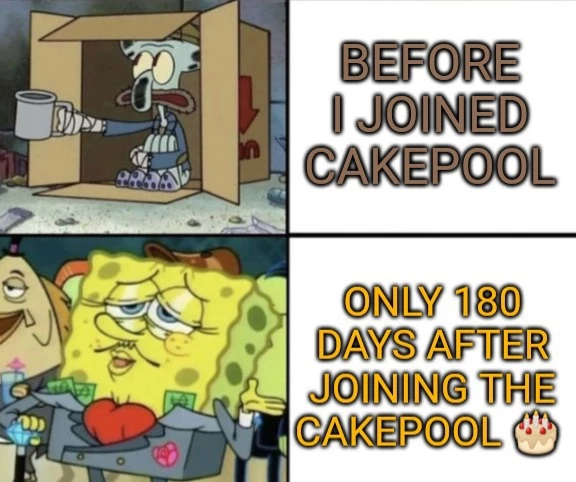 ---
---