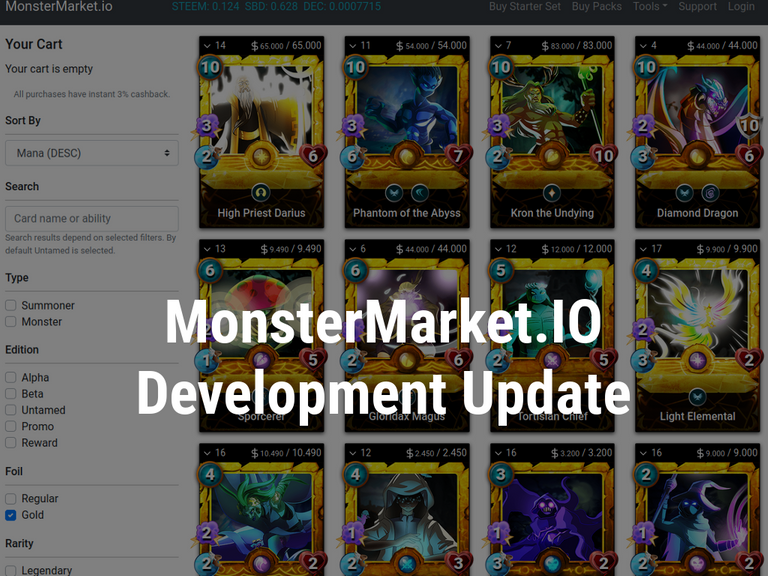 Hey Splinterlands Warriors, how are you doing? I hope you had a wonderful New Year celebration. Here comes another MonsterMarket.io development update, which is unintentionally becoming weekly updates. 😁
Let's start.
Starter Set
To complete daily quests, earn DECs, and buy booster packs a new user must buy the $10 Splinterlands Starter Set. From now on you can buy the Starter Set from MonsterMarket.io and enjoy 2% cashback. This is the same as buying directly from Splinterlands, but using us as your market.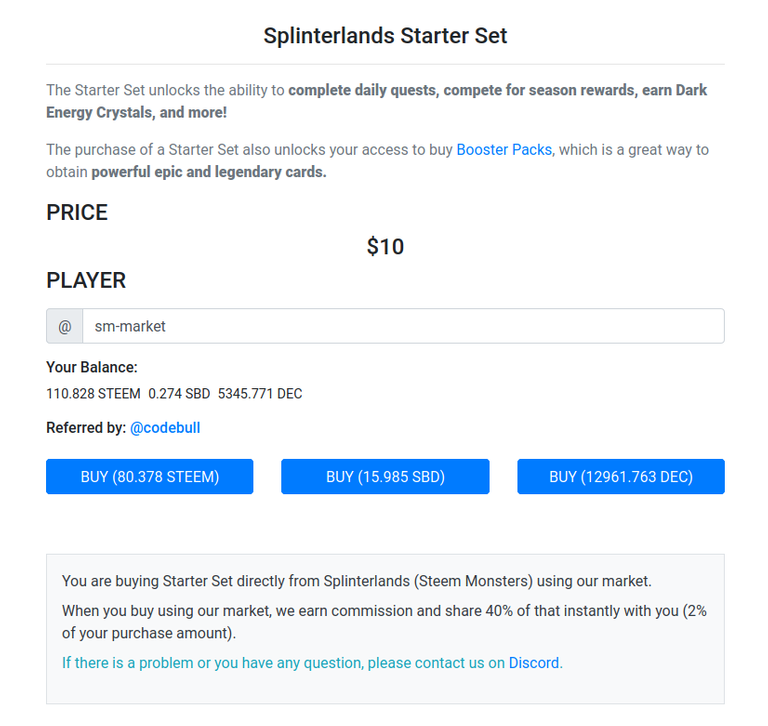 Please note that we don't support account creation with the Starter Set. Our offering is suitable for users who already have a Steem account. If you need a new account along with your Starter Set please use Splinterlands. You can also contact me on our Discord for manual new account creation.
New Filters and Sort Property
Splinterlands recently added some new battle rules such as 99 mana games, magic attacks can't be used, the ranged attack can also attack from the front position, etc. These new rule sets prompt me to add some new filters so that users can better build their decks.
on MonsterMarket.io now you'll have the ability to filter cards based on their attack type - melee, ranged, and magic.

These filters consider attack type(s) of the max level of a particular card. For example, Furious Chicken and Creeping Ooze will be considered as Melee monsters even though they are ranged in lower levels. Double attack monsters such as Red Dragon which have both melee and magic should show up on both filters.
Users can now sort cards based on their mana cost. The Kraken (12 mana cost) is the highest costing card of Splinterlands as of now. It is one of my favorite cards too.

SteemConnect Login
When we launched we only had Steem Keychain login. This is an excellent browser extension and one of the best things happened to Steem but it only works on Desktop browsers. So, the only way to use all the features from mobile was to use our Discord bot or pay using STEEM/SBD which doesn't require login. As DEC purchases require user login, now users can log in via SteemConnect and have full access to the website. One of the latest addition also requires a user to be logged in. So adding SteemConnect was a necessity.
Referral System
I think the Splinterlands referral system is not very known to many of the players, mostly because it doesn't get much publicity. Now MonsterMarket.io will support the Splinterlands referral system. That means if you refer someone to MonsterMarket.io and if they log in to the website (also Splinterlands) for the first time, they will show up as your Splinterlands referrals.
The referral link structure is the same as what Splinterlands has.
Format: https://monstermarket.io/?ref=your_username
Example: https://monstermarket.io/?ref=reazuliqbal
Please note that if a new user to Splinterlands comes to the website without any referral, by default @sm-market will be his/her referrer. This is so that the user gets 2% extra when they purchase any packs. For example - let's say user1 is completely new to Splinterlands, she visits MonsterMarket.io and logged to buy a starter pack. When she bought the pack, she would get our 2% cashback for her pack purchase and another 2% for her affiliated purchase.
Minor Updates
Packs and Starter Set purchase page will show logged in user's balance and who referred the logged-in user if there is any. Please note that balances update every minute.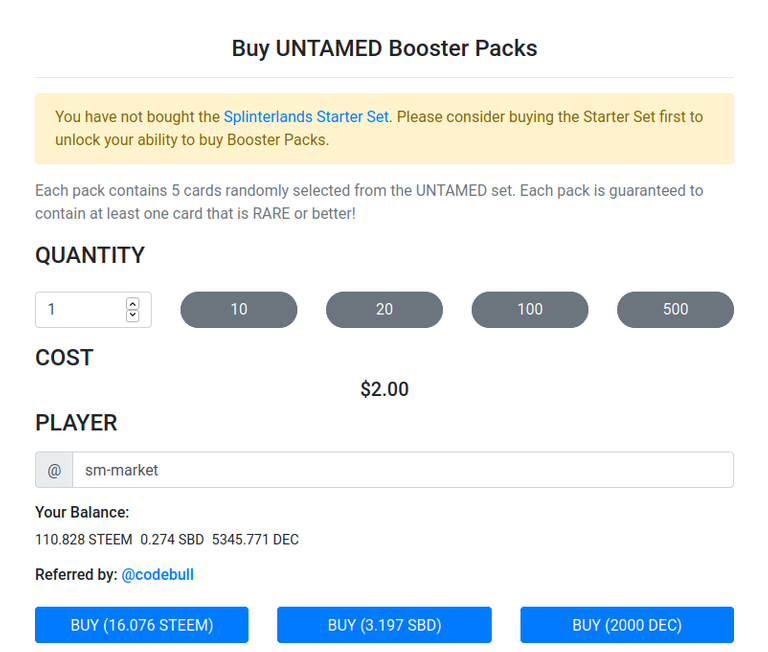 If you are logged in but haven't bought the starter pack, Pack purchase page would show you a warning.
Why use MonsterMarket.io?
We are sharing 60% and 40% of our revenue from the cards and packs purchases with the users respectively. All cashbacks are instant. You don't have to wait or purchase a set amount to get better cashbacks.
If you have any suggestions or there is a problem please reach out to us in Discord.
All card images and icons shown are property of Splinterlands