Cheers to Gaining 700 USD Value on a Single Card After Chaos Legion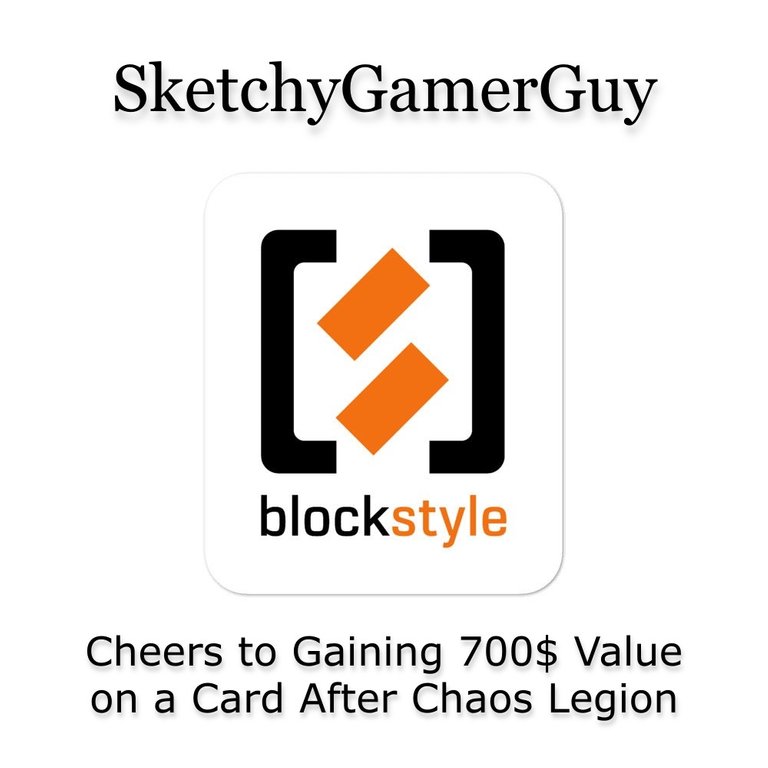 Cover Image Assets Property of blockstyle.io
Here is the beautiful mug. It is with this mug, that I am now celebrating my best purchase after the release of Chaos Legion. As I rejoice in what is by far my best purchase in this demoralizing bear market. I celebrate in gratitude and admiration of one of the best games I have ever played, and I reflect with humility on the luck that I came upon the game at all. That story is for another day though. For today, we are celebrating my purchase of an Alpha Selena Sky, and an amazing mug to commemorate the purchase.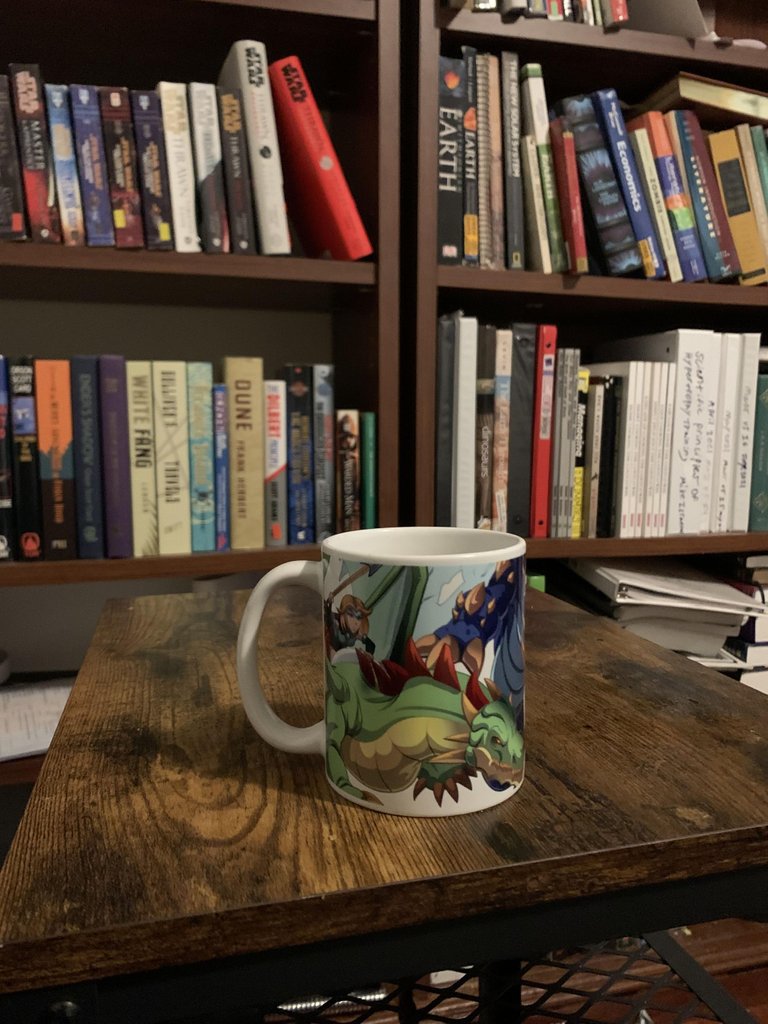 Selenia Sky gazing victoriously in front of my Grand Admiral Thrawn Book Collection
Selena Sky
A couple weeks ago, as the Chaos Legion's impact on the market was just dawning on people, and the markets flowed blood red, I was surprised like many others. Not just surprised. I was scared. I think few expected a reaction this extreme to the release. I was scared, but if you've talked to me in any length of time, you know that I believe it is the moments of fear that often provide the most opportunity. Courage is not the lack of fear, but moving and doing what needs to be done anyway. This moment was no different, so when I saw the Alpha Selena Sky sitting at 700$. An astonishing 100$ over the beta price, I knew I had to act. I was scared. I didn't know if it would drop further, and I didn't even know if I could liquidate quick enough to buy it at all. Full of Fear, Uncertainty, and Doubt, I started liquidating everything. Before the first card could even sell, I noticed something that drove me to move faster and with firmer conviction.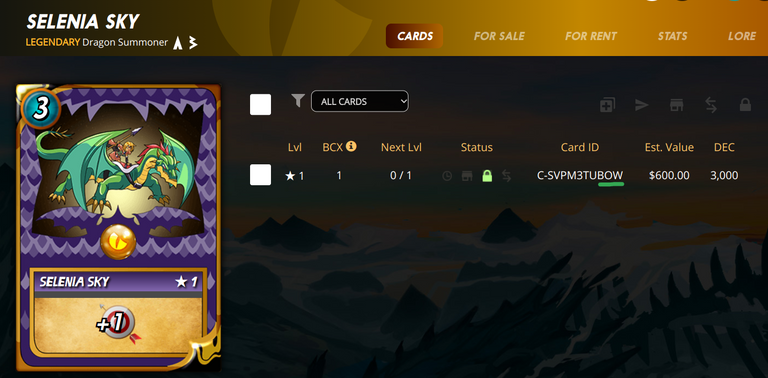 Image property of splinterlands.io
One of a Kind
That's right. This isn't any normal Alpha Selena Sky, as rare a card as that already is, this Selena Sky has BOW in her Serial Number. It's possible there are no others in the game like her. While I can't be certain, I'll claim it anyway. This is a one of a kind card. This was something I knew I needed to act fast on. What were the chances no one else would spot this? I immediately contacted my friend @angrychipmunk1 who insisted on buying the card, and he sent it to me immediately trusting I'd pay back the interest free loan. I was excited to deliver the loan and repay his trust less than 24 hours after the purchase. This wasn't easy, and I gave some pretty awesome discounts of my own to get the DEC. Then after all the excitement liquidating almost my entire account, I couldn't believe it. This one of a Kind treasure was mine for 111K Dec. I stared at this newly won treasure now fully paid off uncertain if it was worth it. What did it cost?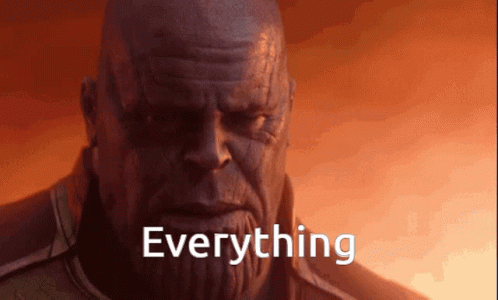 I wasn't sure if I made the right call, but I was still satisfied with my purchase. I immediately put her on a 30 Day Lock. Till now, I had been a short term flipper, but not anymore. This was a card I could never sell, and I didn't want the temptation to ever come up.
Selena Sky Today
In truth, this would have been an amazing buy even if she lost value. She's ONE OF A KIND, but she didn't lose value, did she? The market price is now 900 USD which is 400$ higher than the Market price when I bought her, and the Low Buy is now 1400 USD, which is double the amazing price I bought her at. Dec, as we all know, kept going down as well. The card I bought for 111K Dec is worth 291K Dec. Unbelievable. I didn't even notice. One of my friends tagged me to let me know. I somehow bought a card, after Chaos legion, that doubled in value. Incredible.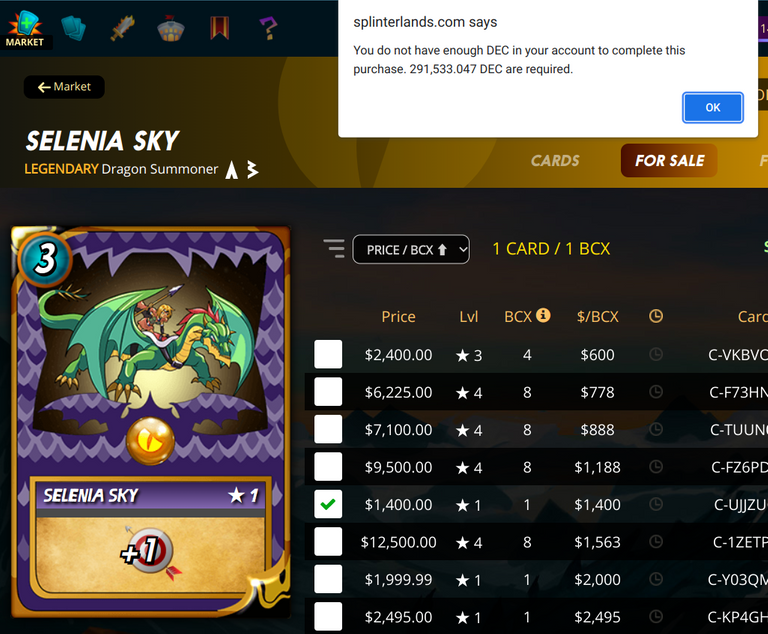 This buy is a perfect reason why you never want to let fear get the best of you. Will she drop in January? Maybe. My crystal ball is broken unfortunately, but I do know one thing. Splinterlands is not going quietly in the night. It's survived every manner of challenge presented before it till now, and I genuinely believe that this game will be around for decades at least. Whether it was best to buy here in December or January is a question with little value to me, and besides, I never would have gotten this one of the kind variant if I had waited.
A Celebratory Toast to One of the Best Cards in the Game
I'd like to pretend I was some genius mastermind who saw all this coming and worked in perfect precision to make it happen. That's not what happened though. I had to do something to celebrate. This was just too perfect. How could I just sit on this card and not make fanfare and ado about it! I had to take action.
To celebrate, I quickly went to https://blocktyle.io, Splinterland's official store, and I found the Team Dragon Mug I had always wanted. I was shaking with excitement, and I checked my front porch everyday for packages knowing there was no possible way they'd be here already. I absolutely adored these pictures, from the site: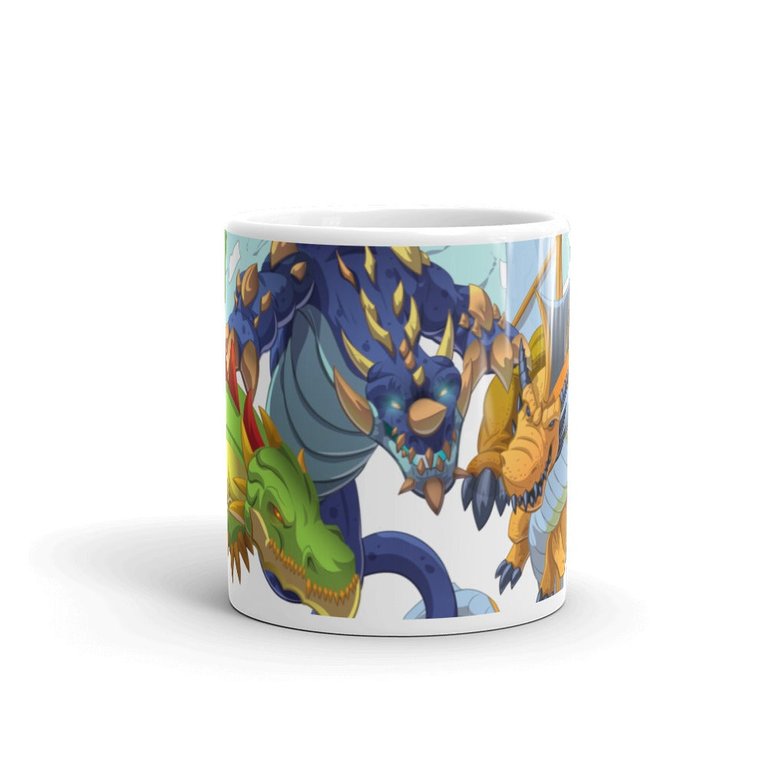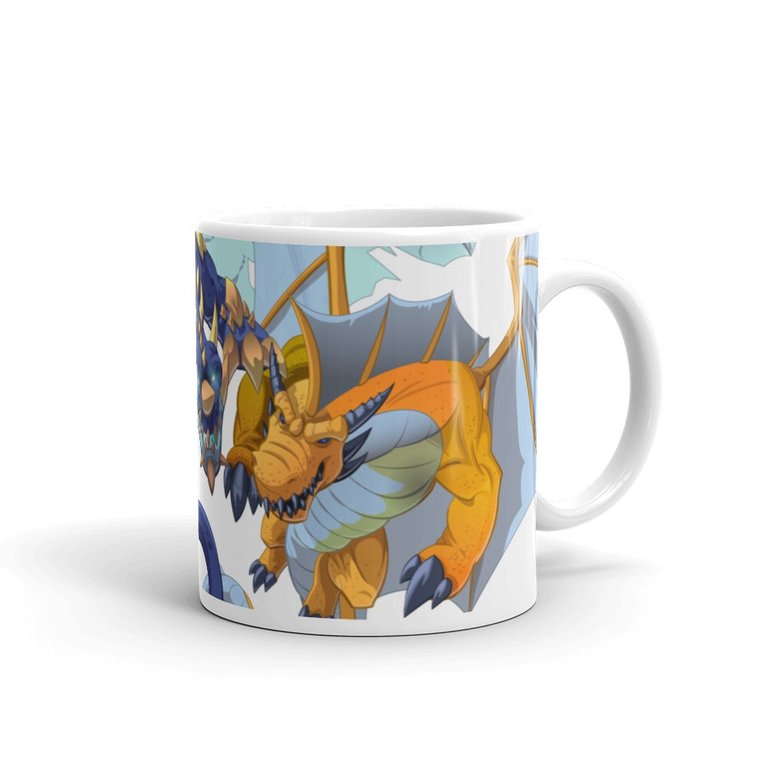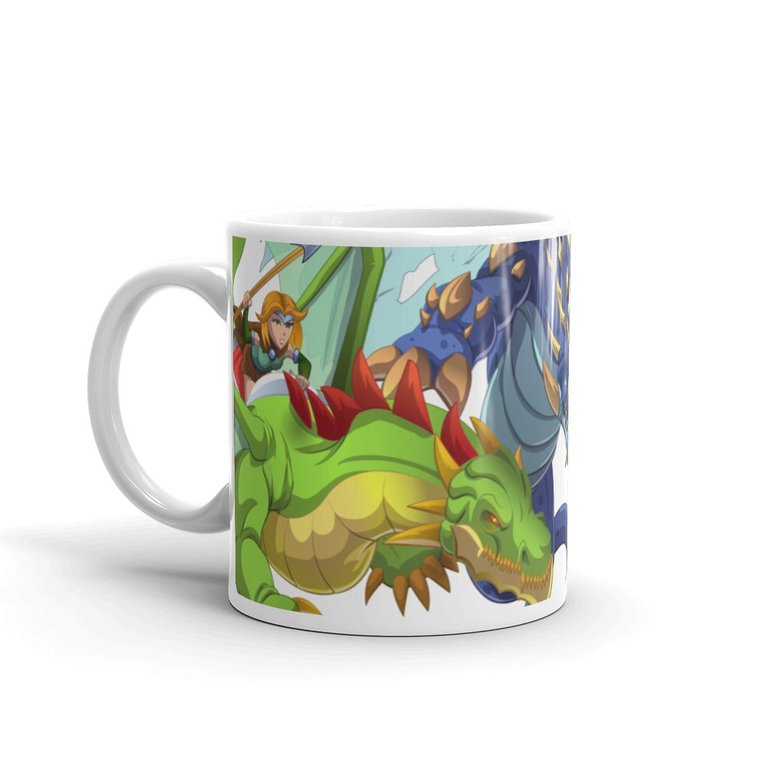 Images Property of Blockstyle.io
And Then the Mug Came!
The mug looked so good in the pictures. I felt all the wonder of a child on Christmas Day, and it even came before Christmas Day! I wasted no time rinsing it out, and brewed some coffee in it. I didn't know for sure if the caffeine would be more potent guarded by Gloridax's Most Fearsome Monsters, but I was sure going to find out!!! (IT WAS)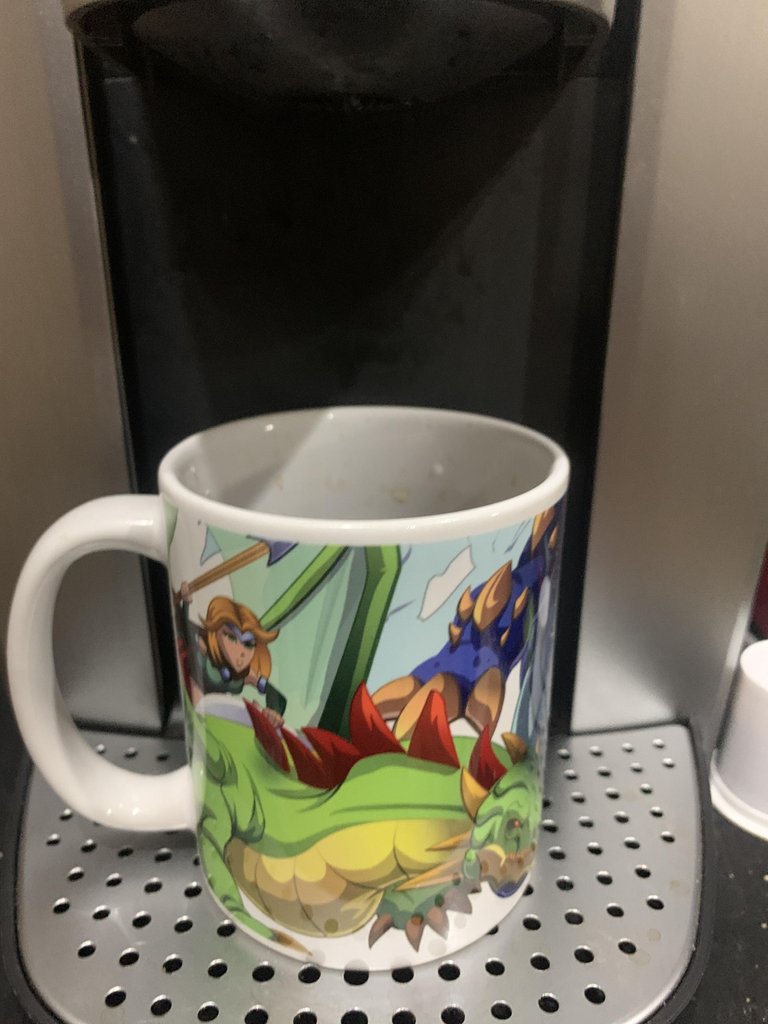 Just as I suspected, that first cup of coffee was truly special. As I sat there in my library reflecting on all the friends I made along the way, and how much fun I've had building an account I could be proud of, I didn't think I could possibly get even luckier.
Then the Mug Came Again
I stared at the second mug in disbelief for what felt like hours. Did I dream opening the first package? Was this deja vu? I wasn't sure how to react, and I didn't know if I was scared or pleasantly surprised. After about five minutes, I searched for the other mug to be sure that I, in fact, received two mugs. I put them next to each other and stared some more. Then I scratched my head a bit. Then I stared for a bit longer.
After a few more moments of reflection, I knew I had to do the right thing and pay for the second mug. I always believe in rewarding craftmanship, and these mugs were very well made and designed. Splinterlands staff were insistent otherwise, and what Nate said made me feel so much better about it. I knew I could accept the gift with a personal message like that. Although, I did buy a Torrent Fiend and a few rares in honor of Chatter's suggestion.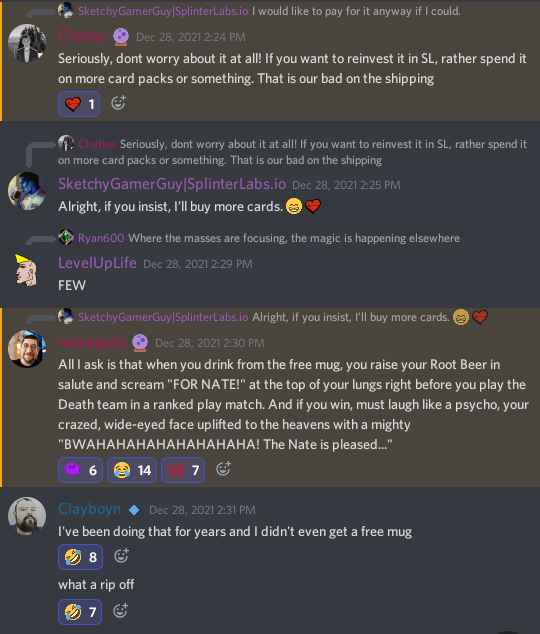 Farewell
So, here I sit, reflecting on my good fortune and good friends, and playing a ranked splinterlands game. And oh, look, it's Death under My Selena Sky Summoner. Of course I win, and I begin laughing Maniacally, and I shout from the top of my lungs: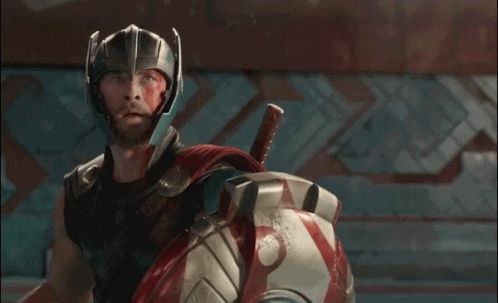 FOR NATE!!!!!!
Then Crazed and Wide Eyed, I stared at the heavens in defiance and unleashed a mighty BWAHAHAHAHAHAHAHAHAHAHAHAHAHA!
Thank you all for spending some time with me, and I hope you have an amazing rest of your day. Above all, I hope you remember, when you're afraid, good. Someone else is more afraid. Do not let fear debilitate you, and you rise to that occasion and do what needs to be done.
If you're reading about splinterlands for the first time, and you'd like to give it a try, please check out https://splinterlands.io today! If you have your own amazing purchase to celebrate, check out https://blockstyle.io to shout in victory and gratitude.
---
---