Greetings Splinterlanders,
The new Season started today and brought with it the new leaderboards, the long-awaited update that players expected.Now each league has its own leaderboard and rewards which will increase the chances for players at all levels.
Then as we explained in this post SplinterInvestor - Introducing the projectwe intended to invest $ 500 to start and we did, in fact we invested a little more than planned.
Then we've listed 116 new Gold Foil cards with competitive daily fees and all without Termination Escrow. You can check all cards here!
These shine more!


So let's talk about the most important limitation to improve CP, money!
Renting cards can solve this easily because sometimes with 2...3 cards is possible to move up in Leagues. But this only works if you already have a consistent deck/collection because if you don't it you will only increase the CP but will not make you win against tougher opponents!
However sometimes 2...3 cards can make a huge difference in your results even in the Bronze League, when this 2 or 3 cards are for instance a Chain Golem or summoners like Yodin Zaku and Mylor Crowling.
At the moment I'm writing this article to buy an Yodin Zaku you'd spend $15.95 which is enough money to rent almost a collection with one of each Splinterlands cards considering an average daily fee of $0.05 but nobody wants one of each card and $0.05 is too expensive for some cards.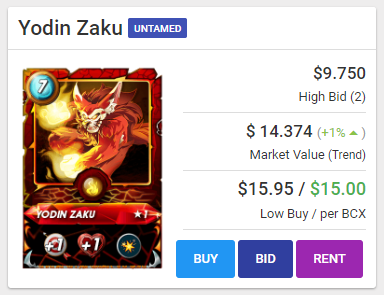 So if we consider that many cards are rented for $ 0.01 or even less $15.95 is enough money to rent cards for 4~6 seasons or more depending on the cards you rent.
Renting cards has another positive point allows you to test cards and then decide whether you really want to buy or not.
Just check how much DEC you need to earn daily and see if it pays off! Usually it does!
And now something that may be a curiosity for some, why do we invest in GL cards? They've high burn value (CP) and an extra bonus, they yield 10% more DEC, making it even easier to raise enough to cover costs.
ROI
Investing in cards to rent is risky and a long term investment since to recover a value of Cthulhu GF would take 1360 days. Math $68.00 cost / $0.05 daily fee = 1360. This without considering the 5% fee paid to Peakmonsters and the 5% that we are offering to the community and considering that the card remained rented during each of the 1360 days.

And our return is not 20% of the cost it is 20% of the amount collected in the month / season.
Let's use Cthulhu again as an example, rented for a season with a daily rate of $ 0.05.
Then we've 15 days * $0.05 = $0,75 - 10% (market fee + community share) = $0,675 so in fact the ROI is 0.993%
Anyway, we believe in the incredible potential that the game has since it is directly connected to one of the most disruptive technologies in recent years.
So if the results are satisfactory the community can expect more actions related to giveaways or tournaments, we just need to calculate everything!
We hope everyone has an amazing season!
Trade anytime. Battle anywhere. Earn cryptos every win. Click here to join us on the battlefield!