Whats going on folks? I hope you brought your pen and notepad because I will be covering a lot of information on the future of @splinterlands. I will try to sum up the most recent AMA. First, lets announce yesterday winner and today's giveaway. Now lets jump into it like a raging berserk!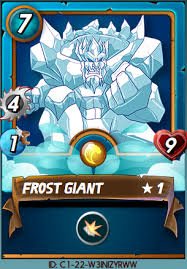 Yesterdays Winner of 250 DEC
@marconisnghtmr It been a while since our last first time winner but here we go. Congrats buddy, DEC already sent.
Yesterdays Runner-up Winner of 50 DEC
@yewhos winner if you didn't noticed I used your answer in today's answers
a raging berserk!
Today's Giveaway
Comment what you are looking forward to most, guild wars, land sales, or boss battles.
AMA in Review
Land sale was the first big news and what we learned is that the pre-sale will be priced at 50% off at $10 but if you pay with DEC you will get the DEC 1000 to $1 rate which will bring each plot down to $5. buying in bulk of 20 or 100 Will increase the discount. There will be different types of land and each will have a thing to farm. The land edition will create a new and more healthy market. The plots of lands will be unique NFTs.
Guilds Wars was next and it will be interacting with land. Guild wars will be optional and a three day process. Day one is planning, day two is battling and day three is getting paid. This will not be a guild vs guild system but instead a level based system that will battle a bunch of different guilds at the same time. Winning will earn you some guild faction points that will give you the ability to build parts of your guild and will also integrate land by giving land special perks.
Tournaments are gearing up to allow more variety of new token for the tournament prize pools including EOS and erc-20s.
Extra Support
The best biggest help is setting an auto vote for my post.
Up-votes and re-blogs are huge and much appreciated.
You can use my affiliate link although I have no idea how it works lolz. https://steemmonsters.com?ref=threejay
Go give me a follow over at @monster-burner this will help support many new players including our free guild for new players go join here