Hi everyone,
Just a quick post to say that the nice people of the @contestkings community are organising a silver level no legendary summoners tourney in about 3 hours. The good news is they gave me some tokens to get you a FREE 1CK entry to this tourney (normally around 3 Steem to enter). The only thing you have to do is comment on this post and say: Hell yeah, I will win this tourney!
https://steemmonsters.com/?p=tournament&id=fe89bfc846961aeb843beb118370ac01e86f4d65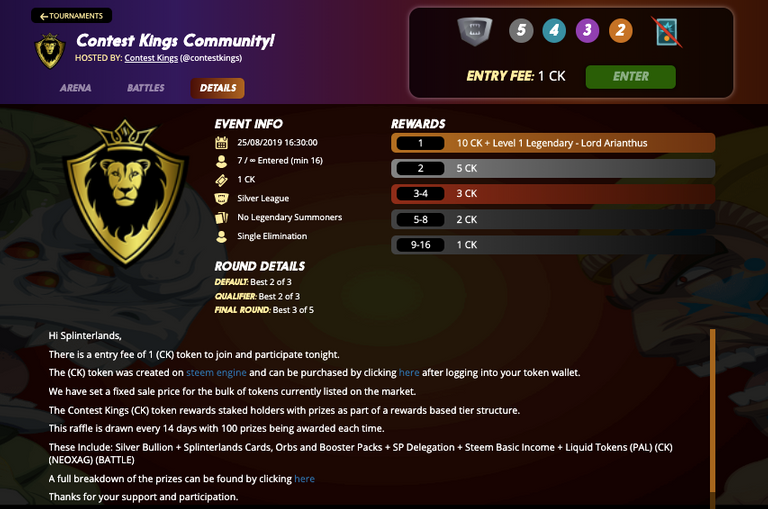 I have known this community from the very start and even created quite a few no upvote - no follow give-aways, but at the moment I don't have the time to organise them, although that might change in the future. Anyway, they absolutely love the game and promote it in all sorts of ways and now they created the CK token on steem-engine, where by staking them you get ticket(s) to their lottery system every two weeks (the more you stake, the more tickets you get) and the prizes are pretty sweet (ranging from real silver to orbs, a 1000 SP delegation for a month and other tokens like BATTLE).
Click on the link to see the results of their first raffle and after reading this I will probably stake some myself :)
https://steempeak.com/contestkings/@contestkings/contest-kings-mega-prize-draw-1st-september-2019
All the best and see out on the battlefield, I will be joining as well.
And in the spirit of giving things away I will be handing out a beta common card of your liking to everyone who entered the tourney through me and read all the way till the end of this post and put an emoji behind 'Hell yeah, I will win this tourney!'.
Good Luck!
And cheers!
TC