But it wasn't on Splinterlands this time. It was on Gods Unchained, which to be honest does look pretty cool.
And I've been lucky enough to find one other legendary on there as well.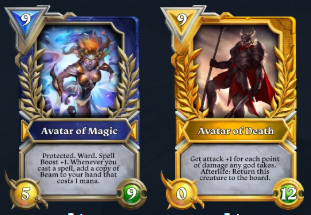 When I went looking on GUDecks to see if there were any others listed, much to my surprise, there were NONE.
So, mine is currently the ONLY one listed for sale!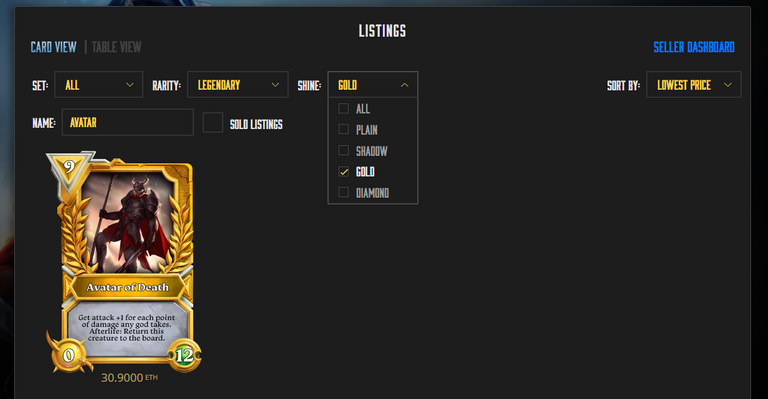 Yes, you read that right, it's for sale for nearly 31 ETH! I may kick myself in the ass for it later, but I figure if it'll fund our trip to Peru and SteemFest, and maybe even be enough for 200 Beta Booster packs, I couldn't complain too much! :) (the buyer pays the sales fee percentage which is what the 0.9 ETH extra is, so I'd actually be getting 30 ETH if it sold.)
I may have to wait a while for that though as the market won't be live for trading until September, or at least that's what I read somewhere in their Discord chat. I haven't verified that information yet so don't hold me to it. But, with luck, I could be able to sell it as soon as then. fingers crossed
Which brings me to this little fun fact, once Gods Unchained cards are finally tradable, people will be able to do whatever they want with them, so... I was thinking I would start early by saying that once that time comes, I will have a few that I could give out as prizes for Splinterlands tournaments.
Much like Splinterlands, Gods Unchained has a prize pool too, but from what I can tell it's distributed a bit differently. Instead of having several daily tournaments, they seem to only be doing one at a time, this might not be the case. They also don't really seem to have the ability to make custom tourneys. Again, I'm not really clear on all the specifics about the game yet since I just started messing around with it recently.
However, I was thinking too that it might also be possible to get a bit of cross-platform trading happening between Splinterlands and GU. Both of them TCG, but obviously completely different but with a lot of the same type of people who like both games.
I haven't done a whole lot of playing on Gods Unchained, definitely nowhere near the amount of time I have spent playing Splinterlands, but the little I have played makes me think that this could be a real opportunity for both games to get some new players.
What do you think? Are you a Splinterlands/GU fan? Would you be interested in participating in tournaments to win Gods Unchained cards?
Let me know your thoughts below!
Leave a meaningful comment and resteem this post, I'll send you 1 PAL. Tell me why you love Splinterlands & I'll upvote your comment for a few SPT :) (Yes, you can get both.)