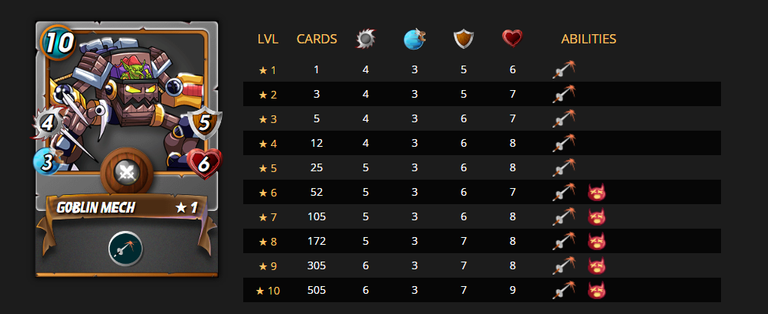 Let's get the elephant out the room on this one and state right up front that he easily covers the high mana cost with his capabilities in battle. Yes, it is a rather steep cost of 10 mana to put this beast on the board, but compared to some of the other mana hungry tanks he hits hard and can take just as hard of a beating.
His abilities

Starts out with this ability from level one. Eats through strategies that rely on armor (Life splinter, armor up rule set, and monsters with Protect abilities.) Instead of the extra damage being soaked up by the armor on a monster the remainder attack points will actually be taken away from the defending monsters health pool.

Gets is at level 6, which at the price of .015 per BCX you are paying less than a dollar for an armor eating stunner (which is amplified in the new knockout rule set.) Stunning is amazing when it works and it seems to work often enough to not frustrate me. I have stunned every attack some battle and usually never see a battle with no stuns at all.
Stats
He is a tank by nature and as such need a large armor/health pool. He splits it rather equally between the two which is always bad against a heavy mana attack, but is nice in all other scenarios. He got from 11 points total (armor and health combined) to 16 by end level. Neither are bad for their respective levels.
His attack starts off superior to most low level monsters at 4 and end at 6 which only 4 other max monsters can achieve. This can always be amplified by Inspire or +1 attack summoners.
Best uses
Great to tank with, outside heavy mana attacks. Great to use for Super Sneak or Melee Mayhem rule sets. Back to basics is another really good rule set to use him in as he doesn't rely on any abilities to help him tank or launch his offensive assault.
Lineup
Goblin Mech - Where else is he gonna go in this fight? Mine is not maxed but is decent.
Orc Sergeant - A highly underrated card in my opinion. Has inspire to boost the melee assault and also reaches. High enough health to get a round or two of hits before he falls.
Screeching Vulture - Another way to utilize the double inspire of this line up. Has scavenger so by the time he would be up to tank he should have decent enough health to again last a round or two.
Brownie - Nothing other than a support role on this (or any) team. I have the high enough level to get both the inspire and the swift bonus from him.
Wood Nymph - Strength bonus on top of the +1 health from the summoner means all monsters are now sitting +2 health. Tank heal to help keep the tanks alive is always a plus as well.
Goblin Thief - Again just trying to utilize as much melee attack as possible as I have a double inspire bonus going.
To sum it up - +2 attack, +2 health, +1 speed for 27 mana (3 under the cap on this battle.) I have a solid tank in the front followed by two decent backups. A healer. 4 double inspired attackers. All in a rule set that doesn't allow legends. Sounds like a good start for me.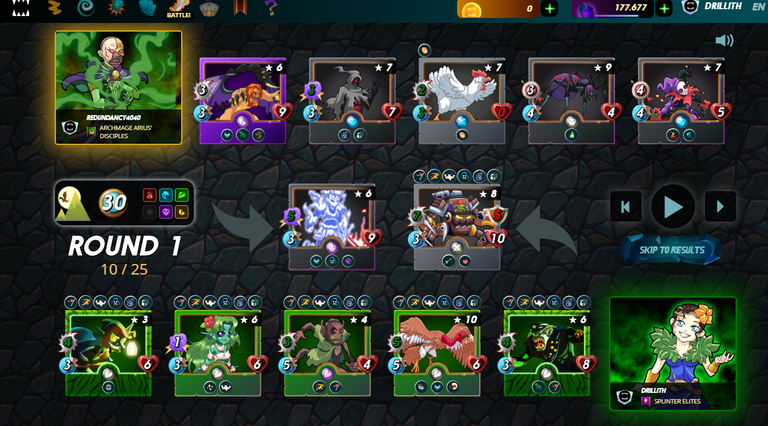 Round 1
Vulture takes out his chicken quick. Goblin takes a beating and so does the Nymph before I drop his tank.
Round 2
No losses on my end and my vulture has feasted twice now. Take out his jester right off the bat this round. They do take out the Mech but at this point the battle is rather lopsided at this point and he has done very will.
Round 3
Clean up
Final thoughts
Goblin Mech is a beast like I said earlier. Yes he shines more at low levels but as we just saw he can shine at high levels as well. I use him often but do feel like unless you have at least high 20s or more mana cap he just eats up too much mana. Use him, use him often, and which a low USD value level him often as well.
Never played Splinterlands? Heres a link.