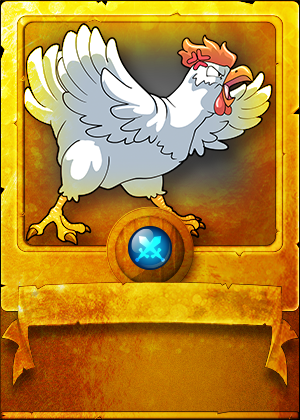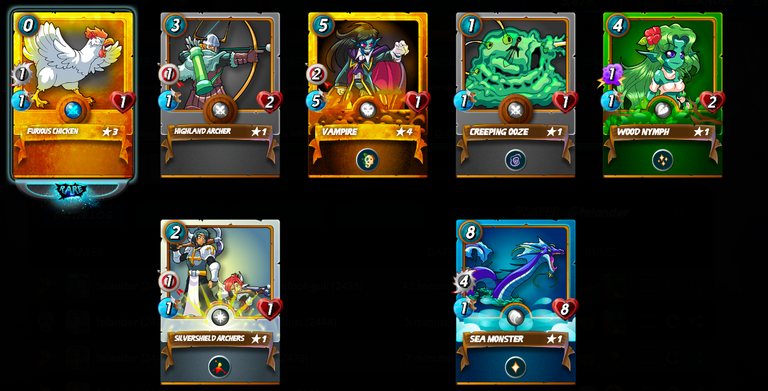 I have been hoping for a while to receive this elusive beast in my collection of Splinterland cards
The golden chicken has come home to roost
In my playing I often use the chicken for the empty spots (I also forget sometimes and regret it)
But having the golden version will give me that much more DEC (inhouse cryptocurrency) to gain with every game I play. So it really is a chicken that brings money for each use...
Using gold versions of cards brings in more rewards if you win a game.
On top of the fact that the lowest price for one of these cards is 8 USD which is also not bad at all. (check the marketplace https://peakmonsters.com/market)
So while doing my daily quest I made roughly 400 DEC which adds up to a grand total of 2.5 steem and that is an amazing 0.5 cents...
But add another 10 bucks in reward cards onto that and that is not bad for a half an hour of fun.
I used to play hearthstone but that game only cost me money. Here I can at least make a bit of money back and Sell the cards if I wanted to...
But the thing is you do not have to sell the cards to create some income. You can lease them out to other players and earn passive income which you can read a bit about here https://steempeak.com/palnet/@felander/investing-how-the-otter-made-a-seagull
So are you still playing Hearthstone or is Splinterlands an intriguing option. The game has already paid out a nice 65000 USD in tournament rewards and apart from the initial pack which currently costs 10 USD you do not really have to invest anything although you do need a bunch of cards to play in the higher leagues. (there is a system in the works to start to play for free but it is not out yet)
This is in my opinion one of the cool use cases in the crypto sphere. Non fungible tokens.
You actually own the virtual cards or in game items...
If you want to give this a go you can follow my affiliate code here.
https://steemmonsters.com?ref=felander