🍀 Yes! Gold III
I have done it... but I will tell you one thing... I am not yet gold. I did manage to get there this season, but only because some of the players in the last 3 days allowed me. It's a nice treat 🎃 on a trick game 😉.
(trying to join Halloween into the post... but it's not quite working...) 😆

In any case, YEAHHh! 🤩

Cards wise, in the last season got to 47🔻, this one, 64🌲. =) But the total value was not higher than the previous season. Majorly because it depends on Legendary and Gold cards, and on this season I did not get as many valuable ones.
Notes:
🌲 - More cards than previous season
🔻 - Fewer cards than previous season
🎖️ My Ranking
Previous highest ranking: 1833
This season highest ranking: 1930
I managed to bump substantially my previous highest score. Thanks, @beithia for the highest score so far and the reason I got to GOLD!
🔮 DEC Stats
Highest DEC win: 27.195
Current season highest DEC win: 25.746 (bellow)
Did not beat my previous record, but this season I was several times very close, with the best one against @monster.master. I think that in this next season, I might go above this previous record. Especially now that I have more golds and the Guild has 3% add-on on DEC.
⚔️ 13 Quests completed
On the previous season, I have completed 11 quests... In this one I managed to probably do what I might not do so easily again, 13 quests, collecting a total of 42 cards, uau! Have a look at my stash bellow:
---
---
---
---
---
---
---
In terms of cards, this is 2 Epics, 3 Rares and lots of Commons! This season I got 2 Gold, one of which was my first Rare.
😉 Funny Battles!
This is my fun place... if there is anything worth pointing out, I will be doing it here.
(click the image to replay the battle)
It's not every day you beat @oldtimer 😄
I am sure I can lose a lot more than Win against you. But, it was still a nice game. The Man of the game was definitively SPINEBACK TURTLE.
Fighting against players of my own guild!
In this it was @lammbock... You thought you would escape... Nahh! 😅 I did manage to win, but at the beginning, it was not clear I was going to (at least for me).
But once my Sneak killed @lammbock Sneak... thinks turned around in my favour, with my Cerberus being the resistance. Great one.
👁️ Guild: the 3rd eye!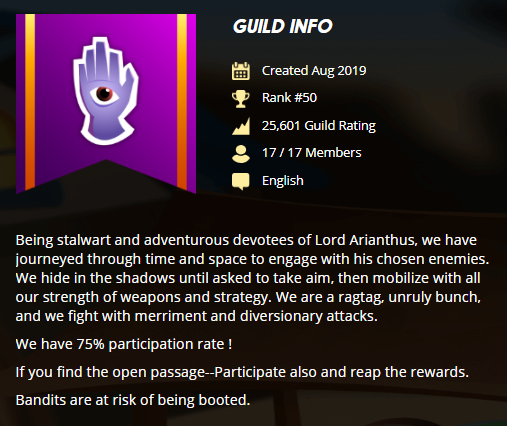 The Guild is sort of 1/3 way to level 4 of the current Guild Hall level 3.
If you are willing to give this Guild a try, check if there is a free spot now and then. We currently have 17 slots (fully occupied at the time of this post).
Take into consideration that we are all trying to contribute to advance the Guild Hall
We are not asking for any specific amounts, but your contribution is highly appreciated.

Guild perks!
Besides all the fun, you might sometimes receive some "surprise" delegated cards (some crazy important for you to progress faster) and/or gifted cards (as always, huge thanks to @quiplet). This season I got two gifts.
If I keep raising like I am, in no time it will be me gifting... 😎 I do hope so!
Other examples of things you may enjoy when being on a guild is, for example, the boost in the amount of DEC you win in your battles.
In this case, it will be a constant +3% per won battle plus 1% discount on deck purchases, while you are at our Guild.
🎴 The 22 cards
I finally reached GOLD🥉 for the first time. Super exciting... Let's flip them over!
One Gold, and four Rare
One more Rare card when compared with my previous season. But hey, hey, hey! I have a new great card: The NAGA WINDMASTER! This card was really what was missing in my Water deck, to avoid those boring sets were ranged arrows get your first line monsters killed in one go.
I have also evolved the PRISMATIC ENERGY to level 2... the rest was a bit disappointing. But hey, can't have luck everyday right?
✨ Something new?
I have been quite busy in daily life work and as a result, not much time left to even come to STEEM. But I have something brewing in my mind that I think it will attract some more players. Once I have some time to prepare it, I will either incorporate it on the next post or just do a specific one.
🎟️ Give it a go!
If you never tried this game and you wish to give it a go, use my referral link and mention me on any comment about it. I will lease you some cards for free for as long as needed until they become irrelevant towards your deck, so you can start immediately having some fun. If you have any card preferences, let me know that too.
NOTE: Every follower of my referral will get a guaranteed SBI sponsoring unit and will win 100 DEC upon humanizing themselves!
(some cards I can't lease, otherwise I can't keep playing)

info@esteem.app
🌐eSteem.app | 👨‍💻GitHub | 📺YouTube
✍🏻 Telegram | 💬Discord