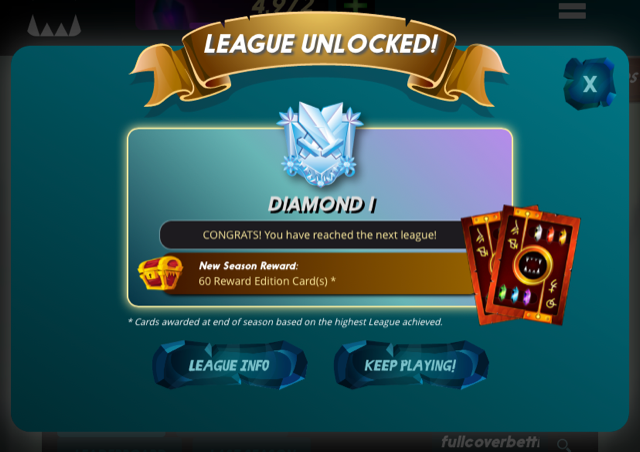 When I did start my daily quest this morning I did have 3105 rating points. So my only hope was that for the first time ever I did finish my daily quest while still staying in Diamond II.
Lady luck did appoint the earth element to battle out my daily quest. The problem is that earth is stilp my weakest element, so I decided to gamble and requested a new daily quest!
Life was the new quest. Lately I am feeling more comfortable with playing with the life element in the higher leagues!
The quest did start with 4 wins in a row! Three of them were with the Life splinter!
5 battles later the daily quest was already completed!
At that moment I had 3287 rating points, so a little bit more than 110 were needed!
I decided to push forward and see it was feasible to reach Diamond I. That would give me 10 extra season reward cards and I would start next season in Gold I!
To my surprise only 5 battles were needed to collect the necessary 113 rating points!
Yeah! Will stop playing for this season!
Cheers,
Peter