Welcome to another Splinterlands giveaway!
Today's giveaway is for a Silvershield Archers card. At a cost of only two Mana points, this dynamic duo is easy to fit in to most every Life Splinter team no matter how tight the Mana limit. While they only do 1 point of damage, their Snipe ability means they are causing that damage to your opponents ranged and magic users. They are especially dangerous if you have combined them up to Level 6 where they get the Double Strike ability and cause twice the damage.
To help get you started with this powerful pair, I'm giving away this Silvershield Archers card to one lucky winner when this contest closes at post payout time.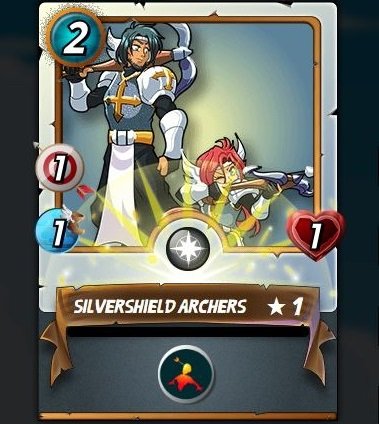 If the Silvershield Archers doesn't fit into your master plan for Splinterlands domination, you can always send it to the burn chamber and extract the 15 Dark Energy Crystals locked within the card.

How To Enter The Giveaway
For a chance to add this Silvershield Archers to your Splinterlands deck, just leave a comment with your Splinterlands account name. Only 1 entry per person. The contest will end at the 7 day point of payout for this post, when I will use a random comment selector to choose the winner.
Good Luck!

I am a proud member of