Ending Steem Monsters Giveaways
---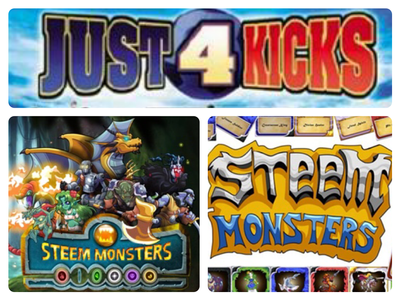 ---
Giveaways Terminating Effective Today
For as long as I've been a part of Steemit I have been involved in Steemit Monsters, now known as Splinterlands.
I joined up as part of my big brother's giveaway team which essentially functions in the following manner, rack up a bunch of Steembasicincome shares and post daily giveaways to earn your handful of cents you can daily and then one to two times per week Giveaway cards of a value less than the amount you earned to still clear a profit even if it was only a few cents here and there.
There's no real path to making any kind of meaningful money by doing this because there's a significant up front cost to obtaining the SBI shares in the first place. The benefit is using that extra "profit" to scoop up some extra Steem Monsters cards here and there and holding them until they appreciate in value or trying to max level something so that you can later rent it out.
My big brother has continued his Giveaways for so long because he feels like he's helping people which is awesome and I certainly do not speak for him in my decision to terminate my Giveaways but all too frequently lately I've listened to folks in the top tiers of Steem Monsters (some of the Mavericks and particularly one of the owners of Peakmonsters) refer to accounts like mine as "pathetic" and stating that they'd like to downvote us all.
Furthermore, this is a blockchain-based social media platform where we should be able to say and write or giveaways whatever we please. Our content shouldn't be dictated by others in higher positions simply because they don't like what we post or don't understand why we do what we do. If they consider it spam it's mainly because they don't need to make extra little scraps wherever they can. We're at least working for these pennies that we're earning.
I wish we could all be Contest Kings. I have no idea or even a remote inkling of how they can afford to giveaway so much and the quality of things they do but they're of course one of the best things that has ever happened to the game of Steem Monsters because they help people in masses and in a significant way. I truly hope they continue to succeed and continue to help others out like they do now.
It's easy for them to say things like this when they have greater monetary means than people like myself and many others and they make substantially more in their earnings or by playing the game with all their max level cards that they can afford.
They clearly do not value the little people and what we do enough and think that what they do is far superior to us, which in many ways it is, especially if talking about things like Peakmonsters but that still shouldn't discount the fact that there's are many low income / low budget players that need Giveaway services to afford to play the game.
The attitudes around the community has just really soured me on doing these giveaways any longer. If what they want people like me to do is post pictures of my daily rewards card which adds no value and helps no one then fine, have it your way, I'll do things like that instead.
I still plan to honor the last of my daily giveaways that are pending out there but then once those are completed there will be no further giveaways from this account going forward.
I sincerely apologize for this inconvenience and for my present feelings toward parts of the community. This decision was made after careful consideration and I hope to find something else meaningful to work on at some point in the near future.
Respectfully,
Just4kicks46