Splinterlands Dragon Water Splinter Quest - 01-28-2020
League Progress
This Quest started in Gold League II, but I was able to finally able to return to Gold League I (yay!) in this second to last day of the Season (finally!). Took me thirteen battles.... but I made it. :) My first draw on the Quest was Dragon, but my strongest Dragon Summoner is only Level 2.... So after @bringo soundly trounced me and Daria, I bailed on the Dragon Quest and my new draw was Water, which I'm pretty okay with.
In fact, I won my first three battles with Water (Summoner Bortus leading the charge), but then floundered a bit before stringing together a few more victories to finish my quest and then press on into Gold League I.
Battle Highlight
The battle I liked best (watch it here), used two (and only two) of my favourite cards: Magnus and Furious Chicken. As impressive as this victory was, though, the Magnor/Furious Chicken duo is a risky bet -- they can be easily thwarted by a !monster with a shield and means of regenerating that shield.... with Magnor wailing away on that same shield each turn and Furious Chicken getting madder and madder about the futility of it all. But it worked well this time. :)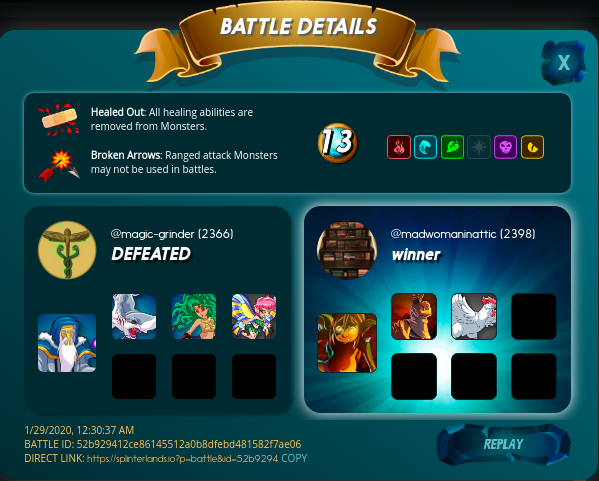 My [sorta okay] Rewards Cards
Eight new cards is great. And two of them are Rare, allowing me to upgrade my Octopider to a Level 4. But then there's the nerfed Goblin Blaster.... which has very limited justified use, in my opinion. (Like maybe in a Little League & Melee Attack From Anywhere ruleset?) Always hoping for better, but eight new cards is eight new cards.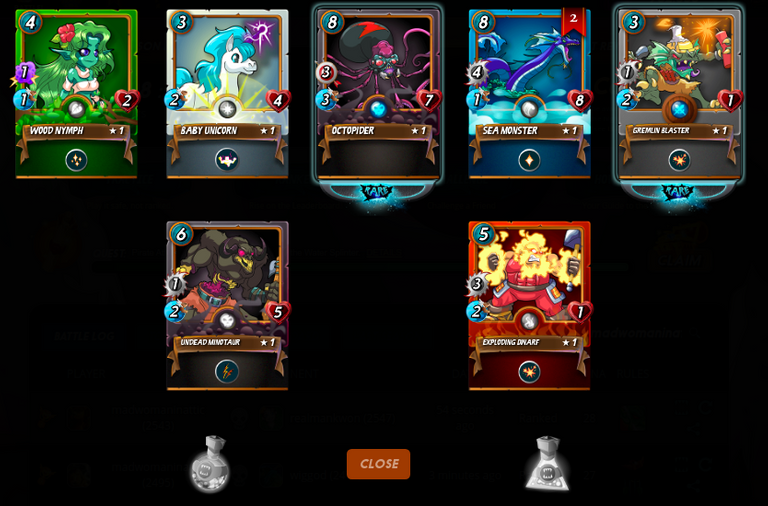 Closing Thoughts
I use the Brave browser for my battling, and I like it a lot. Quite often, though, the Summoner images don't render in battles (or in the pre-battle 'previous battles'). Apparently it's a known Linux issue (and for Firefox, too, I believe). Hopefully that'll get fixed soon. :)
Thanks for reading. :)
And, for anyone interested in getting started playing Splinterlands, check it out here today: https://steemmonsters.com?ref=madwomaninattic