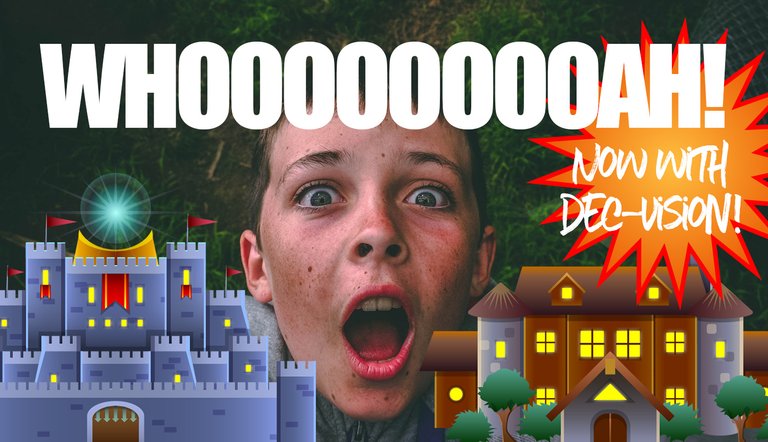 Today was a big day for Splinterlands fans.
It was the big Guild Update!
People all over the world joined together to compare the size of their DECs.
DEC, DEC, DEC. All day long.
I visualized Captain Kirk shouting into the com. "Scotty! We need more DEC! More DEC, Scotty!"
Hardcore players are in it to WIN, dammit. And winning means having the largest Rating, the highest Rank, and the tallest, most luxurious Guild Hall that DEC can buy. I'm talking helicopter pad, jacuzzi, a bedroom just for cheese...the works!
Oh wait. Crap. What's this???! We have to...do quests? What the--?!!
Yup. That's right, boys and girls. Your Quest Lodge looks like a little nub. An outhouse. Something your dog wouldn't even sleep in. And it's gonna be awhile before you can do enough quests to get it looking presentable.
So to help you get in the mood to DEC it up and quest like there's no tomorrow, I am providing you with not one...but TWO...animated GIFs. It's a new word I just made up that stands for Guilds In (the) Future. GIF.
AND...they have DEC-Vision! Which means that it looks like they're MOVING! BUILDING! Becoming STRONG and POWERFUL!
If you stare at them for at least 2 hours per day, you WILL win more at Splinterlands. This is scientific FACT*.
(Disclaimer: My definition of science may not be the same as yours.)
In FACT, I'm pretty sure that if you continue to stare at them for over 2 hours, you will become wealthy, popular, and you MAY get slightly younger.
(Disclaimer: science is cool!)
So here you go! Enjoy! Use them however you think is best. Just not while driving.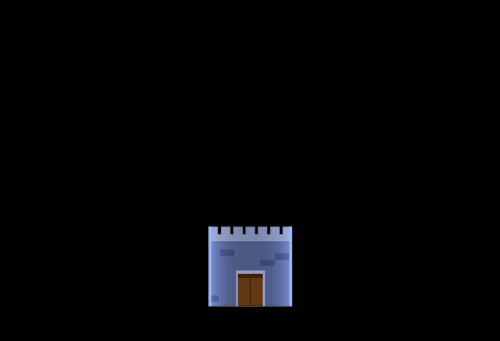 OOOOOOooooooooooooooo....!!!
AAAAAAAAAaaaaaahhhhhhh....,.!!!