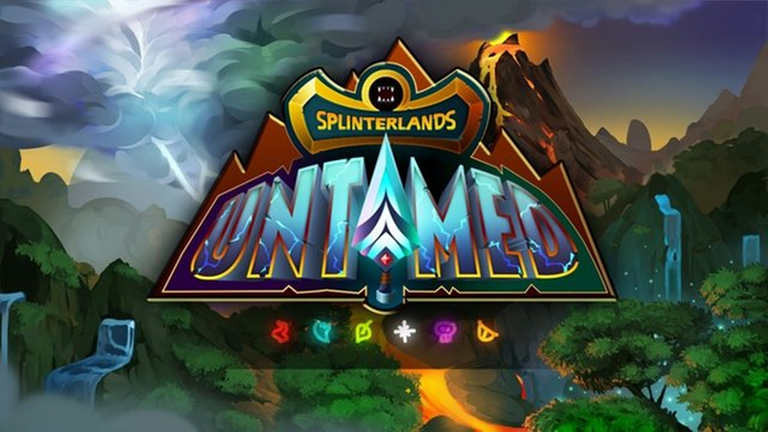 I was asked to look at the death team next in Untamed. So I am starting with the melee monsters. They got a lot of new cards and some are really good. This could make the death team a lot more playable. Let me know what you think of the card and or the reviews. I will pick one random person that does this to win 500 DEC.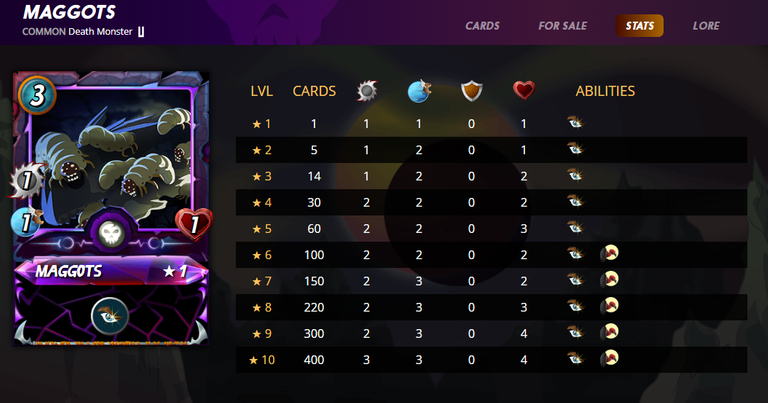 Maggots is a good card. Opportunity is a good skill and with Scavenger this is a good combo. It will try to kill the easy target and gain a hp when it dies. He will be a great combo card with snipers or sneak monsters. Three cost is not bad at all for a card that can also have three attack. You can start using him at level 4 but gets a lot better at 6. To play at top leagues you need him at level 8 or 10 if you want to spend the money.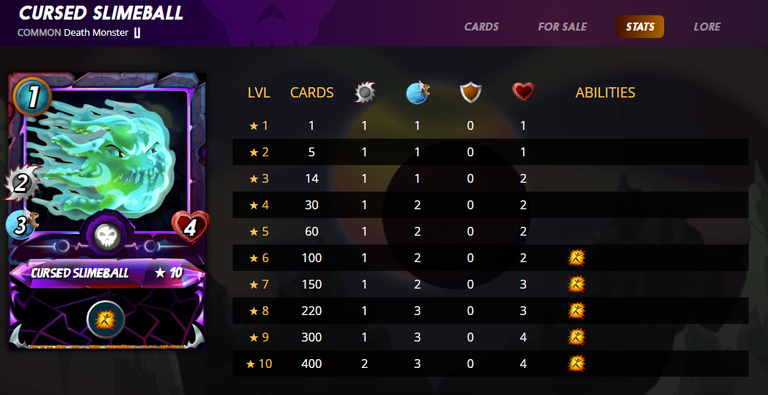 Cursed Slimeball is going to win your game and that is crazy for a one cost card. Redemption is a new skill and I feel like it is really strong. This guy is just meant to be put in on the board to hopefully get one attack and the die and hurt the other team monsters by 2 damage. That can give the rest of your monsters a big advantage. Think earthquake games where you do 4 damage to the other team when he dies. As you can see you need to get him to level 6 to really play the card. After that, the levels are not that important. At max level he becomes a nice card in super sneak and Melee Mayhem also. Good card to get for sure.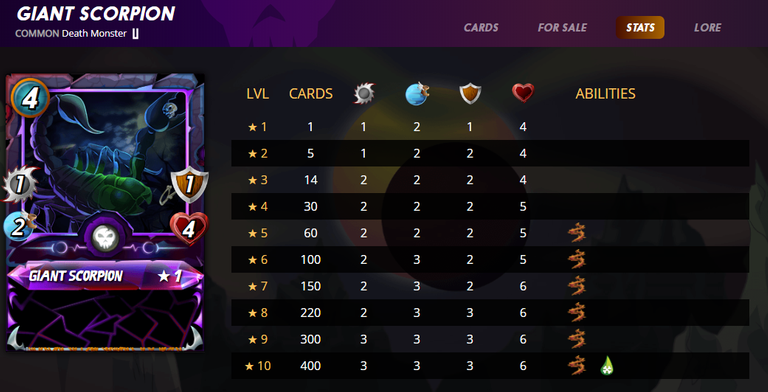 Giant Scorpion is the first card that isn't great for the team. His four mana cost makes him playable in little league. Thorns are nice with armor but low hp makes him a target for mages. The poison adds on at max level makes the card a little better. He is a bit more playable now that the team has a card with the repair skill. To use him just get Thorns to start and see if you think it is worth it to go higher. But I don't think so.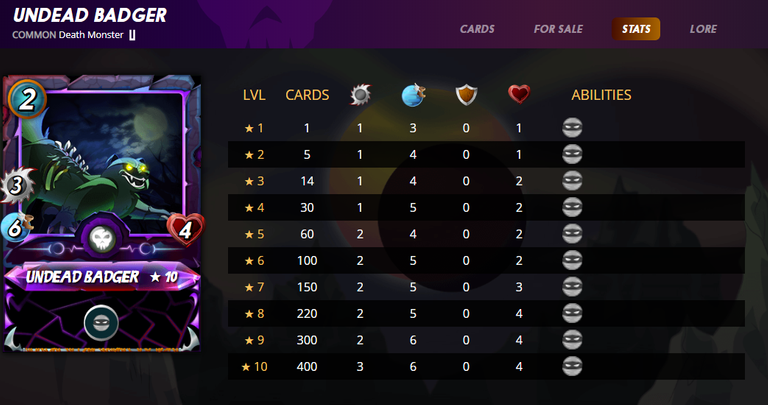 Undead Badger is a nice addition to the team. Two cost and sneak with up to three attack is just a good card. On top of that, he has high speed so he should get off an attack and enough life not to kill himself on the first attack. He will give the team a great double sneak combo with Skeletal Assassin. He will also work well with Maggots. This is one of the cards adding a lot more power to the death team. He is a good card starting at level 5 after that 7 is the next goal to get that extra life then it is really 10 for the last attack.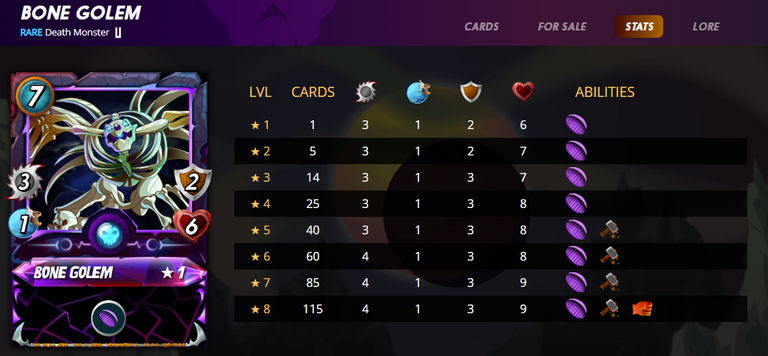 Bone Golem is the only new melee rare. He is the card with the repair skill for the team. So he gives the death team a nice tank to use in armor matches. With knockout, he can combo up with monsters with the stun skill to do a lot of damage. He is slow so his best game with be reverse speed. Or he will be a good last attack on you team if you can stun the thank for the other team. Void helps him not get blown away by magic too fast. He is a good card but might not get as much play just due to the fact that Death has a lot of good options as the tank. Level 6 is a nice goal to have the max attack and repair after that next goal would be max level to get knockout skill.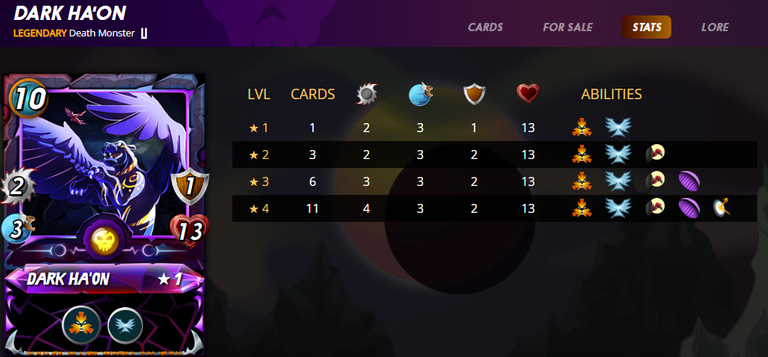 Dark HA'ON is a strong card. This is one of the reasons Bone Golem isn't as impressive for the team. Flying with Taunt is great to make monsters miss. On top of the Void and Magic reflect to help kill mages. On and Scavenger to get stronger when the enemy dies. It is also one of the few 5 skill cards in the game. His 10 cost means he is really meant for the new high mana cap games. But for sure this guy will be a force when he is on the board. If you can play him maxed out that is is best but at level 3 he is a solid card also.

That was a few more cards that I do in most reviews. Death just happened to have a lot of Melee monsters released. I hope to see this make the team a lot stronger as it is one of my highest leveled. So let me know what you think and win that DEC. Also, you might see that I am using the SoCalSteemit tag. Due to that being a good group to join if you live in the SoCal area. Check it out and let me know if you have questions about that group.
I am a member of the CCC group also. I am always trying to support others here with my giveaways. This is a Contest Kings giveaway No Upvote, No Follow, and No Resteem are needed to join
This is an Invitation to join #ccc for Guaranteed 👍 Daily Income 💵 and Payout 💸 for Newbies (2.0) 🐟 🐜 🐛 in #ccc 👣 and Follow 👣 the Honor Code 🏅 - the Creed (Conditions and Limits Inside) AND the latest update <<< please click to read.
I am now going to recap a past giveaway so you don't need to look one unless you want to see who won the giveaway from [this post.](https://steempeak.com/palnet/@stever82/splinterlands-card-review-untamed-water-mages-and-ranged-and-new-summoner
Winner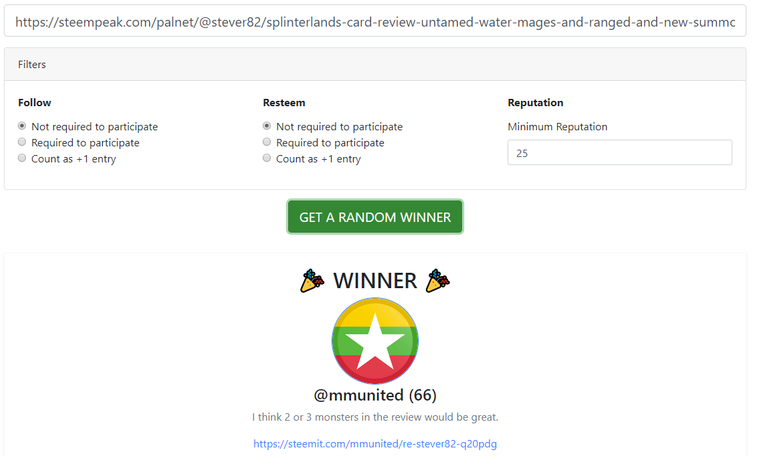 Congrats to @mmunited and I agree this post might have been a little long. Next one will have fewer cards.