I definitely find entertainment value with Steem Monster, but the big question is can someone make any money? The answer is yes.
So to be clear, I really like the game, but I try to not play Steem Monster too much (meaning I don't want it to interfere with my family time and other daily activities).
I usually try to play enough games to win my daily rewards. Today I had to play 9 games. to earn my daily rewards. I lost two battlers and won two that were not apart of of my daily quest.
Today's Reward Cards By Rarity
Today's rewards were better than most, but nothing extraordinary. I was rather pleased overall.
Legendary - 0
Epic - 2
Rare - 3
Common - 8
Value Of Today's Reward Cards(based on current market price)
Imp Bowman - $0.39
Exploding Dwarf - $0.02
Rusty Android - $0.02
Undead Minotaur - $0.02
Javelin Thrower - 0.08 - I will sell this card as I already have a MAX level card.
Pirate Archer - $0.09
Prismatic Energy - $0.15
Brownie - $0.38
TOTAL = $1.15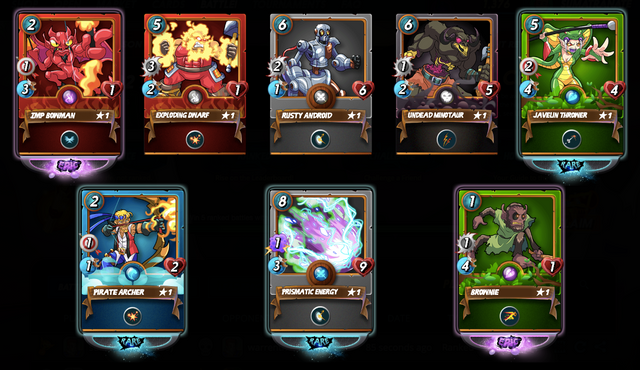 Estimated Earnings from DEC
I can't remember exactly how many DEC I had before starting today's daily quest, but I estimate I earned between 500 to 800 over the course of 9 games.
With 100 DEC being roughly $0.10, I earned $0.50 to $0.80 as well.
Is it worth it?
I can't feed my family on $1.95 per day, but I am still amazed that I get paid to have fun and strategize on a game I might have paid for free.
Let's just imagine for a moment that I only earned $1 a day. That ends up being $365 a year. Not life change, but not pocket change either.
The big time players are investing a lot more time and making a lot more money off of playing Steem Monster
I want to hear from you!
Do you play Steem Monsters?
What is you favorite splinter?
What is you favorite card?
Thanks for stopping by!
@SumatraNate