---
I'm A Dolphin 😁
---
I finally made it to dophinhood after 1 year and 7 and a half months. Woot. Woot!!
I actually made it a couple of weeks ago but I didn't get my "official" confirmation until this morning. 😊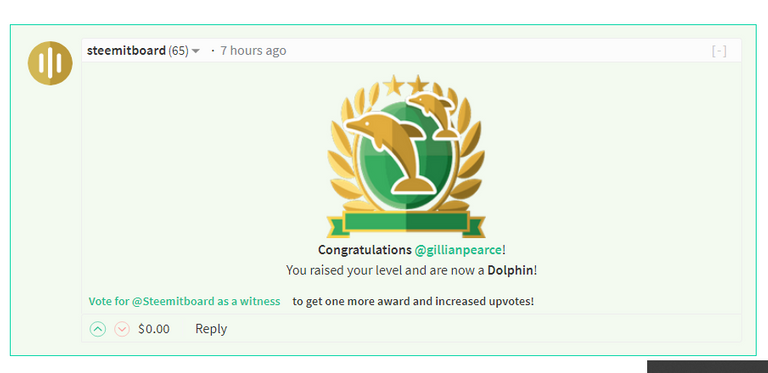 It's been a long old haul and I'm pretty surprised I even made it. There were many times, especially in the early days, when I felt like giving up.
The first 8 months were the most fun and also the most frustrating. @abh1234's engagement league kept me busy and making new friends and @juliank's daily photo contests gave me a focus which was a huge help when starting out.
I got very frustrated with the inequalities in the earnings and the flagging wars etc. but, as time went on, I just accepted that Steemit was going to be no different than the wider world and got over it.
I blogged and curated my way to my first 1000 SP but then I made my first fiat purchase and realised that that was one hell of a lot easier. Although, for the most part, the frustration I felt regarding all things crypto in the early days, still remains. 😢
I have been fortunate to be able to make more purchases from time to time and slowing but surely crawled my way to dolphinhood.
The drop in the price of Steem has helped tremendously of course. The most I every paid was for my very first trade back in March 2018 which was $1.68 and the least was $0.185 last week.
I'm hoping the price will stay below 20c so I can buy a bit more tomorrow.
So what's in store for me next?
? ? ? ? ? ? ? ? ? ?
Ugh. Dunno!
I don't imagine I'll ever make it to the heady heights of Orca and I'm not sure how much blogging I will be doing once HF21 kicks in on the 27th.
I may focus more on the creative stuff (which was what I came here to do originally) with an eye on #creativecoin.
I will continue with my @acitfit posts as I think that particular token has a rosey future and the steps are good for me. 😁
My main focus currently, however, is in Steem Monsters (aka Splinterlands). I have yet to do the numbers but I think I've already made a good profit there. I was sure of this last week but I've since bought a load of packs and, so far, am operating at a $90 loss on those. 😢
I'm looking at it more as a long term thing though as I expect the value to go up and cover that loss at some point . . . and . . . I have a few more packs to go so there's still time for a couple of good cards that would make all the difference.
I've been earning DEC through the Daily Quests and Steem and DEC in tournaments but this may well be the last season I do so. It's getting harder and harder to be competitive and I lack too many of the newer cards not to mention the shortage of skill. 😂
And, more importantly, I don't really enjoy it.
On a better note, I've started creating passive income by renting out a couple of accounts through @tc-poymath's Herons initiative. I'm hoping I'll be able to use the new cards I've bought to create another one of those.
Ultimately, that is my primary goal, to somehow create passive income and also maintain the great relationships I've already developed here.
Who knows what that will look like next year though? If you'd told me a year a go I'd be playing Steem Monsters I'd have laughed my socks off! 😂
~ ~ ~ ~ ~ ~