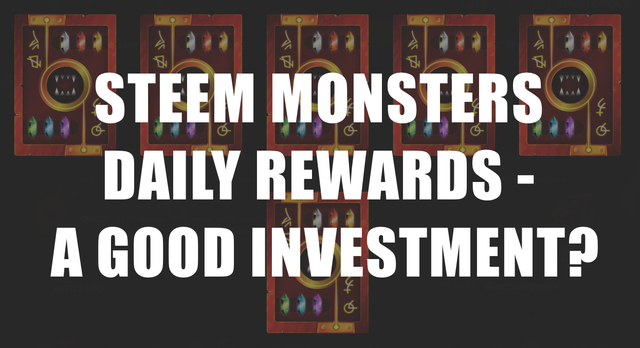 I am a fan of Steem Monsters/Spinterlands. There is something about combining card collecting (something I enjoyed as a child) and technology (something I enjoy as an adult) into a nice package (with a bow on top, of course) that makes me happy.
I have invested both time and money into the Steem Monsters/Splinterlands ecosystem, and so farmy investment appears to be paying off. As of this moment, the value of my collection is tracking at $1684.93.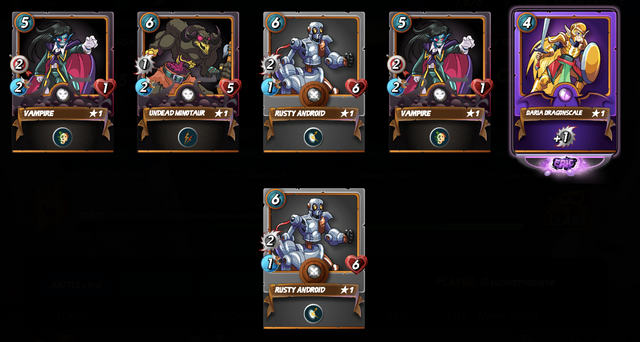 My rewards cards for the day.
Are Daily Quests A Good Investment?
I can't answer this question for you, but for me, the answer is YES. Let me explain my reasons why.
I can increase the overall value of my account without spending more fiat.
Is this process easy? NO. But is it doable? YES. Some people say that Steem Monsters is a pay-to-play game. That may be true, but from what I have noticed everyone can make some return on investment, regardless of how much fiat you have "sunk" into the game.
Your league level has a large impact on how many cards you will earn per daily reward. Progressing through the leagues usually requires leveled up cards, but with patience and a bit of strategic planning a user can build a deck that can earn more and more daily rewards.
I can sell my cards on the open market.
This is a great example of supply and demand. I tell you how much I want. You tell me how much you are willing to pay. And if we can't agree, there are other people who might be ready to make a deal.
I have sold many cards on the market, primarily to invest in other cards that I wanted. But regardless of the reason, a person can sell cards from Daily Rewards to recoup on the initial investment or level up to earn even more cards.
I am rewarded for each win.
With the introduction of DEC (a Splinterland token), players can also earn small amounts of crypto for each victory. In my opinion, this is a strong motivator for people to keep playing the game. Don't want to do the Daily Reward Quest? No problem, because you can still earn DEC. Did you just when your 5th game of the Daily Reward Quest? Awesome! And as a bonus, enjoy all of the DEC you have been earning as well.
DEC can be traded on Steem-Engine for a variety of other tokens, including Steem and SBD.
I manage my time.
As I mentioned earlier, I have invested time into Steem Monsters/Spinterlands. Because of the addictive nature of the game, I have had to limit the amount of time I spend on the game, which potentially limits the amount of DEC I can earn.
For me, I have to make a personal decision about how much time to invest. I am not a single college guy. I am married and I have a wife and kiddos who want/need my attention. My target is to just complete the daily quests each day, which on average takes me about 9 games.
I am entertained.
Deciding to invest in Steem Monsters/Spinterlands is easy as I enjoy the game. I have fun!
I enjoy developing strategic plans and battling against fellows members of the Steem community who have interacted on the blockchain.

I like seeing the claim button.
Have you ever wanted to know the value of your Steem Monsters/Splinterlands collection?
Just follow these simple steps!
Join Splinterlands on Discord
Located the #sm-voter_hut
Type in the following: $stats username
sm-voter will provide you several pieces of information including the number of cards you have and the value of your collection.

Basic Tips For Increasing Your Steem Monster Investment
Don't multitask while playing Steem Monsters. I have lost countless games by letting the 2 minute time limit run out because I was reading a post from someone in the Steem community. I try to play just enough games to earn my daily rewards. By losing games via forfeit, I am not spending my time wisely.
Don't level up cards if you don't have a summoner who can call those cards. Don't waste you money on cards that you cannot use in the game (unless you are buying cards and flipping them, instead of playing them)
Learn the rules of the game. I have lost a fair amount of games because I did not read the rules for a match. The variety of rules makes Steem Monster entertaining, but it also means that you can lose a match you should have won due to carelessness.
Final Thoughts
Steem Monsters/Splinterlands is not for everyone, but it has been good for me. I see it as both entertainment and investment. In a world, where we spend so much money of subscriptions, it is nice to invest into something that can provide a return.
Thanks for stopping by! I want to hear from you now.
Do you play Steem Monsters/Splinterlands?
Do you view Steem Monsters as an investment?
Why or why not?
See you in the comments section
@SumatraNate