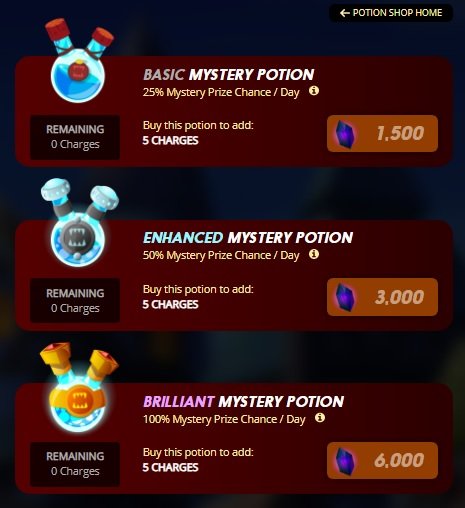 New players often ask what the Mystery Potion does and whether or not it is worth buying. This article explains how the mystery prize works.
Each Mystery Potion has 5 charges and one charge is used every day. Depending on the type of Mystery Potion you use (Basic, Enhanced, or Brilliant) you have a 25%, 50%, or 100% of receiving a mystery prize on a given day. With the Brilliant Mystery Potion you are guaranteed to receive a random prize every day for 5 days. With the Basic Mystery Potion you only have a 25% chance of receiving a prize each day. If you do not receive a prize, it still uses up a charge.
You get your mystery prize at roughly the same time each day (often a few minutes after the 24 hour mark). There should be a green notification (similar to if you received a card). Sometimes the UI is bugged and people don't get to see what they got even though a charge was used. Since the mystery prizes are off-chain you can't easily see what you got. It used to be that only @yabapmatt could look up what your prize was but a new update to Peakmonsters Explorer now lets you look up your mystery prize.
The big prize for the Mystery Potion is the Legendary Dragon Summoner, Archmage Arius: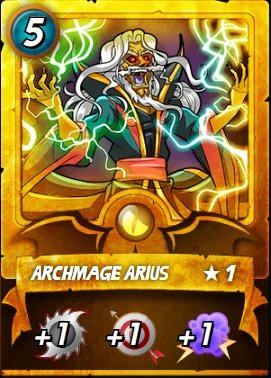 (Most Archmage Arius' are Regular Foil but a handful are Gold Foil).
There will only be 90 Archmage Arius' according to:
https://steempeak.com/splinterlands/@steemmonsters/splinterlands-development-update-september-2019
Every other day, one lucky player will receive an Archmage Arius for their mystery prize. That means that each Mystery Potion will give you 2 or 3 chances to get an Archmage Arius, depending on how you time your purchase.
If an Archmage Arius was just recently handed out then you should wait one day to get in sync before buying a Mystery Potion so that your 5 charges result in 3 chances at Archmage Arius instead of just 2.
These are the things you can receive for your mystery prize:
Archmage Arius (one given out every other day)
Essence Orb
Beta Booster (presumably discontinued now that Beta is sold out)
Random Reward Card (can be Common, Rare, Epic, or Legendary)
Potion charges (newly added – can be Legendary, Alchemy, Quest, or Mystery)
Presumably, once all of the Archmage Arius' are distributed some other new Legendary chase card will be available instead.
Also I expect that Untamed boosters will eventually be available as well.
One player once received a card that shook indicating it was a Legendary. He thought he had won an Archmage Arius but was sorely disappointed when it turned out to be a Sacred Unicorn instead. So don't get excited until you actually see the Archmage! In contrast, @mattclarke found out he had won an Archmage when it suddenly appeared as an option when selecting summoners in a game.
Around the time Beta sold out, Potion charges were introduced as an alternative mystery prize. So far it seems like the possibilities are: 1 charge of Brilliant Mystery, 1 charge of Brilliant Quest, 10 charges of Brilliant Alchemy, and 10 charges of Brilliant Legendary.
The main reason to buy Mystery Potions is because you want a chance at getting an Archmage Arius even though the odds are against you. For most players, buying a Mystery Potion will likely result in a slight loss in value just like how the average Beta Booster or Essence Orb is worth less than its cost because most of the expected value comes from the small chance at Legendaries or Gold Foils. If you are risk-averse or unlucky, you are better off spending your DEC buying specific cards from the Market instead. But if you do want to take a shot at getting Archmage Arius then I would strongly suggest going for Brilliant (100%) potions. Since Archmage Arius is only given out on specific days, in order to have a chance you really want a guaranteed mystery prize on those particular days.