Das war meine erste Season bei Steemmonsters und ich bin recht zufrieden. Von 0 auf Bronze 1 was mir ganze 9 neue Karte eingebracht hat. Für Silber 3 hat es leider nicht gereicht, die 900 Punkte-Grenze war mein persönlicher Endgegner. Immer wenn ich die 900 überschritten habe (in Spitze 945!) ging wieder runter auf 700 oder 800.
Die Karten aus der Belohnung waren gut, leider kein Splinter dabei. Dabei könnte ich neue Splinter zum aufleveln sehr gut gebrauchen, damit ich meine bereits gelevelten Karten nutzen könnte.
Mal sehen was die neue Season bringt.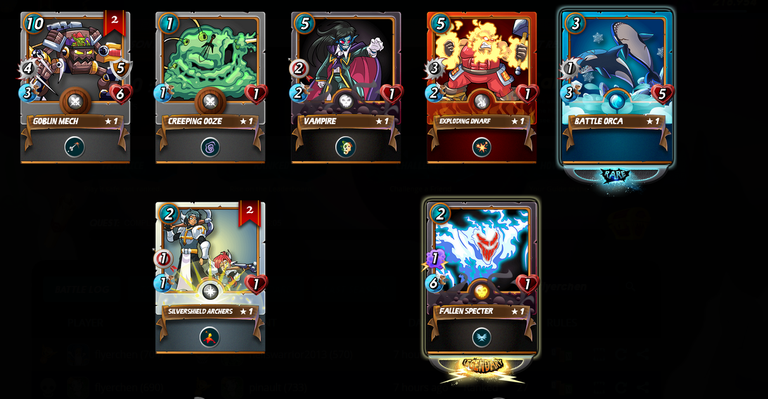 Die ersten 7 neuen Karten./First 7 of my new cards.
This was my first season with Steemmonsters and I am quite satisfied. From 0 to Bronze 1 which earned me 9 new card. For Silver 3, it was not enough, the 900 point limit was my personal boss. Whenever I crossed the 900 (in peak 945!) I went down to 700 or 800 again.
The cards from the reward were good, unfortunately no splinters. I could use new splinters to level up very well, so I could use my already leveled cards.
Let's see what the new season brings.