This is the 2nd challenge to celebrate the release of the Splinterlands Untamed series. Join now and you might win an Untamed prize!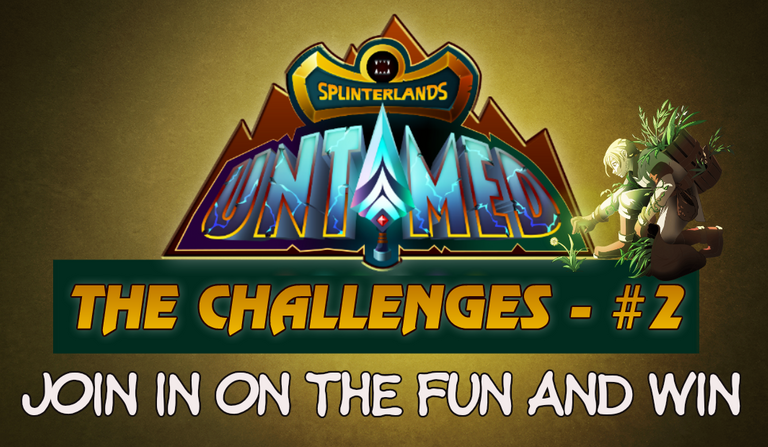 Source Untamed Image - edited with The Logo Creator 7
Untamed Challenges
Last week, I launched the first edition of the Untamed Challenges to celebrate the release of the brand new Untamed series in the coolest blockchain game around: Splinterlands.
I'll be posting a new challenge every week. You have until post payout of the challenge post to write your entry and leave a link to it in the comments section underneath this post.
The challenges won't take up a lot of your precious time. On top of that, they will be pretty easy so everyone will be able to join.
Every week, one or more prizes will be distributed.
You can read more about this week's challenge below.

Source - edited with The Logo Creator 7
Last Week's Challenge
For the very first challenge, I asked the participants what their favorite card art was. Lots of amazing designs in the Untamed series to choose from, that's for sure. The awesome Cornaelus came out as the big winner. Not a real surprise, because the card looks a-ma-zing.
@cicisaja, @guurry123, @rentmoney, @agr8buzz and @pardinus submitted an entry. Thanks for participating, guys.
All participants received some tokens of appreciation and an upvote from my @monstermother and my main account.
Deserving entries also received a generous upvote from the @battlegames acocunt and the @monster-curator voting trail. I really appreciate you guys hopping in and giving out some extra rewards.
As promised, I'm also giving out a gold foil Orc Sergeant. Not exactly the best looking card of the bunch, but a beast in battle.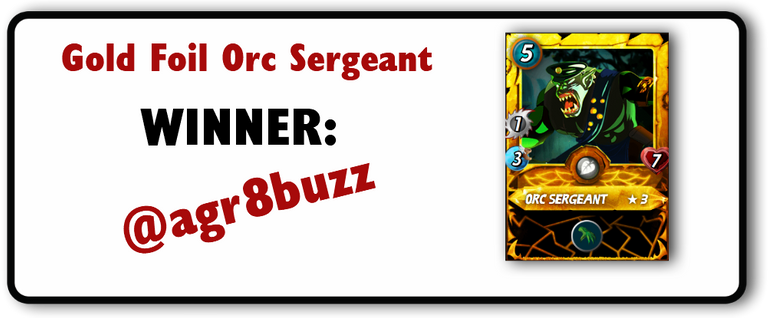 Source - edited with The Logo Creator 7


Congrats, @agr8buzz. I'll be sending the card to your account.



Source - edited with The Logo Creator 7
Challenge N°2
Let's talk splinters this week.
My initial idea was to do something with the new abilities this week, but while I was writing, I realized it might be just a tad too soon for everyone to have played around with those. Since only 10 days have passed since the release, I wanted to keep it a bit more general.
So, this week's challenge:
Which Untamed splinter do you like the most and why?

Source - edited with The Logo Creator 7
How To Join This Challenge?
Here are the steps to follow to create a valid entry:
Write a (short) post in which you showcase your favorite splinter, and explain why this is your favorite splinter


Add a link to this post as a reference.


Tag 2 (or more) other Splinterlands players, and invite them to join the challenge.


Use #untamedchallenge as one of your first 5 tags. (Some other useful tags could be #SPT, #steemace, #battle)


Post a link to your entry post in the comments section below.


I told you it would pretty easy ;0)


💡 💡 NO RESTEEM, NO FOLLOW, NO UPVOTE REQUIRED 💡 💡

Source - edited with The Logo Creator 7
The Prizes
1 - Everyone who sends in a valid entry will receive a vote from my @monstermother account that has almost 13k SPT staked. I'm in the process of adding BATTLE tokens to that account too.
The size of my vote, however, will depend on the quality of your post.
Keep in mind that if you put some effort in the post you create, there will be a good chance you'll be noticed by one of the great SPT/SM curation trails!
2 - Every participant will also receive a token of appreciation. The nature of this token may vary. (Beer, DerangedCoin, Shade, etc.)
3 -The weekly prize will be rewarded to the post for which the author followed all the rules (stated above), and which sticks out above the others. Originality, humor, a great layout and clear, complete and reasonable explanations are important things to keep in mind.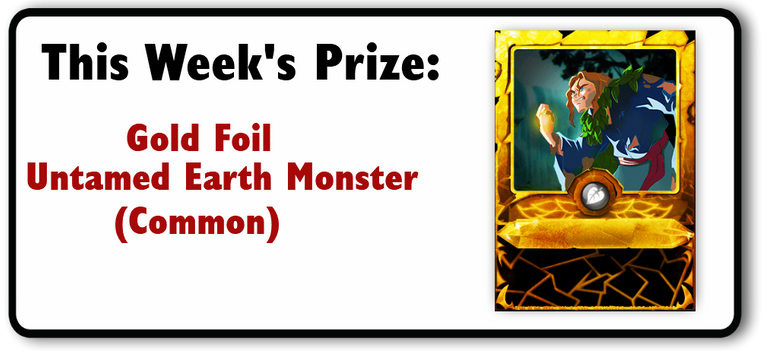 Source - edited with The Logo Creator 7
I'll be sending out a gold foil Failed Summoner card to this week's winner.
This baby has magic reflect for only 2 mana. The perfect addition to your team if you want to counter those magic attacks.
I can't wait to see your entries.

Source - edited with The Logo Creator 7
As an example, here's my own entry for this second Untamed-challenge:


It was not an easy choice, especially since everything is still so new. I noticed I haven't used the Fire splinter a lot yet. I guess I still have to find my way around it.
I have never like to play Life, and I probably never will, even though I must admit the Untamed collection makes the splinter a lot more attractive.
There are some awesome additions to the Water splinter, and the Dragon splinter is really bad ass, but for now, my preference goes out to Death and Earth.
Hmmm... which one do I like most...?
I guess I'd have to say Earth.
Earlier this week, someone mentioned in the Maverick's House in the Splinterlands Discord channel that the Untamed Earth splinter was a bit on the weak side, but I strongly disagree.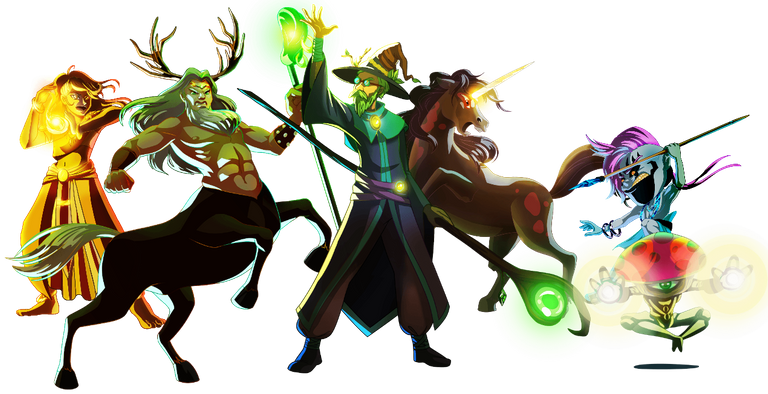 Source - edited with The Logo Creator 7
It all starts with my favorite new summoner ability: the Wizard Of Eastwood takes away 2 shield from all enemy monsters. Finally there's a way to make that annoying Life splinter a bit weaker. Combined with the Rust-ability of the Sporcerer, there's some serious damage to be done.
The Earth splinter now also has 2 magic reflect monsters. The Failed summoner gets this ability right at the start, while the unicorn Mustang gains magic reflect at level 5.
The beautiful Khmer Princess gets tank heal at level 4, which makes her the third tank healer for the Earth splinter, next to Wood Nymph and Spirit Of The Forest.
That's a whole lot of defensive power, if you ask me.
But Earth is more than defense...
Mitica headhunter is so powerful - she has 4 ranged attack at base level - I've seen people using a level 1 in their maxed decks... and be successful with it. It's a super strong card.
Kron the Undying.... He's a beast. I haven't had the privilege to play him full power yet (I only maxed the card yesterday), but I did try it out in silver league, and boy, I was really impressed. 3 magic, 10 health and self-heal at level 1 makes it so super powerful. At level 3, it gets the new ability 'Last Stand', which means that when he's the only monster of a team left, his stats increase. Someone posted a battle, and I saw him go up to 18 health. Now, if that isn't bad ass, I don't know what is.


Maybe my preference will change once I get to know all cards a little better. Heck, there are cards I haven't even played yet, so what do I know?! :0)
But so far, Earth is killing it in my opinion.

Source - edited with The Logo Creator 7
Now it's your turn. I truly hope you'll accept this challenge. Let us Know what your favorite splinter is (and why) and you might take home the gold foil prize!
Don't have a Steemmonsters / Splinterlands account yet?
Create one by clicking the banner below:
Source


DISCLAIMER: This post contains affiliate links.

Graphic created with The Logo Creator Software
Subscribe To RSS Feed | Subscribe To Newsletter