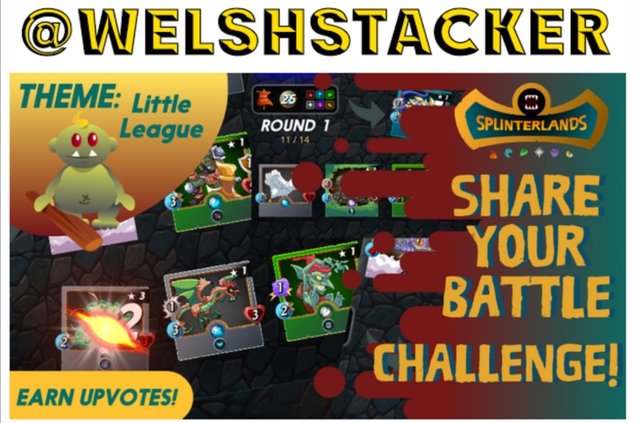 It's that time if the week! The time when @splinterlands asks us to "SHARE OUR BATTLE". This weeks theme is "little league".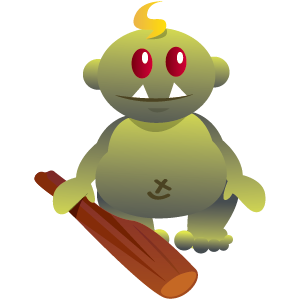 To take part in the "little league" matches, you can only pick summoners and monsters costing 4 Mana or less.....
I do enjoy playing this battle theme and given a level playing field, my splinter of choice would always be WATER. They have a very good tank in the spineback turtle and the +1 magic means the likes of Pixie, Medusa and Ice Pixie really shine.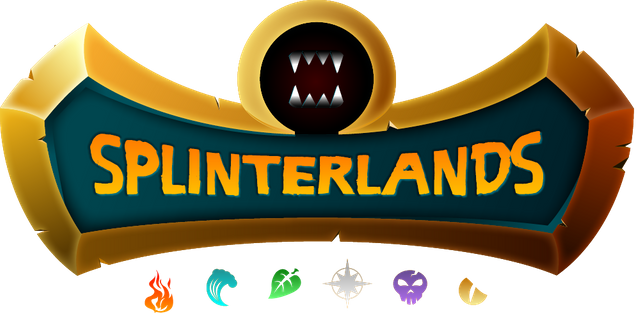 Well...... As you can see from the battle rules above, my opponent and I weren't given much choice. FIRE splinter or, ummmmm, FIRE splinter.
So I chose Fire splinter!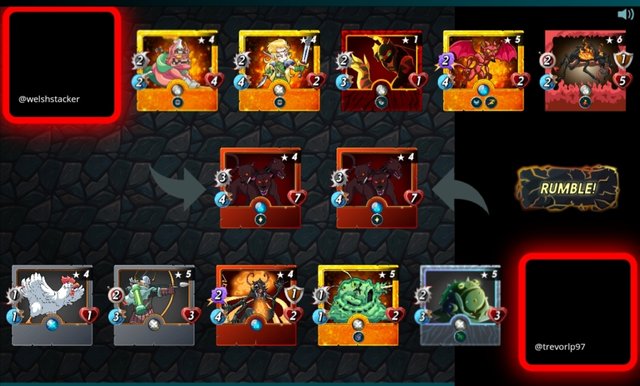 Watch the battle HERE
What at first looked to be two evenly matched teams, in fact was anything but.
When the cards were first revealed I noticed that my opponent @trevorlp97 had chosen a few higher level cards than I had, but none with real attacking threat.
FIRE splinters strength is that it awards all monsters +1 Melee attack, so I always try and pick monsters to best suit the splinter I'm playing....

The big difference between our two teams was the fact that only 3 out of the 5 monsters in his deck were able to give out damage! This was by far the biggest deciding factor.
We both chose to play our CERBERUS' in the tank position with both cards being equal and IMO the best choice tank for this scenario.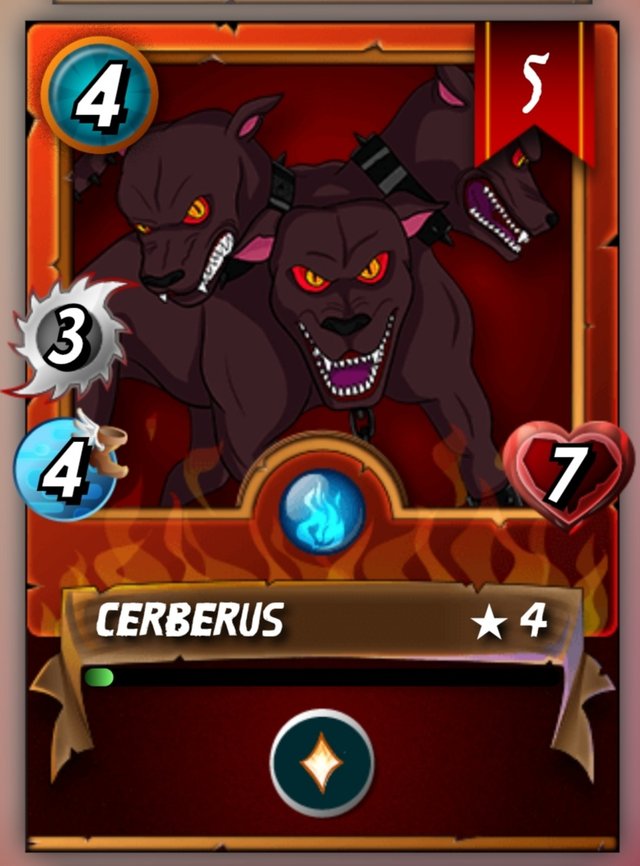 The rest of the deck looked to be massively in my favour.
I had my sneaky little FLAME IMP to give me a +1 speed buff, but was countered by his CREEPING Ooze (-1 speed). Notice the big difference though?? Although our speeds remained the same with buff and counter buff, I still had the advantage of a +2 magic attack.
He picked magic attack and ranged attack, where I purposefully picked monsters that could take advantage of my MALRIC INFERNOS +1 summoner Melee buff.

His attacks were front-end and can be devastating if you can get on the front foot. I focused my attack was towards the tail, where I thought I could cause most damage, while my tank used "self-heal" to stay in the game. My Kobold miner and cutthroat took very little time to work their way through his tail end. My Cerberus did fall, but by using its "self-heal" managed to do exactly what I wanted it to and last the initial onslaught.
Once his Cerberus fell, it was GAME OVER for my opponent and victory was mine!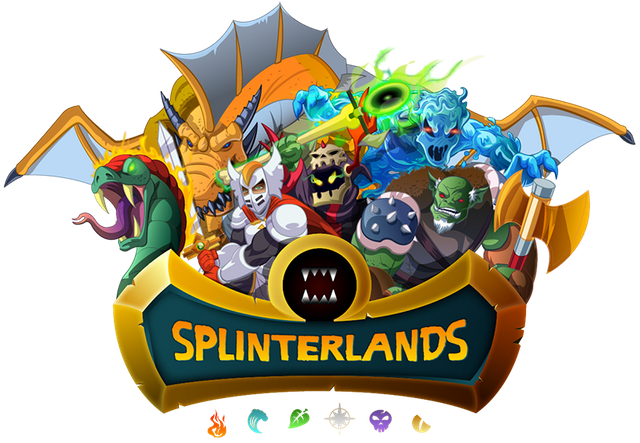 Would I change anything??
Given the rule set and Mana, I don't think I would or could. I think I filled each slot with the best monsters I had for this particular battle scenario.
Given a better deck to play with, I probably would switch out my FIRE BEETLE for a FIRE Demon to use blast, but I only have a lvl 1 Demon and so the Beetle was a better choice.
Every battle and every opponents combination allows me to learn a little more. I'm always trying to improve my strategies and understanding of in game rules.
I know there is a massive community of players out there and some who are much better at this than me. So does anyone want to comment on my setup and style of play?
WHAT WOULD YOU CHANGE?