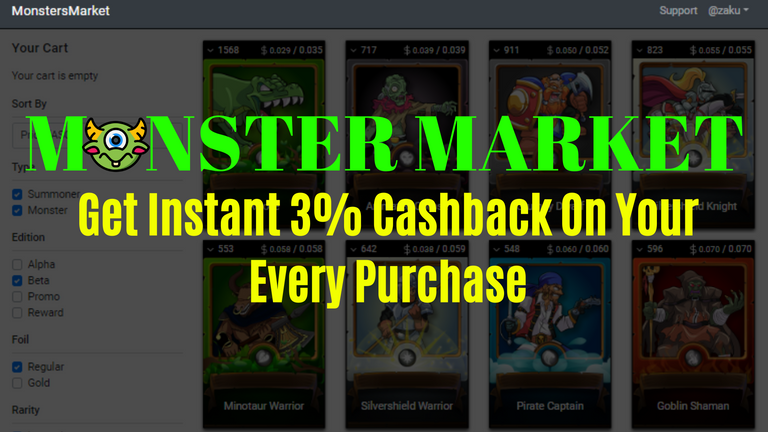 Greetings @splinterlands Lovers, I hope everyone enjoying the UNTAMED season. So, as you all know BETA packs sold out and you can only get those cards from market. As Market only two names comes our mind 1. Splinterlands & 2. PeakMonsters. About four months ago @reazuliqbal (Fantastic talented Developer) created MONSTER MARKET : A Discord Steem Monsters Market Bot. From where users can buy different cards that are available in the markets. This bot has been build on the basis of users' convenience, which saves 3% of your investment. YEAH you heard that right, We were offering 2% cashback on every purchase. But from now we increased that to 3%, so you will get 3% cashback on your every purchase. You can get that cashback only if you used our Disord Bot or Our new Website http://sm.steemify.me to purchase those cards. We release our Website few days ago, though still some polishing needed. But it's good to use and it's support Keychain.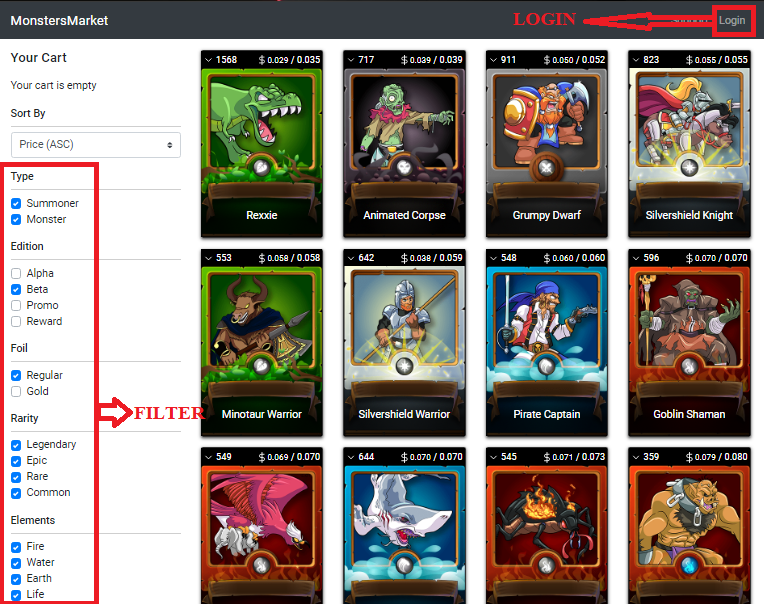 Monstermarket Web page will be like this & you need to login on the site.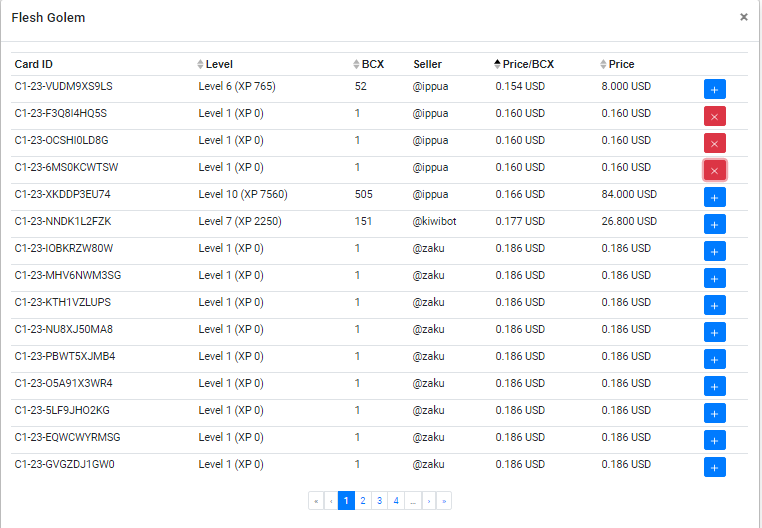 To purchase cards you need to click on that monster card which you want to buy & then a pop up will be showed up. Then select the cards you want to buy.
---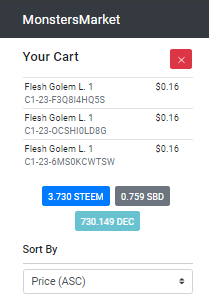 Your selected card will be added on your chart. If you didn't login to the site then there will be two payment methods available (Steem & Sbd), Dec will be unavailable.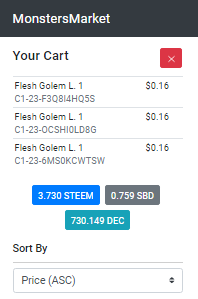 But, If you login to the site then all three payment methods will be available. If you don't have keychain on your browser, I suggest you to Download : Chrome/Brave, Firefox.
---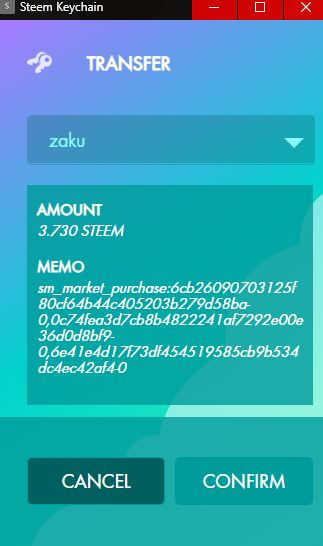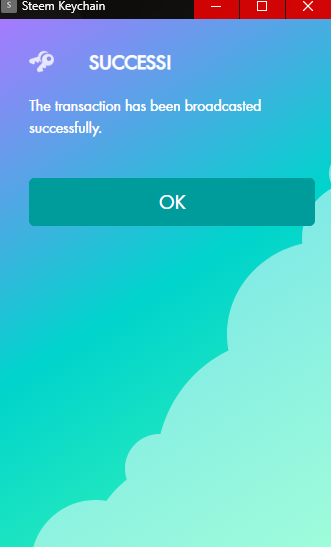 ---
That's it hit the CONFIRM button and Enjoy 3% cashback.

Remember you will get automatically cashback only for Steem/Sbd spend. But if you spend 5000 or more DEC in a single day, you can contact with

@reazuliqbal

on Discord:

reazuliqbal#1149

. He will check the purchase and give the 3% cashback. It's manually cashback process so you may have to wait for that, but all steem/sbd cashback happen immediately after a successful purchase.

How To Purchase Cards From Discord:

Step 1: Go to #monster-market
Step 2: To check the cards available in the market, make the command !list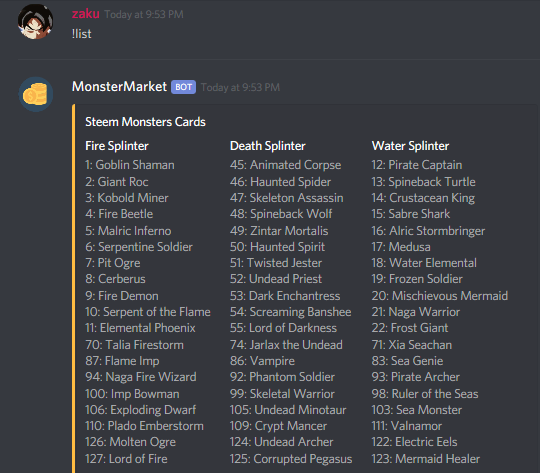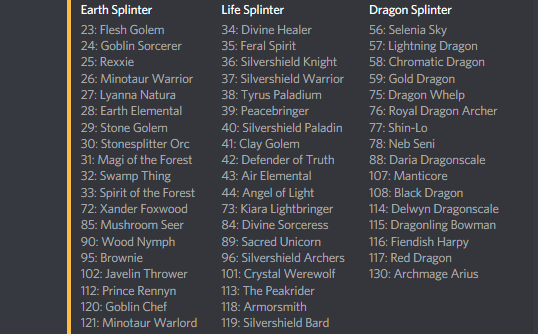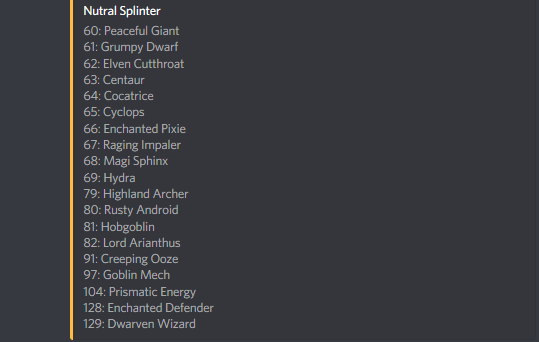 Step 3: Select the number of card you want to buy then space 1 for Gold or 0 for non-gold again space edition (0 for Alpha, 1 for beta, 2 for promo, 3 for reward). After that bot will show the top 10 cards with the lowest price.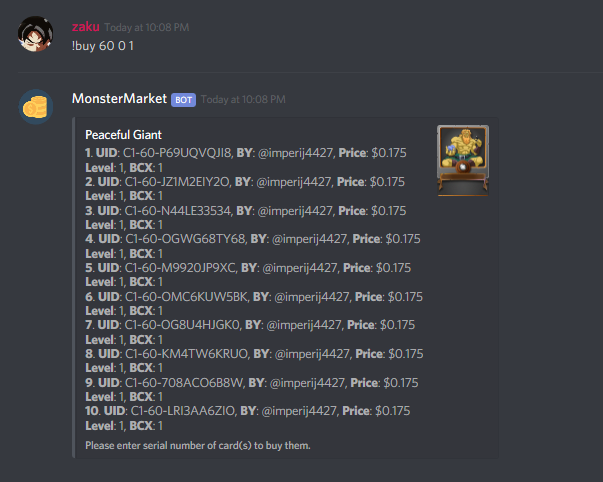 Example: !buy 60 0 1(make changes according to your needs).
Step 4: Then select serial numbers of the card wanna buy, write them using a space among them. At a time user can buy maximum 10 cards. The bot will give you Steem and SBD both steemconnect link to pay.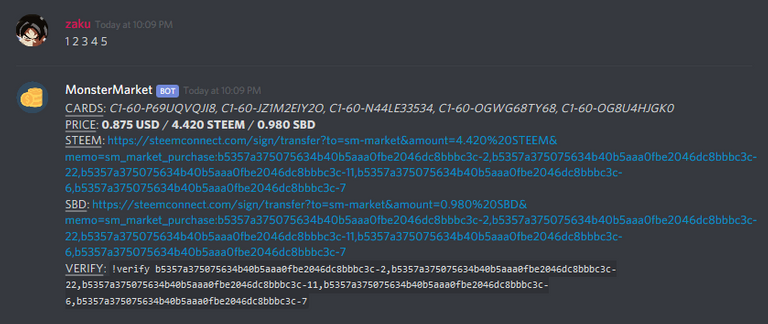 Example i want to buy 1 2 3 4 5 no. cards

You can also add individual card id after the edition code to buy a specific card.
Command : !buy-cards [CARD_ID]
Example : !buy-cards C2-130-D8L59MYTA8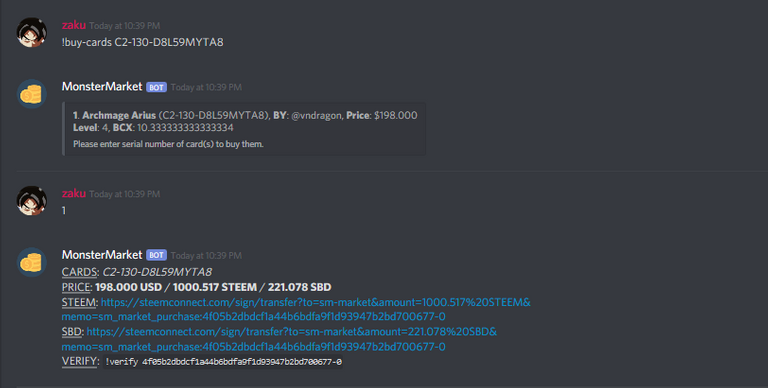 Step 5: !verify with code for confirmation.

The purchase is Done! Cards will automatically add to the user's account.
Happy Purchase

That's all for today if you have any suggestions or if any inconveniences happen, feel free to ask the developer reazuliqbal#1149or mention @reazuliqbal. Also, you can join our Discord Server