You can't forget your first love - Share Your Battle Weekly Challenge
Yo Splinterlands community, I hope your enjoying this marvelous time, when every two minutes a big news pops out: SPS are coming, lands and Untamed Booster Packs are sold out, 20M $ Marketcap is reached.
Not a bad time to be a Splinterlands addict isn't it?
For me it was a period of great results: I was able to buy my very first Yodin Zaku on the market before prices exploded (I bought it for 34$, now it's around 68$ I guess) and I reached Bronze Top10 again, which is now worth 6000 DEC.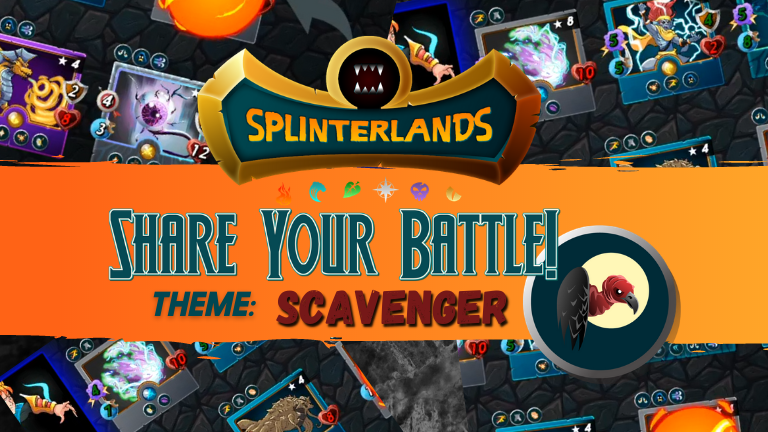 https://peakd.com/splinterlands/@splinterlands/share-your-battle-weekly-challenge-scavenger
Here we are with the challenge, which I literally loved this week! It gave me the opportunity to talk about one my very first memory in Splinterlands: a year and a half ago I just bought the Spellbook and started playing, without having any idea of what I was doing. I was also approaching Hive and his ecosystem, but I was literally groping in the dark, losing battle after battle.
I remember reading this post form the great @marianaemilia and I thought "OMG" I need this card to win battles! 😂 I also reblogged the post, so if you scroll down my profile you'll se it was my very first activity on Hive!
That card was Gelatinous Cube, and it was one very first card I bought. After one year and a half, I know you need much more than that to win, but still Gelatinous Cube has a special place in my heart.
GELATINOUS CUBE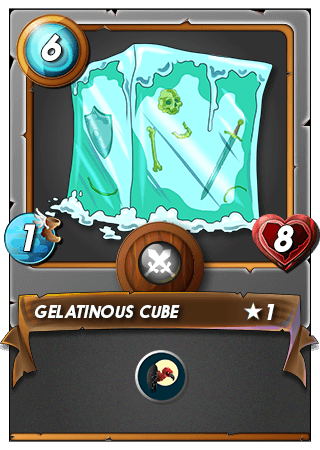 #Edition: REWARD
#Rarity: COMMON
#Element: NEUTRAL
#ATTACK: NONE
#ABILITIES: Scavenger at level 1; Heal at level 6, Void at level 10
One night when the moons were full, the renegades of the Lunta Kalna performed a secret and powerful ritual. Their ceremony called forth forces of wind, rain and hail; for the first time ever in recorded history, there was a hailstorm in Draykh-Nahka. Except it wasn't only hail that fell from the sky that night. There were also a small number of strange Cubes that seemed to be alive. They have the look of ice, but upon contact with most objects, the surface of the Cube turns to jelly and absorbs the object, rather noisily. It is assumed that this is how the Cubes eat. When attacked, Gelatinous Cubes can make their outer shell as hard as solid ice for a short time. They can also alter their size to some degree, swelling up and increasing their power, depending on how much they have absorbed that day.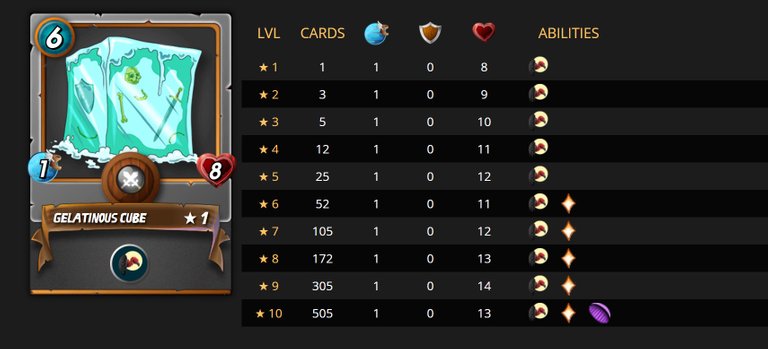 GELATINOUS CUBE AS AN INVESTMENT
This card is quite useful in very specific situations, with a few rulesets (like Noxious Fumes). Like any other useful card, it has quite a good market: more than 300$ were moved trading this card in the last 4 weeks, at an average price of 0.11$ BCX
General value of Splinterlands card is increasing, also for cheaper cards like this one, that was traded at 0.04$ BCX just a few weeks ago. Other cards prices are flying more than this one, but you'll not lose your money if you buy some cubes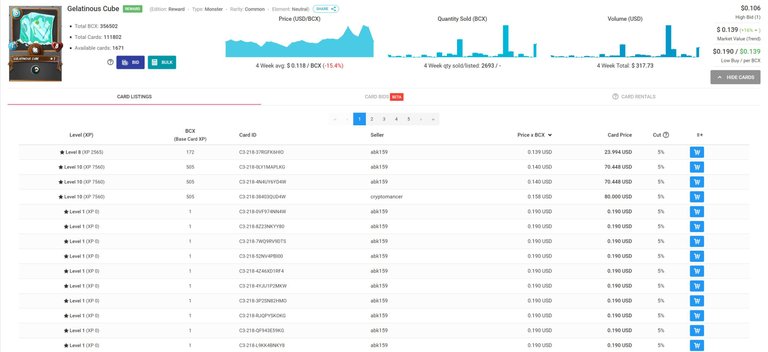 !
MY STRATEGY
There's a couple of specific rulesets that really fit cards with scavenger ability. Generally speaking, this kind of ability goes well with battles with a lot of monsters involved: every time one of them dies, your monster gains +1 life.
So the perfect situation to play a card with such ability, in my opinion, is the Noxious Fumes ruleset. What's better than a carnage of monster for a scavenge?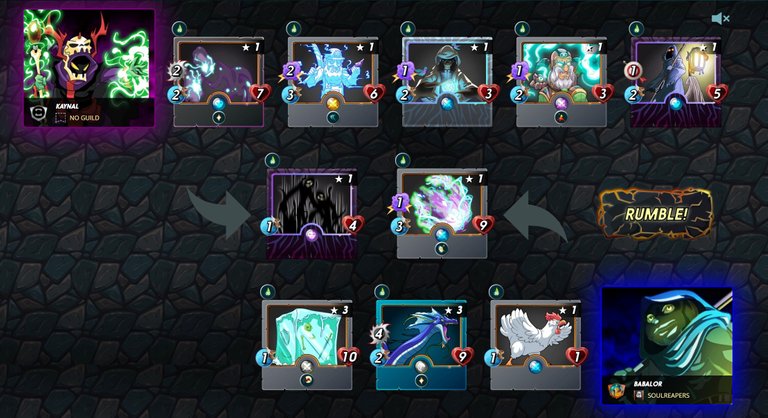 Th showcase the usage of my Gelatinous Cube i choose a battle with a lot of monster and Noxious Fume ruleset, positioning it at the bottom of my lineup (I didn't want it to die before starting the +1 life process). In the first place I used a Prismatic Energy (high life) because I feared my opponent would go full magic.
As a backup tank, my Sea Monster and its ability to heal himself: quite a good ally in such situation.
So my basic idea is to let the battle least enough that all the enemy would die because of Noxious Fume, without even caring too much about my attack.
The battle went exactly as I expetcted, and I was lucky enough to beat a good opponent!
See you next week folks!
Support my blog!
Here's the super-trusted earners I support. Please consider using my referral if want to give them a try
Binance Exchange with the best earning solutions.
Coinbase Earn crypto while learning about crypto.
Cake DeFi Passive income, staking made easy.
Cointiply - Best Earner - Earn Bitcoins by doing offers, watching ads and PTC ads
BetFury - Crypto casino with Faucet: Top Earner! Claim -> Play -> Stake -> Earn
PipeFlare - Best Faucet.Pays immediately to your wallet
Presearch Earn tokens for surfing the web!
---
---
---