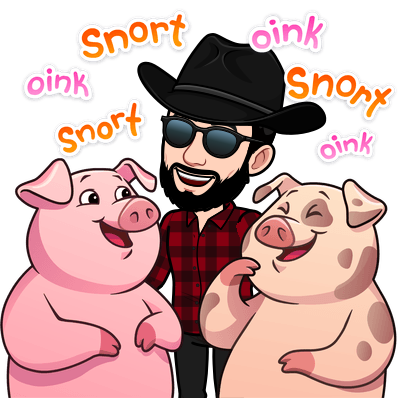 It's time for some good ol', snort-laughing beer-barreling fun in the Steem Monsters Tavern!
---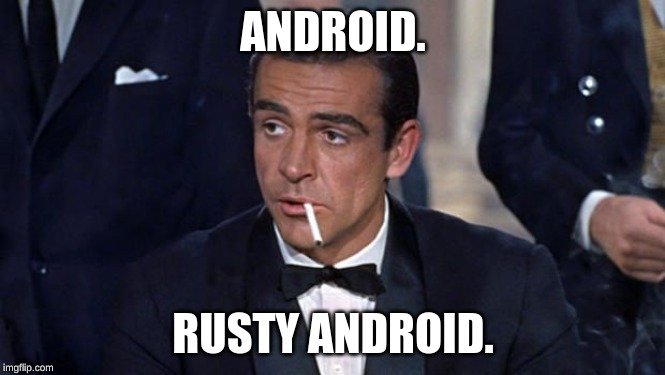 The Story of the Tavern
The Steem Monsters Tavern was founded in the early days of alpha Steem Monsters, when we knew very little. Since then, as many of you know, I have risen to the level of Loremaster for Splinterlands. While I am creating the majority of the official lore for the game, I still enjoy writing these sitcom-style sketches to make my snarky little commentaries on everything.
As described in most of the episodes, the Tavern exists in a parallel dimension to the Splinterlands. Some lucky monsters have found their way through the mystical portal in the enchanted woods, and now they can enjoy a life of leisure and endless free drinks in the Steem Monsters Tavern. I cannot emphasize enough that this is fan fiction. The rules aren't in play, but if you want to hear some good fun poked at some of your favorite Splinterlands characters, the Tavern is the place for you!
Every single episode of the Steem Monsters Tavern has been performed live with the help of a Discord studio audience. This is always hilarious, even if the jokes don't land, because we're all reading cold.
---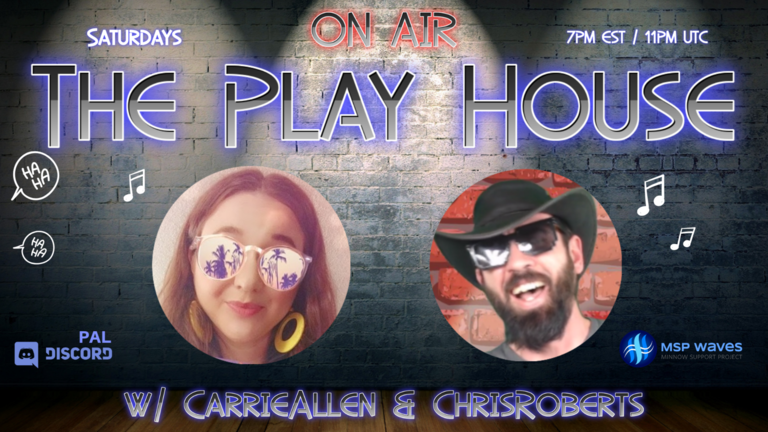 Every Saturday night,
@carrieallen
and I (who live together) ham it up for two solid hours on MSP Waves, just for your entertainment! We play music, we hold contests, and we love to perform material from our YUGE vault of original sketch comedy, with the help of our Discord audience!
Join Us. 5 pm Mountain Time.
---
On to the Script!
Scripts are provided so everyone can spoil and prejudge my jokes for themselves, and in the rare case that someone sees a part for which they are "perfect," they have the opportunity to exhaustively rehearse for their fifteen minutes of fame. Also, I want rewards... so upvote me.
---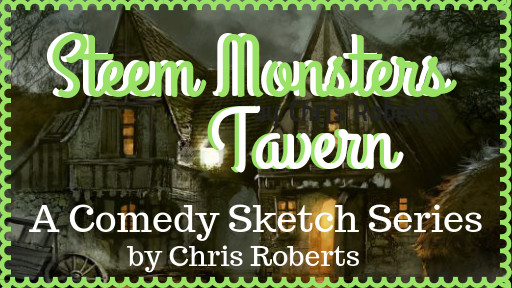 The Steem Monsters Tavern
Episode 20 - Untamed!
by Chris Roberts
CHARACTERS
GOBLIN SORCERER - Frank, the Goblin behind the bar.
SILVERSHIELD PALADIN - High-ranking officer of the Silver Shield
WATER ELEMENTAL - Personified essence of water, in a bucket on the counter.
VALNAMOR - Legendary summoner, brief appearance.
FIRE DEMON - Frank's buddy, everybody loves this guy.
STONESPLITTER ORC - Brief appearance from the corner of the room.
SOUND FX - STEEM MONSTERS TAVERN SONG
NARRATOR
Deep in the heart of the Splinterlands, hidden away in the depths of Anumun's Western Wood, there is a magical portal. Monsters who stumble in are taken to a strange place, a parallel dimension, and those lucky enough to avoid the squishing and slurping attacks of the Mud Golem on the other side might just find their way to the Steem Monsters Tavern.
The Steem Monsters Tavern is a wonderful place! Warm, inviting light spills into the mystical woods through its open windows, and merriment of great magnitude can be heard, resounding from within its walls. In the Splinterlands, a monster must always be on its guard, for there is trouble, violence and danger lurking around every corner. But in the Tavern, they can all relax, have a few beverages, and kick up their feet, hooves, paws, talons or tentacles.
The Goblin Sorcerer is in his usual place behind the bar, busily making magic drinks of all shapes, sizes and colors. The monsters sure are thirsty tonight, but that's okay! The drinks never run out in the Steem Monsters Tavern, and they're always free!
GOBLIN SORCERER
You've been staring at that glass for the last five minutes, Gus.
SILVERSHIELD PALADIN
How dare you, sir? I am a paladin of the Silver Shield! From henceforth you shall address me in the proper form of… Sir Gustwick Von Sparkleberry of the Silver Shield!
GOBLIN SORCERER
Yeah I'm not gonna do that.
WATER ELEMENTAL [laughing]
Seriously, your name is Sparkleberry?
SILVERSHIELD PALADIN
I… I didn't choose it.
WATER ELEMENTAL [still laughing]
stop, stop, I'm getting a cramp!
GOBLIN SORCERER
A cramp? How is that even possible?
SILVERSHIELD PALADIN
To whom are you speaking?
WATER ELEMENTAL
I'm right here, Sparkleberry!
SILVERSHIELD PALADIN
Under the bucket of water?
GOBLIN SORCERER
Inside the bucket of water, Gus. This is the Water Elemental.
WATER ELEMENTAL
Pleased to meet you.
SILVERSHIELD PALADIN
What devilry is this?
GOBLIN SORCERER
C'mon, Gus. You know, it's an elemental. It's just water, but it's kind of a person. Make sense? It's like, it can be a person when it needs to be, and just plain water when it needs to be. Whatever's convenient at the time.
SILVERSHIELD PALADIN
Fascinating. I have never met an elemental before. Shall I plunge my hand into you?
WATER ELEMENTAL
That won't be necessary! Water Elementals don't shake hands.
GOBLIN SORCERER
Anyways, the Water Elemental has been sitting on the bar in this bucket tonight because that Legendary Water summoner likes to drink the Elemental water. What's his name? Kind of gross, if you ask me.
WATER ELEMENTAL
Yes, it is gross. Take it from the water. And Valnamor is his name.
GOBLIN SORCERER
That's right!
VALNAMOR
Did someone call me? I am Valnamor! Oh, excellent, my bucket of Water Elemental!
WATER ELEMENTAL
Here we go!
VALNAMOR
Gulp, gulp, gulp… That's some good Elemental!
GOBLIN SORCERER
Sorry about the little bits of fuzz. I think the Brownie was playing around with the bucket while I was in the back earlier.
VALNAMOR
Quite alright, Goblin Frank! And now, who wants to bet that I can't hold my breath for six minutes? I know you want some of that action, Stone Golem!
STONE GOLEM
Rrrrrgggggggggggggggg.
GOBLIN SORCERER
So anyway, Gus. Why do you keep staring at your glass like that?
SILVERSHIELD PALADIN
I… Is this truly the apple juice I ordered?
GOBLIN SORCERER
What does it look like?
SILVERSHIELD PALADIN
Indeed! It has the appearance of apple juice, but I must say, I have been fooled before.
WATER ELEMENTAL
Are you saying you can't tell the difference between apple juice and piss?
SILVERSHIELD PALADIN
Are you saying that you can?
GOBLIN SORCERER
When I made the drink for you, like ten minutes ago now, I remember thinking, "another Silver Shield bozo with another weird drink. Apple juice this time." So it was apple juice, but like I said, the Brownie was here, and he's always pissing in strange places, so your guess is as good as mine.
WATER ELEMENTAL
What does it smell like?
SILVERSHIELD PALADIN
I dare not sniff it, for while apple juice has a pleasant, fruity aroma, the smell of urine is something… else entirely.
GOBLIN SORCERER
Time's up. Better just dump it, but not down my drain. The Swamp Thing hates apple juice. And urine. Better dump it outside.
SILVERSHIELD PALADIN
Very well, kindly prepare my next apple juice!
FIRE DEMON
Goblin Frank! How you doing today?
GOBLIN SORCERER
Alright everybody, clear a path! Make way for the Fire Demon! Hold onto your souls! Smoke 'em if you got 'em! How are you, Randy?
FIRE DEMON
Not so good… My relationship with whiskey is on the rocks.
SOUND FX - CANNED LAUGHTER
STONESPLITTER ORC (from off)
Toss me another bottle of Johnny Walker, would you Frank?
GOBLIN SORCERER
Coming at you, Stonesplitter! [aside] He never catches these.
SOUND FX - BOTTLE BREAKING
STONESPLITTER ORC
The bottle broke! How do we fix it?
FIRE DEMON
Did you try scotch tape?
SOUND FX - CANNED LAUGHTER
GOBLIN SORCERER
You're too much, Fire Demon Randy.
FIRE DEMON
So did you hear about Untamed?
WATER ELEMENTAL
What's Untamed?
FIRE DEMON
Water guy! I didn't even see you there! Nice bucket! Had me thinking you were a pail ale.
SOUND FX - CANNED LAUGHTER
GOBLIN SORCERER
So what the hell is Untamed?
FIRE DEMON
I don't really know, but you may want to put a sign on your door that says something like, "only tame animals allowed."
GOBLIN SORCERER
Wait, wait, wait. This place is full of animals. What's makes an untamed animal.
FIRE DEMON
Well, you got your animals and you got your monsters. "Monsters" is the word we use to describe intelligent things, like people. But we don't say people.
GOBLIN SORCERER
And animals are?
WATER ELEMENTAL
I'm lost.
FIRE DEMON
Animals don't get much credit. They're basically anything that can't talk.
GOBLIN SORCERER
But I thought everybody talks.
WATER ELEMENTAL
Not Voiceboxless George…
GOBLIN SORCERER
Of course, not Voiceboxless George!
FIRE DEMON
Anyway, there are gonna be a bunch of new animals, even dumber than before, and if you wanna keep all the poop off your floors, you better get a good jump on discriminating against them.
GOBLIN SORCERER
Where did you hear all this?
FIRE DEMON
Oh, I hooked up with the Mischievous Mermaid last night. You know she's the chief editor for the Mer-Mag Gazette, right?
GOBLIN SORCERER
So this whole thing is called Untamed?
FIRE DEMON
Yeah. I'm telling you. Monsters are gonna try to bring them in as service animals, but you can't let them, Goblin Frank.
GOBLIN SORCERER
But what if they present paperwork?
FIRE DEMON
I can understand how that may make it seem more official, but this is a parallel dimension to the Splinterlands, basically a world of complete nonsense. There is no agency that regulates the legitimacy of service animal documents.
GOBLIN SORCERER
That's a good point. What about your phantom?
FIRE DEMON
What phantom?
GOBLIN SORCERER
That little one that's been hiding there behind your hoof.
FIRE DEMON
Oh, that's Barry. Don't worry.. He's a service phantom. And he's fully tamed.
GOBLIN SORCERER
Pleased to meet you, Barry…
SOUND FX - TINY SNARLING AND GROWLING
FIRE DEMON
He's not that tame. So trust me, Goblin Frank. The sign should read "Tame Animals Only."
GOBLIN SORCERER
Thanks, Randy. I appreciate the tip.
FIRE DEMON
Well, I better get moving! Remember monsters: too many margaritas are liable tequil-ya!
SOUND FX - CANNED LAUGHTER
GOBLIN SORCERER
Alright, Randy. We'll talk soon! Alcohol you!
SOUND FX - CRICKETS (or silence)
GOBLIN SORCERER
Something wasn't right about that. Lemme try it again… Alcohol you! Get it?
SOUND FX - CANNED LAUGHTER
GOBLIN SORCERER
That's better. Man, reality must suck compared to this. Yeah, yeah, yeah! Magic drinks all around, coming up!
NARRATOR
And Goblin Frank, the Sorcerer turned bartender kept making drinks for all the monsters through the night. Most of the monsters got fairly plastered, but no one had to drive, since there was no such thing as automobiles. It was eventually determined that the glass on the counter was urine after all, when the Brownie was later caught peeing in all the glasses in the booths of section C. After some discussion, the board of the Tavern decided to demote the Brownie to the status of Untamed, effectively banning him from future entrance. There aren't many rules in the Steem Monsters Tavern, but who knows what kind of unexpected and perhaps disgusting challenges the Untamed will bring? Join us next time to find out!
SOUND FX - STEEM MONSTERS TAVERN SONG
END OF EPISODE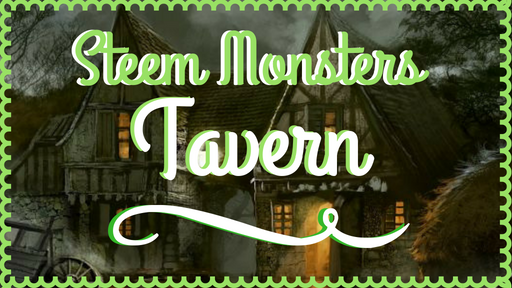 ---