Repository
https://github.com/blokadaorg/blokada
Hello and welcome to my blog for this exciting blog post.
User privacy is something most individuals cherish. Everyone wants to be safe and secured.
The internet is not like before during the analog days. Everything is digital now and instant. Connecting to the internet only takes a matter of seconds now with relative ease has changed people lifestyle. It has changed the way we work and live. We now do things conveniently. However, this convenience comes with a big price that we have to pay. The price is Your privacy.
Internet privacy is now a concern for any user that wishes to connect to the internet. Big companies/Internet Service Providers track your internet activities across multiple websites to serve you advertisements. Cyberfraud is on the rise as cyber criminals look to steal your data for nefarious activities. The government also track your everyday activities.
You can see that it is now very important to protect your internet privacy. No-one will do it for you, you have to take the responsibility yourself.
A good way to protect your internet privacy is through the use of BLOKADA.
Introducing Blokada
Blokada is a free ad blocker for Android devices. It blocks ads without requiring the device to be rooted and also support both wifi and mobile networks. It blocks trackers and malware. It is open source.
You are probably thinking that Blokada is like other ads blockers out there. Well, Blokada is not and it possesses some features that rank it better than any ads blocker. Some of these features include
Simple user interface
The recent update version 4 is a great upgrade to the previous versions. This version provides a clean and easy to understand UI, unlike the previous versions that have some of the functionalities all clustered in a page. This new version possesses 3 sections that you can interact with by swiping up to see more options regarding the section.
Home Section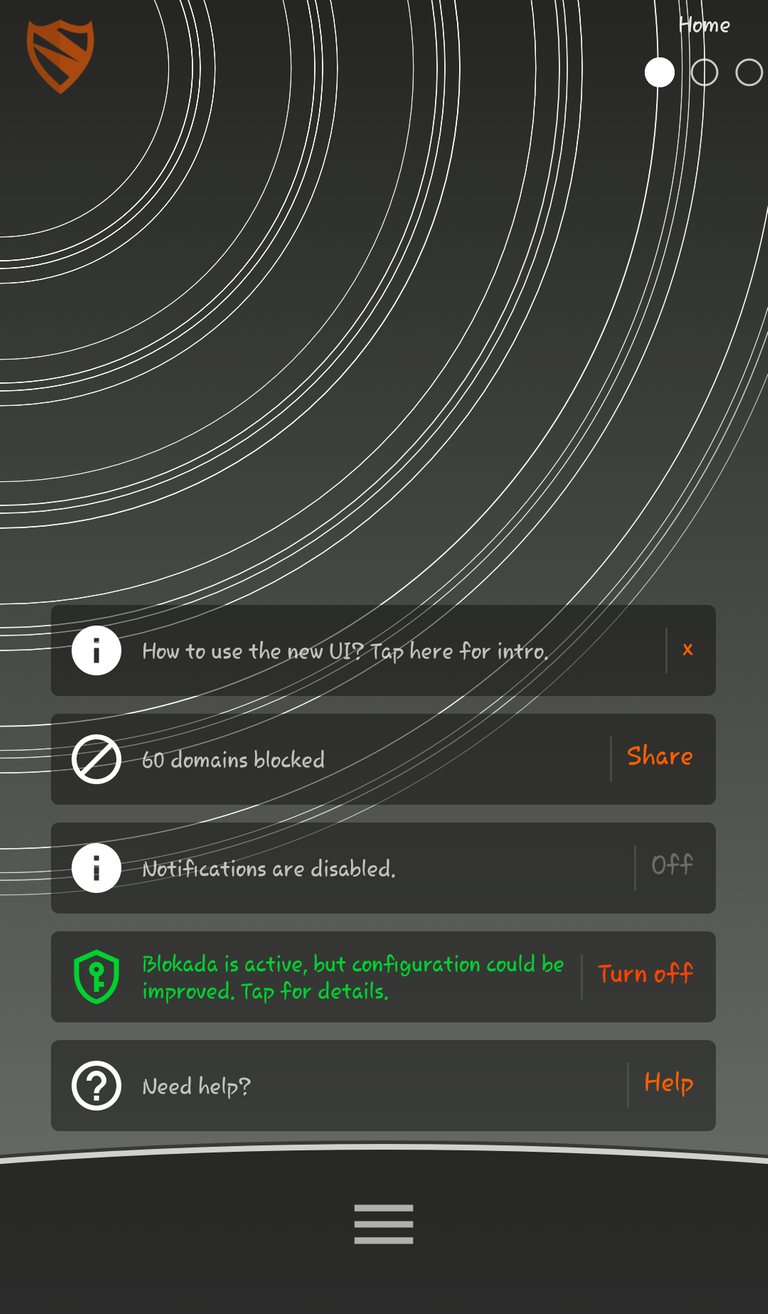 You can see a number of options to select from in the homepage. Since the UI is new, Blokada has provided a little intro for users to get acquainted with the new interface. Next is the number of domains blocked by Blokada. In my case, I have 60 domains blocked. You also have the ability to enable or disable notifications. These notifications will popup the domains blocked or allowed from time to time. The next option allows you to turn on or off and activate Blokada. You can read the help manual in the last option. One thing you will notice is the Blokada shield in the top left corner of the application. The shield gives easy access to either activate or deactivate Blokada activities. The shield generates waves. The light grey waves generated signifies the allowed domains while the orange ones are the blocked domains. The shield is present in all sections of the application which means you don't need to navigate to the first page before you activate Blokada. Everything is made easy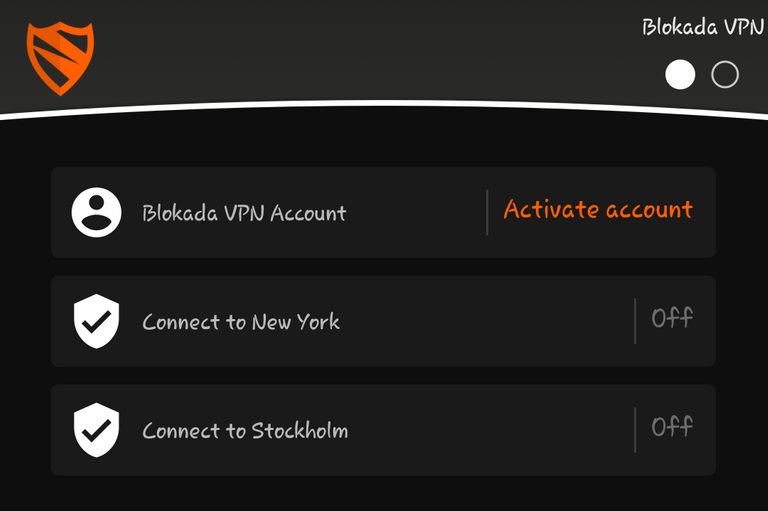 Swiping up the homepage will allow you to activate the VPN gateway or choose your preferred DNS servers. You can activate the VPN account for a fee of €5 per month which will give you access to either connect to the New York or Stockholm gateway. Maintaining full anonymity on the internet is not entirely free. Paying €5 to get that while also getting ads blocked, tracker blocked for free shouldn't be a problem. The VPN protects your real IP address, provides security, and also allows you to access restricted contents all for a minimal fee.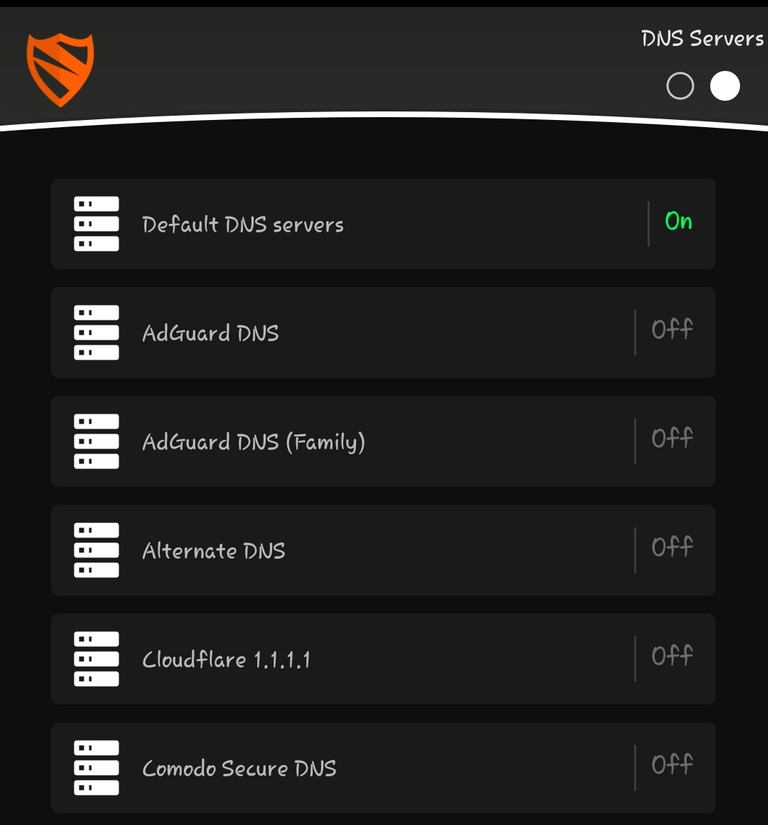 You can swipe right to change your DNS. Each of these DNS servers has what they protect. Selecting any of the servers from the list will display what it aims to protect you from. You can see that Blokada is the best app out there that secure your internet privacy.
---
Ad blocking section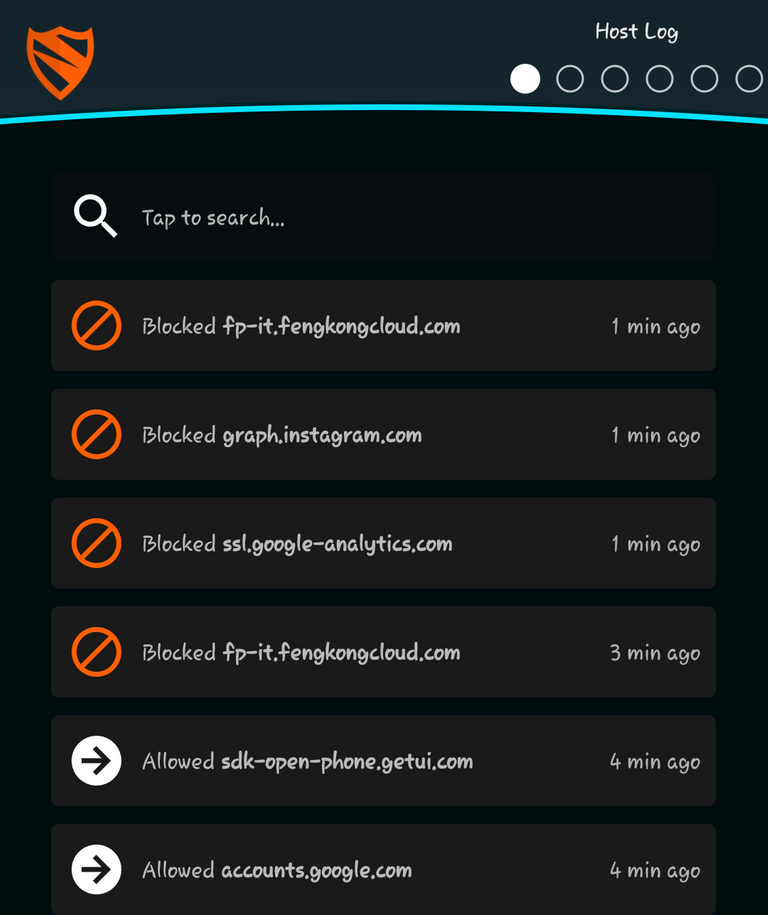 This is the main function of Blokada and this part ranks it above other similar applications. Most ad blockers will only block the ads/domains, you can't see which one is blocked or allowed. This is not the case with Blokada. Swiping up will reveal all the blocked queries and allowed queries in the **host log** page.
Swiping right will give access to blocked hosts. You can block a website from being accessed on your device. This is a good tool especially if you are leaving your device for your kids, you can easily restrict access to certain websites. There is also an allowed hosts websites that allows you to set a whitelist of websites that can be accessed.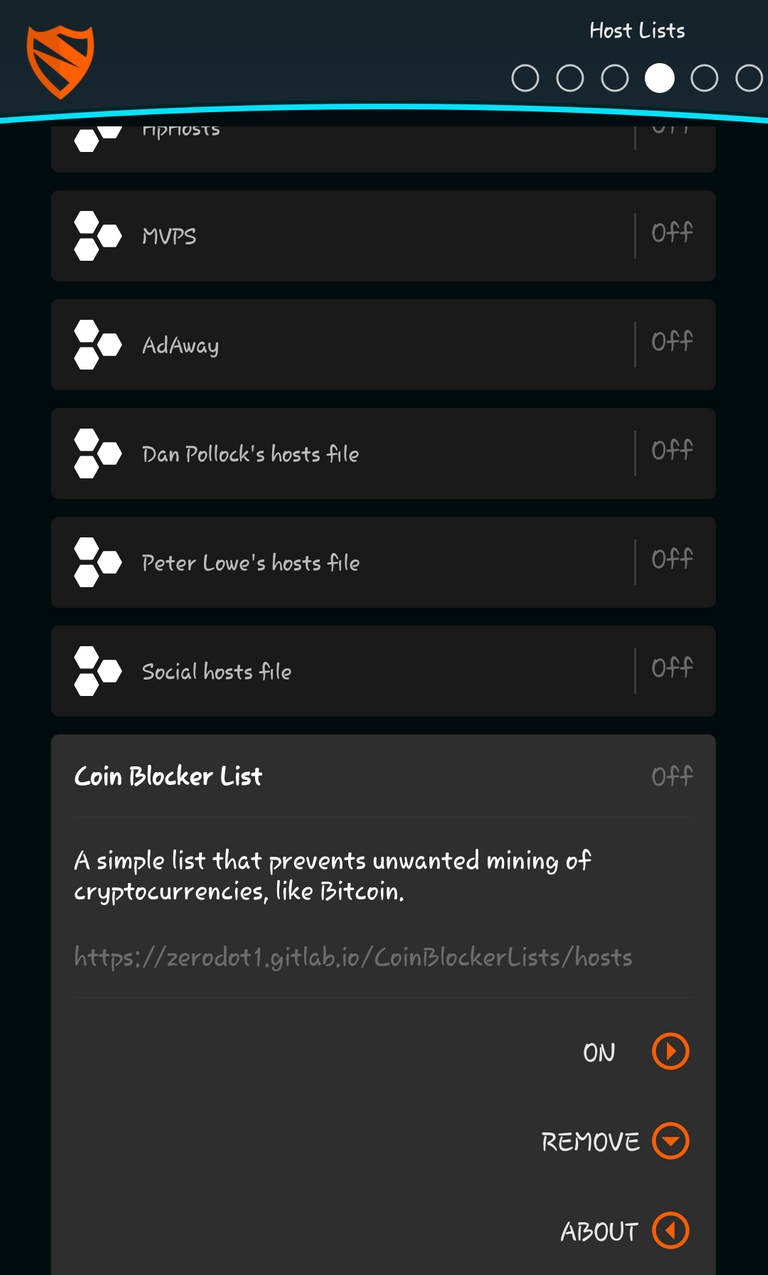 The next tab is the Host lists. This is one of the best features of Blokada. The truth is there are many websites out there that you wish to block but don't remember their names. Blokada possesses a host list that when turned on will restrict access to certain predefined websites. Let's take a look at Coin Blocker List. The coin blocker list will block illegal mining of cryptocurrencies on websites. There are some websites that have scripts running in the background. These scripts use your device resources to mine cryptocurrencies. Can you see that the host list is a very easy way to block multiple websites at once? You can view the host lists options and select anyone that fits you.
The next two tabs let you whitelist the installed apps and the system apps.
Advanced Section
The last section which is the advanced section gives information regarding the state of Blokada. This is where you make certain settings on how Blokada should behave.
Swiping up will reveal a host of options to toggle with.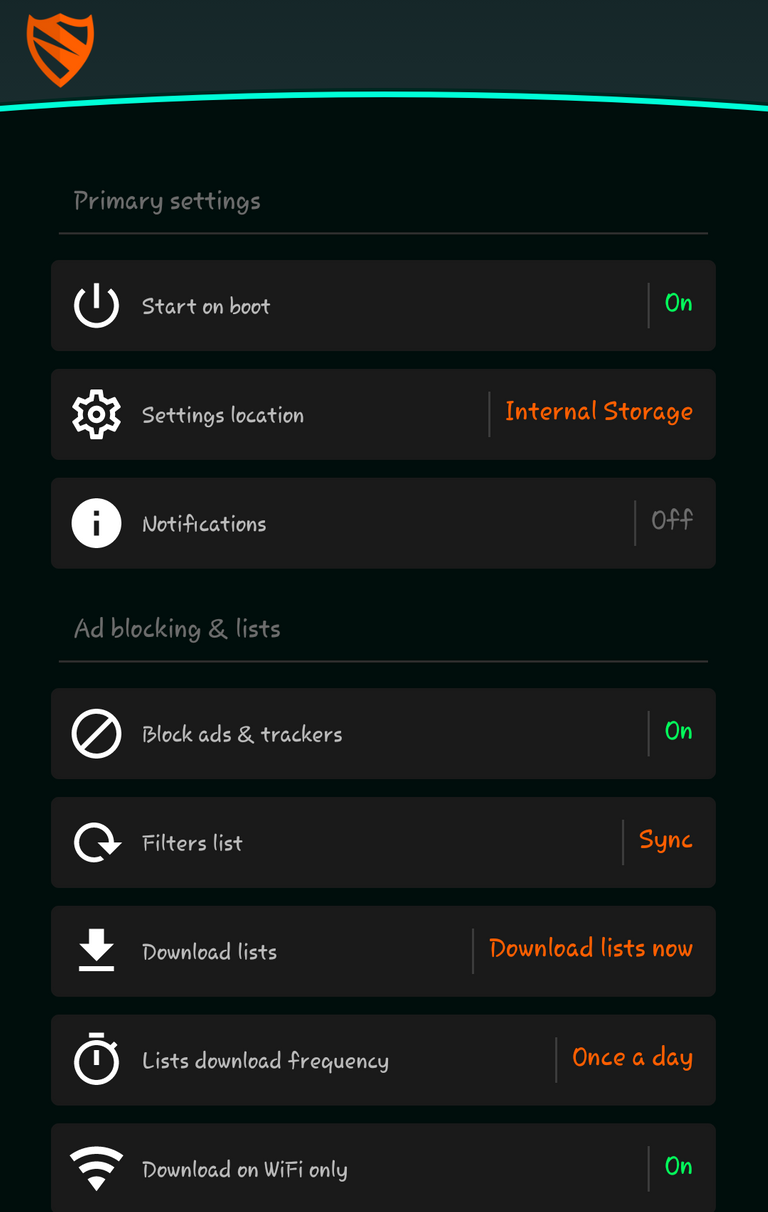 The first on the list is the ability to start Blokada immediately your device powers on. This is one good feature that reduces the time used in opening the application every now and then. You can also choose your preferred settings location to either internal or external storage. Just like on the homepage, you can turn on and off notifications, ads, and trackers. You can also sync the filters/host lists and re-download them in case you have any issues. Since the lists re-download will consume data, you have the ability to download via wifi or using your mobile data.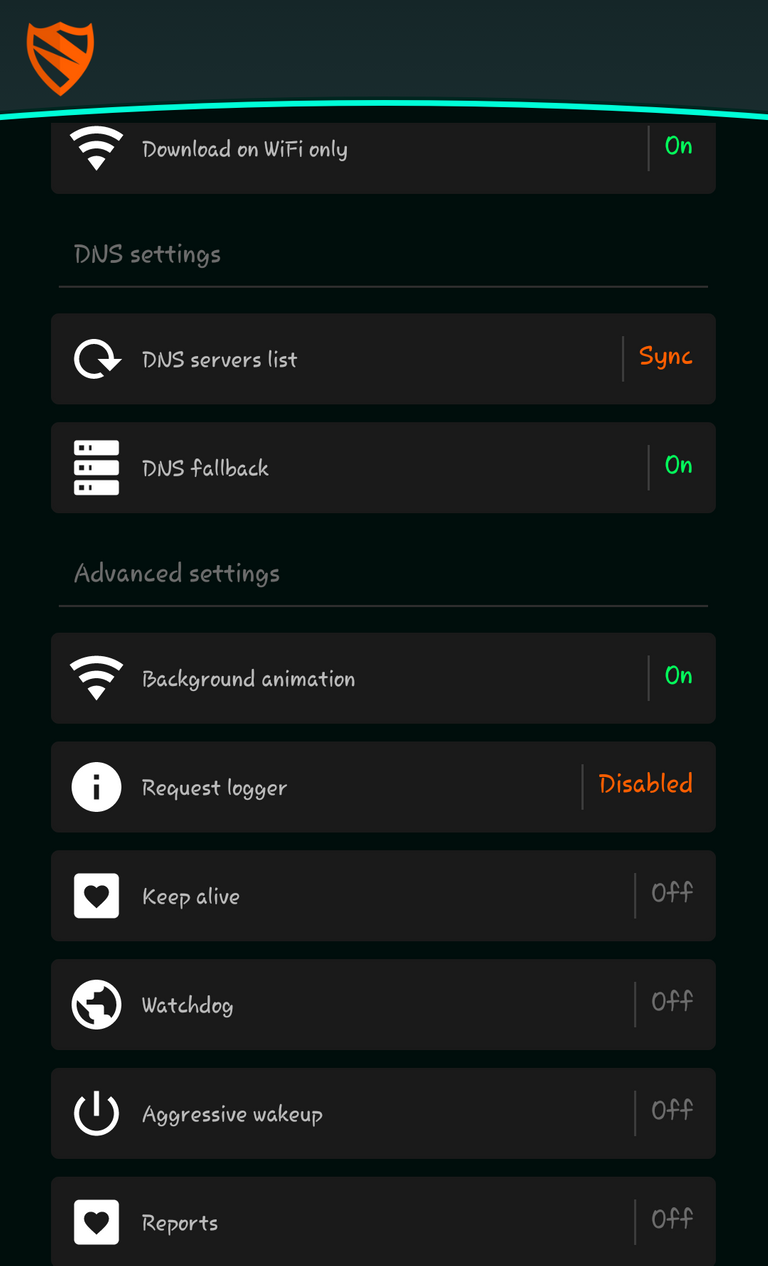 More advanced settings include options to set when you encounter a problem regarding Blokada usage. You can enable or disable the waves generated by the shield by turning off Background animation. One good thing about Blokada is that you can send bug reports right inside the application. Turning on the reports option will allow the application to send reports once the application crashes or encounters an issue. You can see that Blokada is a complete application.
---
Conclusion
Blokada is a simple but very effective application. It puts privacy first and possesses many features that you won't find in other similar features. The fact that it is open source means that you are safe with the knowledge that the application is not monitoring your activities. With Blokada, your internet privacy is assured at a minimal price.
My GitHub profile
---
Posted from my blog with SteemPress : https://zoneboy.000webhostapp.com/2019/07/blokada-securing-your-privacy-online
---