Acolytes of Helio DAO treasury report - Splinterlands guilds Acolytes of Helio and Disciples of Helio – News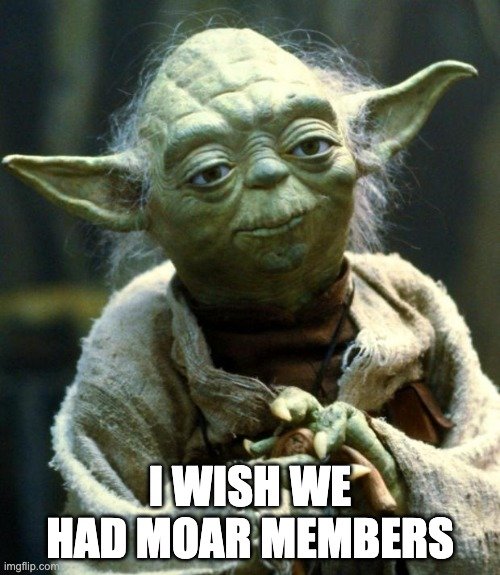 Hello Acolytes, Disciples and fellow Splinterlands players!
With @aaros leaving our main guild and changing to Hydra Kids, Hydra Wife guild we have one more spot that is open. Of course a top 100 guild is way more attractive, and we thank you for being with us to this point. If you read this, we will miss you and should you want to come back at any point feel free to reach out.
Saying goodbye to Aaros! Ahu!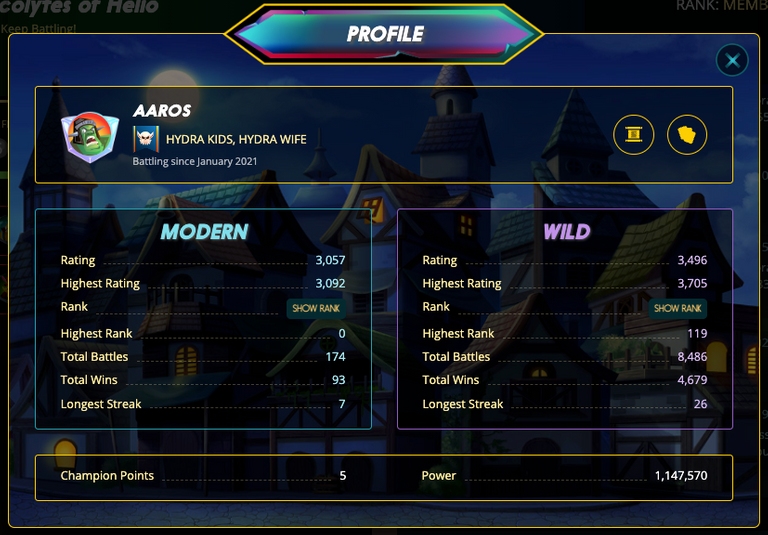 image source Splinterlands.com
Active Membership
Heroes oft the past: @gigas (R.I.P.)
Join our guild and benefit instantly!
How to join our guild:
To join our Guild please complete the below steps:
Join our Guild Discord channel.
Once in discord introduce yourself with a bit of your Splinterlands or P2E background and why you are interested.
Pay our monthly 100 DEC membership fee to @acolytesofhelio
Guild Requirements:
We strive to have an active membership that is interested in both Splinterlands and the idea of working together. As such we have a few requirements:
Keep current with guild membership fees: 100 Dec per month
Interact with the guild regularly on Discord. Discord is our primary communication medium
Post on Hive. At the end of the day, we value members that value the Hive environment. Our members have all grown their Hive accounts by actively supporting each other and we expect the same from newer members.
Purchase at least 1 Cartel token. We work closely with OneUp and the 1UP-Cartel and require members to hold at least 1 token. Check this post for details on the Cartel.
Guild Benefits:
Why join a guild and pay a fee; well because you get benefits to doing so of course.
Bonus DEC per win: 2-3% currently
Access to Brawls and Gladiator cards
Automatic curation from the Guild account for all Hive Posts
Voting rights on the fate of the guild and its assets.
Free cards with winning all matches during a brawl
Access to knowledgeable members to help you build your decks and grow yourself in the P2E world.
CARTEL dividends (we keep those compounding now)
Paid guild writing gigs! Write for the guild and earn DEC rewards! (terms apply)
https://images.hive.blog/0x0/https://files.peakd.com/file/peakd-hive/acolytesofhelio/23tm9Tt2MQK5C8ZCubXaANs6ppSDccSMm4EXLAnGb1DhsvuJC6P4mLJYWpBA6pXT4dtuu.webp
DAO FINANCIAL REPORT
HIVEPOWER and HBD


Our HP increased by 13% now sitting at over 113 HP.HBD holdings in the savings account have slightly increased to 5,46 HBD due to the interest we claimed. Next time to claim is in 29 days.
We continue to grow our effective HP and we are on a good way of building a long term sustainable guild treasury. As our guilds active members grow so will the guild. That is why it is vital that our account keeps posting updates.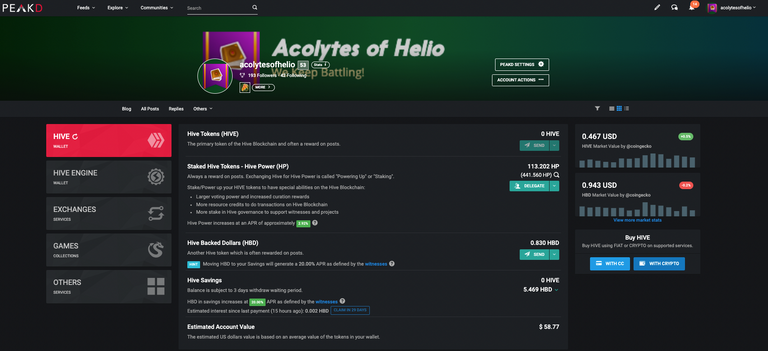 Our main tribe tokens staked have also grown again. This is a very nice side income to the main tokens.


Second layer hive-engine tokens
SPT, ONEUP, MEME, LEO, THG
SPT holdings:

ONEUP Holdings


Since delegating 50% of our MEME to the curation service of the CARTEL we have made a few more and the amount has been staked after the screenshot.

You can have a look at all our hive engine tokens, how they are staked and delegated here: https://peakd.com/@acolytesofhelio/wallet/hive-engine
Liquidity pools positions


DEC:SPS shares increased to 1705 shares SWAP.HIVE:DEC unchanged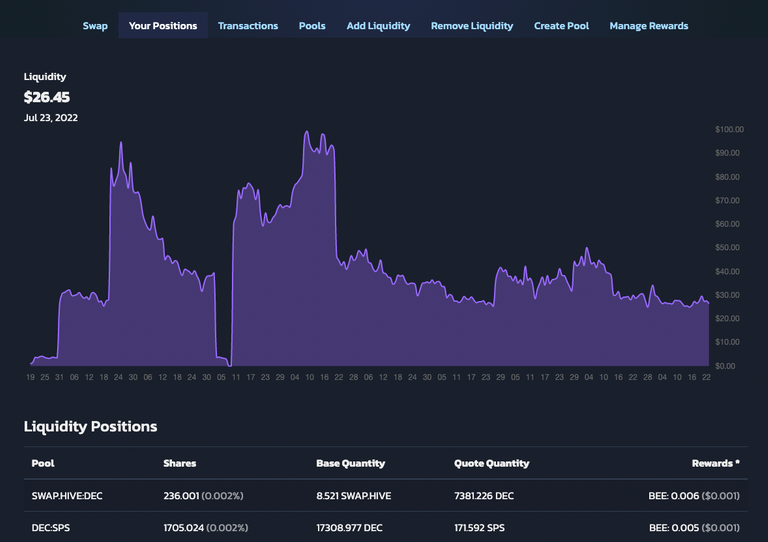 source: https://tribaldex.com/dieselpools
Splinterlands assets:
Our total value of assets, can be looked at on splex.gg we will use the rentalservice combined with our account @adoh.bank We will transfer cards we want to rent out to this account and lock them with a 14 day unlock. Splex.gg will handle listings automatically for a fee of 10% but this is absoulutely worth it. I have been testing the rental service and it saves a lot of time. Also it allows me to sweep all liquid SPS and DEC to our main account in a matter of seconds.
Our total value including trooper accounts and still unpaid rewards to troopers:

card prices have tanked again and our collection is worth less. I will try to do some minor purchases on the card market to improve our base deck and to maintain a certain level of cards. This will grow slowly but steadily as we continue to earn rewards.
SPS and DEC
SPS airdrop ending soon we keep our DEC or we increase it or we wait what happens when airdrops end. If there is a significant price drop we will exit our LP positions with more DEC and buy DEC for the other half of our liquidity.
Since DEC printing will be stopped soon and rewards will be paid in SPS and merits there will be a demand for DEC that will bring it back to peg. That is the theory. If and how it plays out we will see when the market starts to market.
The council will have to decide for the guild shortly so please give us your input here!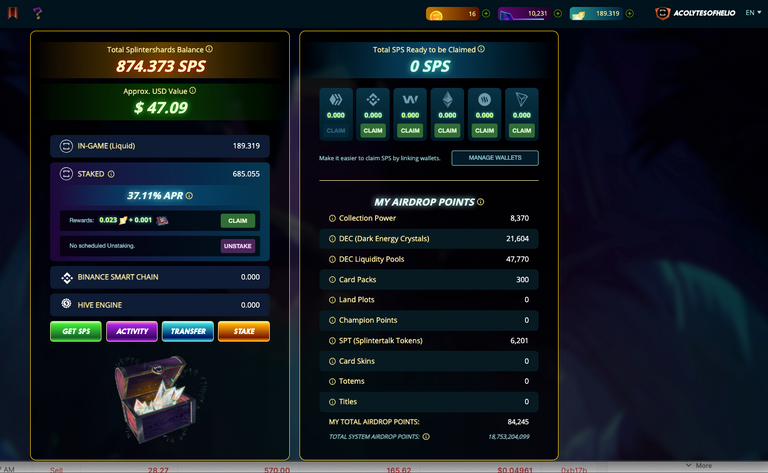 https://images.hive.blog/0x0/https://files.peakd.com/file/peakd-hive/acolytesofhelio/23tm9Tt2MQK5C8ZCubXaANs6ppSDccSMm4EXLAnGb1DhsvuJC6P4mLJYWpBA6pXT4dtuu.webp
Final thoughts suggestions future plans
ANNOUNCEMENTS and open discussion
Solymi started streaming again and you can watch to earn! More info on our discord.
Aaros left the guild.
We now have paid guild gigs. Members get 1k DEC for a post + 30% of the rewards the posts make! More info in the discord.


This is the section where we'd love to open the discussion. You can comment under the post which will be rewarded, and you should also drop the comment in our discord so we can keep track.

Solymi:
Bearmarket is still on, we will see how it all plays out. We keep growing and building. We need to recruit more members!
The ONEUP CARTEL has paid us dividends! We earn WOO tokens for holding CARTEL and we got VOUCHERS as well. These are passive income streams now! We can either keep the rewards or distribute them to guild members or we can sell the rewards and buy more CARTEL this way we will be compounding our rewards and growing our share of the rewards.
Any members with posting authority please update this section as needed!'
Members without access to our main account please leave comments with your opinions in the reply section of this post!


https://images.hive.blog/0x0/https://files.peakd.com/file/peakd-hive/acolytesofhelio/23tm9Tt2MQK5C8ZCubXaANs6ppSDccSMm4EXLAnGb1DhsvuJC6P4mLJYWpBA6pXT4dtuu.webp
Splinterplans
Thanks to @failingforwards efforts on our acolyte main account we earned some super nice rewards! Congrats on doing a great job.
@kotenoke is still working our troopers and doing great.
We can help by delegating cards to @aohtrooper1 and @aohtrooper2
@solymi council member, minister of finance, leader of acolytes, scapegoat
Support
If you have a huge HIVE wallet and wish to support the guild, please consider sponsoring
@acolytesofhelio
in a HBI purchase, or via a card/DEC donation. Delegating tokens (HP, CENT, SPT, or ONEUP) to
@acolytesofhelio
will help us increase our curation capabilities.
Finally, if you read this post and have no idea what Splinterlands is but want to try it out, please use this link to join the game and this link to join our Discord server to ask us a ton of questions.
---
---