Splinterlands SBT Giveaway 5.2.22 - #2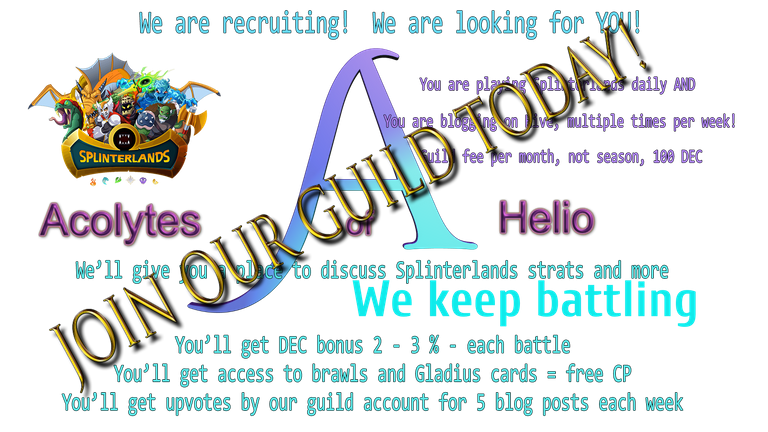 Hello fellow Hivians!
The Acolytes of Helio have decided to start hosting a weekly giveaway for our community. This giveaway will vary in nature but in general will last 1 week and reward a lucky active Hive user.
For this contest we will be handing out 1,000 SBT tokens.
Guild members are welcome to participate but must also follow whatever ruleset is required to enter.

How to participate
Leave a comment including the Splinterlands name the reward should be sent to. If you are having trouble considering what to comment, we would love to hear what you did over the weekend. We also love PIZZA, LOLZ, and BEER.
Upvotes are not required but are appreciated
Reblogs not required but are appreciated
We will use Hive Picker to select a winner which will be announced in the guilds next giveaway post.
Please let us know via a tag in the comments if you would no longer like to be notified of future giveaways.
Previous Winner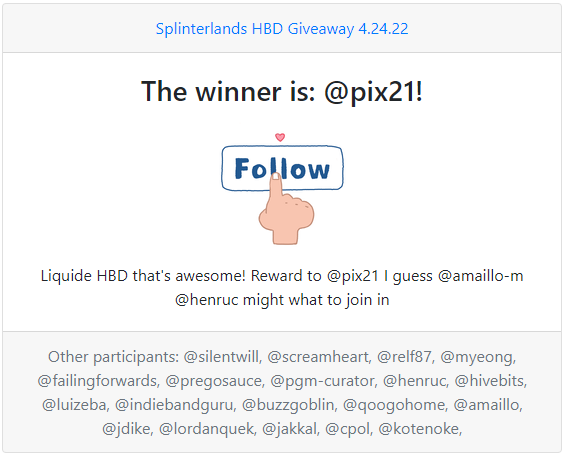 Good Luck!

About the Acolytes
We are the Acolytes and Disciples of Helio, we try to define us as a human base layer DAO. We are a bunch of gamers and bloggers on hive and several other platforms. Our members hold various gaming NFTs throughout multiple metaverses such as Hive, WAX, GALA, and Sandbox. Initially, we started as a Splinterlands guild and it remains a core focus. We create content on hive, twitch, and other platforms to contribute to the buzz around this vibrant new play to earn world.
Our guild is an active Hive curator and supports quality content focused on Gaming, NFTs, art, and other content.
How to join our guild:
To join Disciples of Helio please complete the below steps:
Join our Guild Discord channel.
Once in discord introduce yourself with a bit of your Splinterlands or P2E background and why you are interested.
Pay our monthly 100 DEC membership fee to @acolytesofhelio
Guild Requirements:
We strive to have an active membership that is interested in both Splinterlands and the idea of working together. As such we have a few requirements:
Keep current with guild membership fees: 100 Dec per month
Interact with the guild regularly on Discord. Discord is our primary communication medium
Post on Hive. At the end of the day, we value members that value the Hive environment. Our members have all grown their Hive accounts by actively supporting each other and we expect the same from newer members.
Purchase at least 1 Cartel token. We work closely with OneUp and the 1UP-Cartel and require members to hold at least 1 token. Check this post for details on the Cartel.
Guild Benefits:
Why join a guild and pay a fee; well because you get benefits to doing so of course.
Bonus DEC per win: 2-3% currently
Access to Brawls and Gladiator cards
Automatic curation from the Guild account for all Hive Posts
Voting rights on the fate of the guild and its assets.
Free cards with winning all matches during a brawl
Access to knowledgeable members to help you build your decks and grow yourself in the P2E world.

Active Membership

Disclaimers: All images and content are owned by the Acolytes unless otherwise noted.
Hive Basic Income (HBI)
HBI is effectively an automated curation tool that will upvote your HIVE posts forever. It is an amazing way to ensure you get some income from all of the time you spend teaching others via posting your strategies, analysis, and thoughts. You can read more about HBI in their FAQ.
Support
If you are new to the Crypto space and wish to support the guild, please consider sponsoring
@acolytesofhelio
in a HBI purchase, or via a card/DEC donation. Delegating tokens (HP, CENT, SPT, or ONEUP) to
@acolytesofhelio
will help us increase our curation capabilities.
Finally, if you read this post and have no idea what Splinterlands is but want to try it out, please use this link to join the game and this link to join our Discord server to ask us a ton of questions.
---
---

---
---