ARCANE Series Review | ¿Splinterlands...? [ENG-ESP]
Arcane is not the first animated TV series I have seen. A few months ago I saw Resident Evil: Infinite Darkness, which by the way I have yet to review. This type of animated films seem to be becoming more and more popular, and I think that in the not too distant future half of the most famous series of the moment could be of this type. As for movies, a few years ago Ready Player One was released.
Arcane no es la primera serie de TV animada que he visto. Unos meses atrás vi Resident Evil: Infinite Darkness, que por cierto aún tengo pendiente realizar una reseña de ella. Este tipo de filmes animados parecen estar cada vez más popularizándose, y creo que en un futuro no muy lejano la mitad de las series más famosas del momento podrían ser de este tipo. En cuanto a películas, hace unos años salió Ready Player One.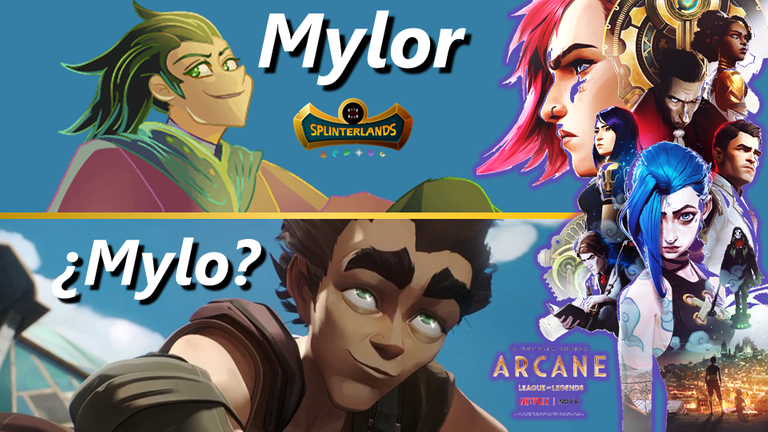 Edited in PowerPoint - Adorocinema - Mylor Crowling
The truth is that with the advancement of animation and graphics technologies it could be easier and easier to create entire animated worlds, and of course fictional stories around it, either completely new, or based on an already created game, as is the case of Arcane. This series is based on the League of Legends game. The truth is I don't know this game, but watching this series, you can see the potential and the possible connection between games and the big and small screen.
Lo cierto es que con el avance de las tecnologías de animación y gráficos cada vez podría ser más fácil crear mundos enteros animados, y por supuesto historias ficticias en torno a ello, ya sea completamente nuevas, o basadas en un juego ya creado, como es el caso de Arcane. Esta serie se basa en el juego de League of Legends. La verdad no conozco este juego, pero al ver esta serie, se nota el potencial y la posible conexión entre juegos y la pantalla chica y grande.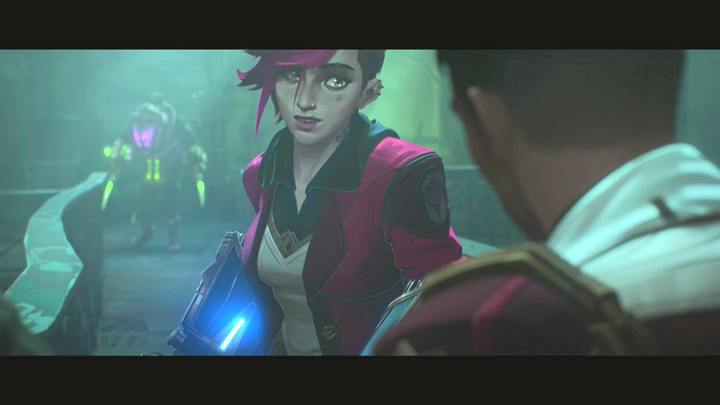 Arcane presents a story somewhat similar to what we might see in series related to the 19th century, such as Carnival Row or The Alienist. But what might seem like 200 years ago, is mixed with quite a bit of fiction and fantastic technology. Of course, this is not a suspense or mystery series like the ones I mentioned, but it is more based on action and entertainment.
Arcane presenta una historia algo similar a la que podríamos ver en series relacionadas al Siglo XIX, como por ejemplo Carnival Row o The Alienist. Pero lo que podría parecer de hace 200 años, se mezcla con bastante ficción y tecnología fantástica. Por supuesto, no se trata de una serie de suspenso o misterio como podrían ser las que mencioné, sino que se basa más en la acción y el entretenimiento.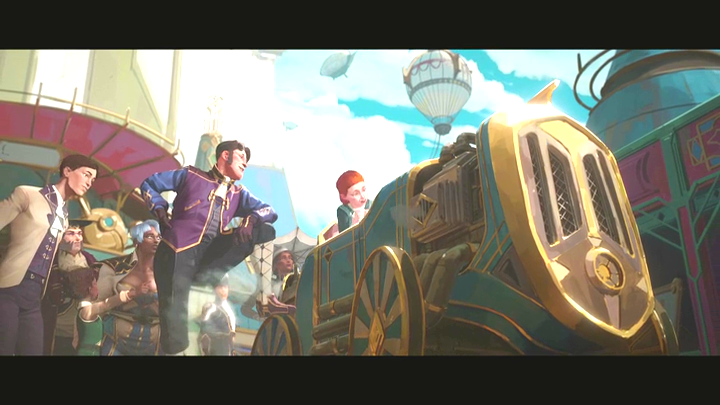 I think this series incorporates some aspects of Game of Thrones. I mean, I don't know exactly what the League of Legends game is about, but clearly the story and characters were meant to follow a plot thread or story that goes beyond the gameplay of a video game. We have different "kingdoms", which could be "those above", "those below", or even foreign countries, which are actually unrelated to the main story, which is based on the conflict between two neighboring cities: Piltover and Zaun.
Creo que esta serie incorpora algunos aspectos de Juego de Tronos. Es decir, no sé exactamente de qué se trata el juego League of Legends, pero claramente la historia y los personajes debían seguir un hilo argumental o historia que va más allá de la jugabilidad de un videojuego. Tenemos diferentes "reinos", que podrían ser "los de arriba", "los de abajo", o incluso países extranjeros, los cuales en realidad son ajenos a la historia principal, que se basa en el conflicto entre dos ciudades vecinas: Piltover y Zaun.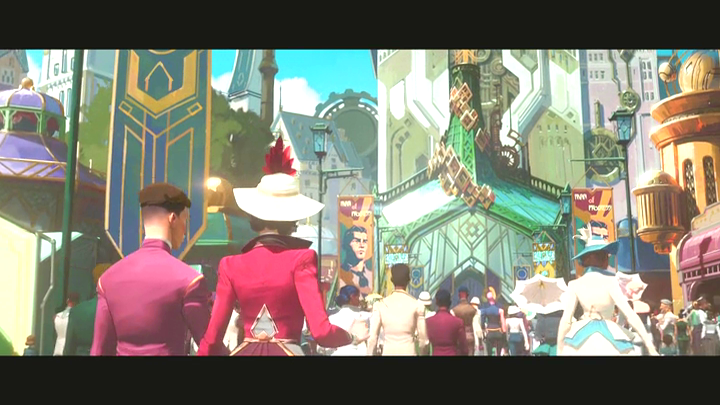 An animated series has its advantages, since you can change anything with more room for maneuver, such as the aging of the same characters from one episode to the next. Something that can also be very good in this type of animated series, is that the story can have a lot of dynamism, and I never felt that introducing a second season was "forced". There will be a second season, already announced in November 2021.
Una serie animada tiene sus ventajas, puesto que se puede cambiar cualquier cosa con mayor margen de maniobra, como por ejemplo, el envejecimiento de los mismos personajes de un episodio a otro. Algo que también puede ser muy bueno en este tipo de series animadas, es que la historia puede tener mucho dinamismo, y nunca sentí que introducir una segunda temporada sea "forzado". Habrá una segunda temporada, ya anunciada en noviembre de 2021.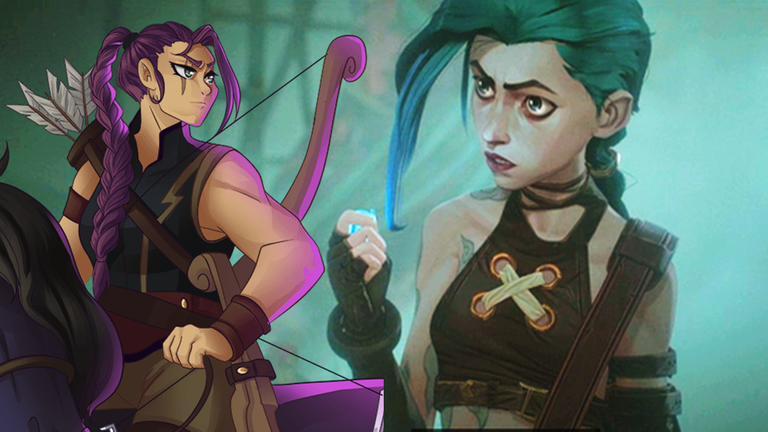 Liza Fox (Gladius Edition) - Jinx
While watching this series, there are things I couldn't avoid noticing. Some of its characters have similarities to cards from Splinterlands. If you're a Splinterlands player, you probably noticed something particular in the first episode: there's a character named Mylo, and he looks a lot like Mylor, a very famous Splinterlands summoner.
Mientras veía esta serie, hay cosas que no pude evitar notar. Algunos de sus personajes tienen parecidos a cartas de Splinterlands. Si eres jugador de Splinterlands, seguramente habrás notado algo particular en el primer episodio: hay un personaje llamado Mylo, y se parece mucho a Mylor, un invocador de Splinterlands muy famoso.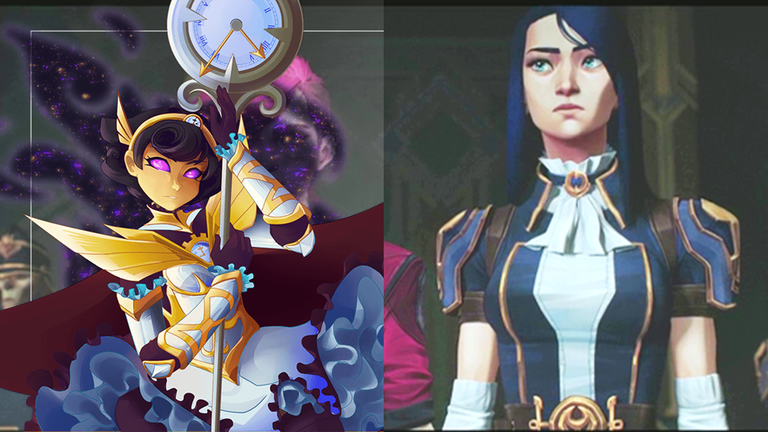 Time Mage (Chaos Legion) - Caitlyn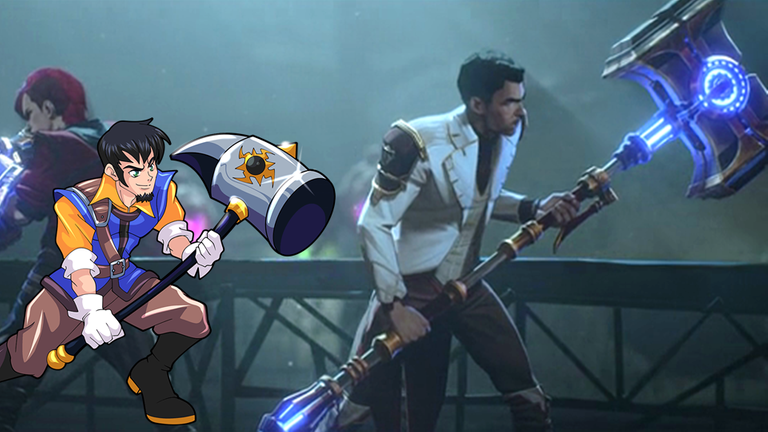 Armorsmith (Promo) - Jayce
I really don't know if this is a coincidence, or if the creators of the series know the world of NFT games and the metaverse. The truth is that as soon as I noticed this, I started to try to find some similarity between other characters and cards from Splinterlands. I found other similarities, some of them perhaps a little "forced", because I was already suggested by "Mylor" and our mind is an expert at finding patterns where perhaps there are none.
Realmente no sé si esto sea una casualidad, o si los creadores de la serie conocen el mundo de los juegos NFT y el metaverso. Lo cierto es que a penas noté esto, empecé a tratar de encontrar alguna similitud entre otros personajes y carta de Splinterlands. Encontré otras similitudes, algunas de ellas quizás un poco "forzadas", debido a que estaba ya sugestionado por "Mylor" y nuestra mente es experta encontrando patrones donde quizás no los hay.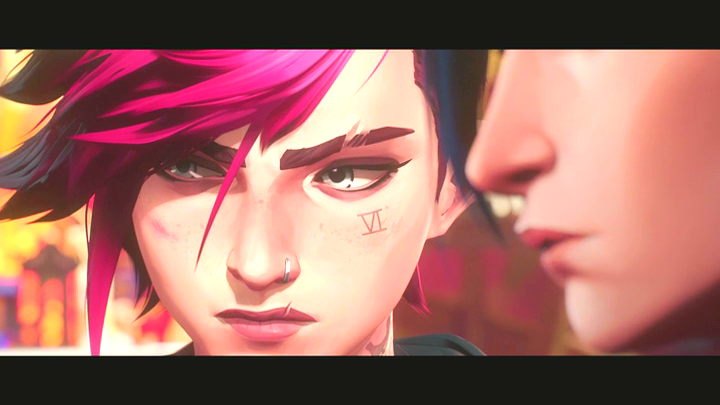 Vi and Jinx are the main characters of this story, without underestimating other important characters such as Silco, Jayce and Caitlyn. I must highlight the role of the villain of the series, Silco. He has been a very well elaborated character, in my opinion, he is the villain that usually gives an interesting touch to the stories. And of course we must not leave aside Viktor, a character that may not call much attention but maybe he will be an important part of the second season.
Vi y Jinx son los personajes principales de esta historia, sin menospreciar a otros personajes importantes como Silco, Jayce y Caitlyn. Debo destacar el papel del villano de la serie, Silco. Ha sido un personaje muy bien elaborado, en mi opinión, es el villano que suele darle un toque interesante a las historias. Y por supuesto no debemos dejar de lado a Viktor, un personaje que puede no llamar mucho la atención pero quizás sea parte importante de la segunda temporada.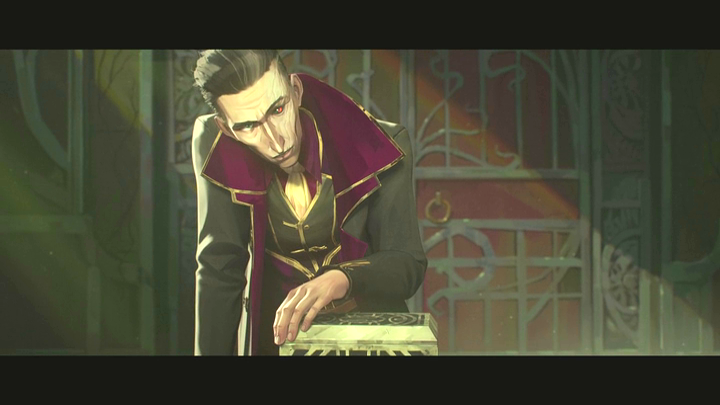 From another point of view, I think the series tries to portray in some way the conflicts in society, the divisions between the privileged and the underprivileged. This division is often caused by restrictions imposed, either by the privileged leaders or by the paradigms of the society's culture. It portrays how such divisions and conflicts are accentuated the more restrictions are imposed from above, preventing both worlds from cooperating and interacting with each other.
Desde otro punto de vista, la serie creo que intenta retratar de alguna forma los conflictos en la sociedad, las divisiones entre los más acomodados y los más desfavorecidos. Dicha división muchas veces causada por restricciones impuestas, ya sea por los dirigentes acomodados o por paradigmas de la cultura de la sociedad. Se retrata como dichas divisiones y conflictos se acentúan mientras más restricciones son impuestas desde arriba, impidiendo que ambos mundos cooperen e interactúen entre sí.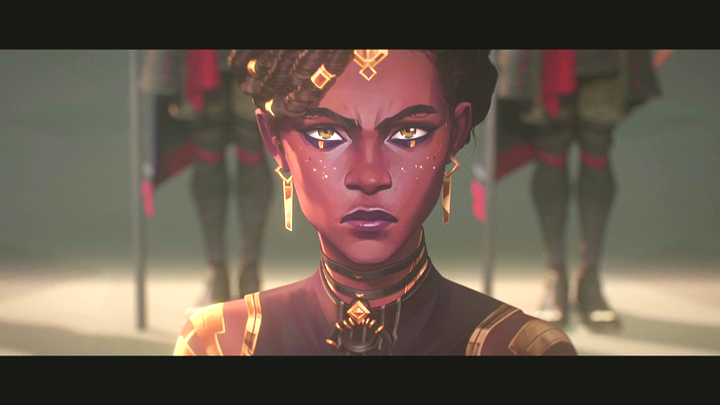 At the same time, we see how power shifts from one side to the other, as conflicts escalate. Like Game of Thrones, we can see a political and gun fight between one and the other. And it also portrays how as the leaders become more comfortable and benefit from the whole system they have created, at the expense of the rest of the population, they become more incompetent and unable to deal with the power that people like Silco manage to gather, thanks to the restrictions in society.
Al mismo tiempo, se ve cómo el poder pasa de u lado a otro, a medida que los conflictos se acentúan. Al igual que Juego de Tronos, podemos ver una pelea política y en las armas entre unos y otros. Y también retrata cómo a medida que los dirigentes más se acomodan y se benefician de todo el sistema que ellos han credo, a costa del resto de la población, se vuelven más incompetentes e incapaces de lidiar con el poder que personas como Silco logran reunir, gracias a las restricciones en la sociedad.
The theme of magic and its technologies has a certain resemblance to the theme of the asteroid in the movie Don't Look Up. A technology that could destroy everyone, ends up being harnessed to try to achieve a supposed "common good", but which is never achieved, and instead ends up generating chaos.
El tema de la magia y sus tecnologías tiene cierto parecido al tema del asteroide en la película Don't Look Up. Una tecnología que podría destruir a todos, termina siendo aprovechado para tratar de alcanzar un supuesto "bien común", pero que nunca se llega a alcanzar, y en cambio termina generando caos.
I would give this series a rating of 9.5/10, as I found it excellent in many ways. I look forward to the second season, which I hope will not disappoint, but will open up a whole additional universe in the world of Arcane, showing new locations and characters. Being an animated series, as I have already mentioned, it gives way to a lot of dynamism, and that is what could stand out from these new series.
Le daría a esta serie una calificación de 9.5/10, ya que me ha parecido excelente en muchos sentidos. Espero con ansias la segunda temporada, la cual espero que no decepcione, sino que abra todo un universo adicional en el mundo de Arcane, mostrando nuevas ubicaciones y personajes. Al ser una serie animada, como ya he mencionado, da paso a mucho dinamismo, y eso es lo que podría destacarse de estas nuevas series.
---
Additionally, I would like to see some animated series of classic games from my childhood on the PlayStation, such as Crash Bandicoot, or Jak And Daxter. The latter would be really very interesting, it could have 3 or more seasons, depending on the 3 games that came out for PlayStation One and PlayStation 2. In fact, already on YouTube there are animated movies, based on scenes from each of the games:
Adicionalmente, me gustaría ver alguna serie animada de juegos clásicos de mi infancia en el PlayStation, como lo son Crash Bandicoot, o Jak And Daxter. Este último sería realmente muy interesante, podría tener 3 o más temporadas, según los 3 juegos que salieron para PlayStation One y PlayStation 2. De hecho, ya en YouTube hay películas animadas, basada en las escenas de cada uno de los juegos:
---
Deja tu comentario o comparte (haz reblog) esta publicación si te ha parecido interesante.
Leave a comment or share (reblog) this post if you found it interesting.
---
---
Translated to English language with the help of DeepL.com
Source of the images: screencapture on Netflix.
¡Gracias por visitar! — ¡Thanks for visiting!

---
---