The Great Reset and The Arrival of Agog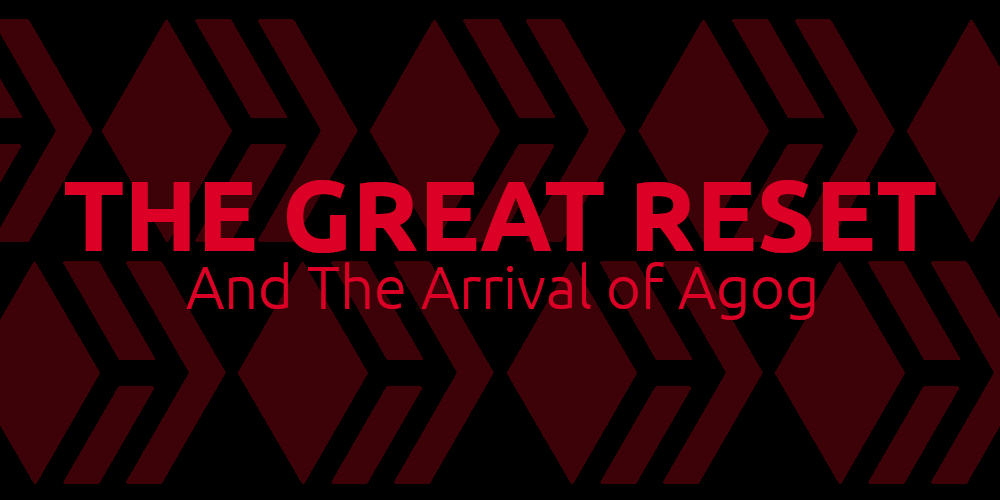 Currently I'm in the process of moving most of my assets over here from my old account @technocrypton.
I have been doing a great big spring cleaning of most things in my digital life, and I needed a Great Reset. One of the things that I wanted to do was to create a new account with a new Hive address. It's merely a name that stuck around since my Noise.cash days, and I wanted something other, something shorter, and something more me.
Now, I'm aware of all the downsides of switching over to a new account. The loss of followers, the loss of recognition, loss of reputation, and the list goes on. And frankly, there are a lot more downsides than upsides.
I haven't been involved in blogging seriously in quite a while. This is due to a lack of time to deliver quality content, in no way a lack of interest. I'll get back to blogging again this year, more on that later down this post.
Obviously, I'd love to blog a lot more than currently, but that fact also means that if I'm ever to actually make the switch, this is a good time. As I'm not currently blogging, I have no super-active following whom are waiting for or expecting a new article. I also have no ongoing article series that needs to be finished.
The reason for the account switch is in essence quite simple: I wanted to. Sometimes we do the things we do because we can. Nothing more, nothing less.
To be clear, this is simply me moving over my assets and engagement from my old account to my new account. There will be no self-voting, no dual entries in giveaways, or any other shenanigans of any kind. Just wanted to get that out of the way with absolute clarity.
The @technocrypton account will continue to be used for just a few hard-to-move things such, such as Rising Star. Their policy for dual accounts are very strict and STARBITS Millionaire cards are non-transferable. But any and all new activity will happen here!
However, I will be reblogging this specific post from the @technocrypton account to give my followers over there a chance to follow this account instead.
Now, with all that out of the way, let's get into a little about what's happening.
Focus 2022
I'm not an investor with unlimited funds, and I've had to make some hard choices. I've decided to sell out of a few blockchain games that I really like and I've undelegated from projects that I really would like to support, and to invest that capital into the very few projects that I 100% believe in both short term and long term.
Curation
Starting off with my involvement in curation projects for second-layer communities. I love the LeoFinance team and community and if I was forced to put all my capital into one second-layer community, it'd most likely be LEO. LEO will succeed, and I'm aiming to accumulate 2,000 LEO tokens that'll be delegated out to earn me even more LEO.
I also really like the Hive Engine and it's two associated tokens BEE and WORKERBEE. As the BEE token is tied into the Hive Engine and into creating second-layer things, I believe BEE will be a useful token to hold. The price of BEE has proven to hold quite stable too. My plan here is to acquire 1,000 BEE that'll be delegated out to earn me more BEE, and to combine this with 500 WORKERBEE that'll keep mining more BEE.
Those two areas are my primary objectives in curation, but there are some honorary mentions of tokens that I like as well, and which I'll try to build up decent amounts of without spending too much capital on. These tokens are SPORTS, WEED, CENT, and SPT. In this post I won't go into why I like them, that's for another post.
Play2Earn
I love Splinterlands. Like, an insane amount. Currently I'm not playing the game as my life currently is too hectic for it to be fun or profitable. I'm making money on Splinterlands in other ways, though, and will get back to playing the game once life settles down a bit.
I'm holding some Gold Foil Legendary cards that I'm renting out in return for DEC. This DEC is being accumulated for SPS Airdrop points, and whenever the accumulated DEC is enough, I'm buying up another Gold Foil Legendary, as long as prices are good.
I believe that the price of DEC will return to its soft-peg level around or after the end of the SPD Airdrop. My main focus in Splinterlands is building up a large rental income, in cards that hopefully will increase in value as time goes by and they become more scarce, and building up my staked SPS.
There are many good Play2Earn games on Hive and there are many more upcoming game that'll probably do well, but Splinterlands is the one that I believe in the most.
My goals for Play2Earn is to accumulate 15,000 SPS for staking. These staked SPS will be earning me more SPS from staking rewards, and there seem to be some cool upcoming features for SPS this year too. Also, staked SPS earns me VOUCHER, which is needed for many upcoming Splinterlands events. VOUCHERs also have had some (most likely once in a life time) insane price increases during the Chaos Legion pack sale release. I'm not betting that any increase of similar magnitude will occurs again, but next time a great event that requires VOUCHERs happens I'd prefer to be sitting on a few dozen spare VOUCHERs, just in case I want to participate in the event or if I'd want to sell the VOUCHERs.
Blogging
I'm planning to get back to a more regular blogging schedule later this year. As stated, I'm currently swamped with offline life activities and cannot find the time to write any long form quality articles.
I'm also planning to expand my scope of content from purely crypto and blockchain gaming. We'll see about what might be interesting to add into the content mix.
This was meant just as a shorter update of the current state of affairs and my account change, but grew into a bit of a goal declaration. It's always good to remind yourself why you are doing the things that you are doing.
Happy Hiving!
Disclaimer
This is not financial advice. Do your own research. You are responsible for your own personal decisions and your own personal economy.
Hive SBI
If you would like to support my work, you could consider supporting me (and yourself at the same time) by including my username in a Hive SBI purchase. Read more about Hive SBI here.
Blockchain Gaming
If you're interested in Hive blockchain gaming, here are some games that I'm having a blast with. You could check them out through my referral links:
Splinterlands
---
---