BATTLE MAGE SECRETS "LOST LEGENDARIES" - Splinterlands [ES/EN]
Muy buen día, comunidad Hive NFTGame Latino
Good day, community Hive NFTGame Latino
---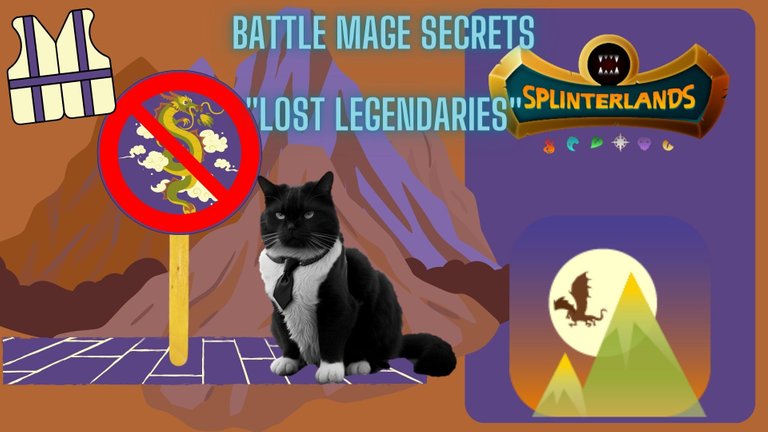 ---
Image designed in canva with elements from the Splinterlands game.
---

Esta es mi participación en BATTLE MAGE SECRETS Weekly Challenge! de la comunidad de Splinterlands.
En esta ocasión toca realizar una batalla con la condición LOST LEGENDARIES.
---
This is my participation in the BATTLE MAGE SECRETS Weekly Challenge! community of Splinterlands.
This time it's time to carry out a battle with the LOST LEGENDARIES.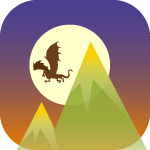 ---
LOST LEGENDARIES
---
Descripción:
No se pueden usar unidades legendarias.
Los invocadores legendarios todavía están disponibles.
LOST LEGENDARIES
---
Description:
Legendary units may not be used.
Legendary summoners are still available.

Hablemos sobre esta condición de batalla.
---
Esta es una condición de batalla no es interesante de por sí, ya que la cantidad de cartas legendarias en rangos bajos, es poco usual.
Aunque en mi caso que uso muchas cartas legendarias, inhabilita buena parte de mis combos preparados. Pero para gente un poco más limitada con mazos bajos, esta condición no es notoria.
Por lo tanto, dependiendo al tipo de jugador esta condición podría como no, ser relevante.
Let's talk about this battle condition.
---
This is a battle condition that is not interesting per se, since the amount of legendary cards at low ranks is unusual.
Although in my case that I use many legendary cards, it disables a good part of my prepared combos. But for slightly more limited people with short decks, this condition is not noticeable.
Therefore, depending on the type of player, this condition may or may not be relevant.


Ventajas:
---
Contamos con daño aumentado gracias al invocador.
Contamos con un tanque con devolución de daño mágico para aprovechar que el enemigo también tendrá daño mágico.
Contamos con 2 healer, que priorizar que nuestro tanque sobreviva y pueda aprovechar mucho más de su habilidad.
Contamos con una carta en última posición con la habilidad de reducción de daño mágico a las cartas enemigas.
Como vemos todo mi enfoque es la devolución de daño, y gracias a que el daño enemigo se reduce nuestro tanque se mantiene en pie tranquilamente, aunque el lado enemigo también tenga buen daño.
Advantages:
---
We have increased damage thanks to the summoner.
We have a tank with magic damage return to take advantage of the fact that the enemy will also have magic damage.
We have 2 healers, who prioritize that our tank survives and can take much more advantage of its ability.
We have a card in last position with the ability to reduce magical damage to enemy cards.
As you can see my whole focus is damage return, and thanks to the reduced enemy damage our tank stays on its feet calmly, even though the enemy side also has good damage.


Desventajas:
---
El enemigo priorizo la velocidad, el cual es una opción adecuada, pues parte de una buena defensa es un buen ataque, evitando así que el daño enemigo se haga presente.
Su carta en tercera posición quita los beneficios de la carta que ataco, siendo en mi caso la reducción del daño, y es purga de beneficios es permanente. Esta carta es muy infravalorada, pero en rango superior es una muy buena opción.
Su carta en segunda posición, tiene la habilidad de poder incapacitar a la carta que ataque, y en situaciones de mucho daño como esta es muy adecuada.
Su carta en última posición, no es una que pueda tener gran presencia en el inicio de la partida, pero dada su habilidad de último en pie, puede dar una gran ventaja, que cambie en final de una batalla por su aumento de estadísticas.
Dado que muchos mazos actuales no cuentan con muchas cartas de daño mágico, o no tiene una diversificación de las mismas, ya sean elementales o neutrales. Vemos una situación como está en la que no se puede aprovechar completamente el maná y se está en una gran desventaja.
Disadvantages:
---
The enemy prioritized speed, which is an appropriate option, since part of a good defense is a good attack, thus preventing enemy damage from being present.
His card in third position removes the benefits of the card I attack, being in my case the damage reduction, and the purge of benefits is permanent. This card is very underrated, but at higher rank it is a very good option.
His card in second position, has the ability to incapacitate the attacking card, and in high damage situations like this it is very appropriate.
His card in last position, is not one that can have a great presence at the beginning of the game, but given his last standing ability, he can give a great advantage, which changes at the end of a battle due to his increase in statistics.
Since many current decks do not have many magic damage cards, or do not have a diversification of them, whether elemental or neutral. We see a situation like this where you can't take full advantage of your mana and you're at a huge disadvantage.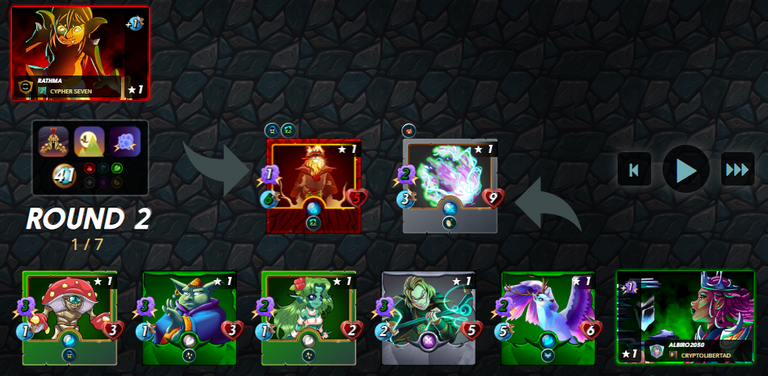 Como mencione antes en la parte de desventajas, dado a la gran diferencia de maná, la victoria esta más que asegurada.
Aunque cabe recalcar que el combo que prepare, a pesar del daño que se presentaba del enemigo no es notable por la curación aliada y reducción del daño mágico enemigo. Por lo tanto es un combo que puede ser muy adecuado para esta condición de batalla (solo cartas de daño mágico).
---
As I mentioned before in the disadvantages part, given the large mana difference, victory is more than assured.

Although it should be noted that the combo that you prepare, despite the damage that was presented from the enemy, is not notable due to the allied healing and reduction of enemy magic damage. Therefore it is a combo that can be very suitable for this battle condition (magic damage cards only).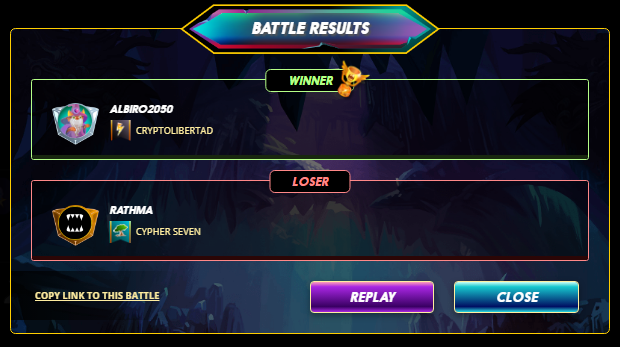 ---
Sin nada mas que decir, gracias por su atención, mucha suerte a todos y que un X10 llegue a sus vidas.
With nothing more to say, thank you for your attention, good luck to all and may an X10 come into your lives.

Todos elementos de las imágenes tomados de la página oficial splinterlands.com.. Los divisores tomados del Discord oficial de Splinterlands.
Para ver la batalla click aqui
---
All elements of the images taken from the official page splinterlands.com.. The dividers taken from Official Splinterlands Discord.
To see the battle click here

Referido aqui
Referred here

---
---