BATTLE MAGE SECRETS "LOST MAGIC" - Splinterlands [ES/EN]
Muy buen día, comunidad Hive NFTGame Latino
Good day, community Hive NFTGame Latino
---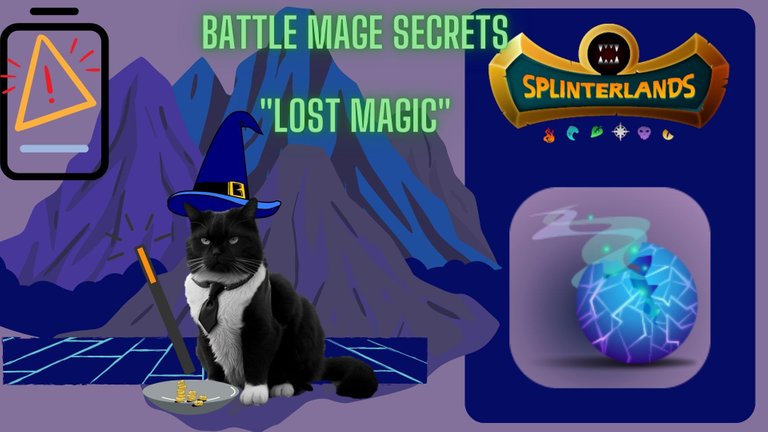 ---
Image designed in canva with elements from the Splinterlands game.
---

Esta es mi participación en BATTLE MAGE SECRETS Weekly Challenge! de la comunidad de Splinterlands.
En esta ocasión toca realizar una batalla con la condición LOST MAGIC.
---
This is my participation in the BATTLE MAGE SECRETS Weekly Challenge! community of Splinterlands.
This time it's time to carry out a battle with the LOST MAGIC.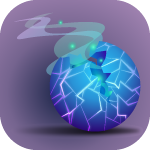 ---
LOST MAGIC
---
Descripción:
No se pueden usar unidades con 2 tipos de ataque (que incluyen magia).
Usa espinas y desmoraliza para contrarrestar los ataques cuerpo a cuerpo.
Usa Vientos en contra y Devolución de fuego para contrarrestar los ataques a distancia.
LOST MAGIC
---
Description:
Units with 2 types of attack (which include magic) cannot be used.
Use Thorns and Demoralize to counter melee attacks.
Use Headwinds and Return Fire to counter ranged attacks.


Ventajas:
---
Contamos con un tanque enfocado a esquivar ataques, además de una alta cantidad de salud, que en relación a su coste es muy rentable.
Contamos con una carta en cuarta posición que aumenta el daño físico de nuestras cartas, lo cual en una condición de batalla como esta es la más adecuada.
Nuestra carta en segunda posición nos dará la ventaja de daño, gracias a su reducción de daño físico enemigo.
La carta gladius es una de mis favoritas, y siendo una carta que aumenta sus stats, en combates de solo daño, es la más adecuada por su habilidad de ataque doble.
La carta en última posición, cuenta con la habilidad explosión, aunque la tengo para poder reducir la armadura enemiga de los tanques.
Así también contamos con una carta para reducir la velocidad enemiga.
Advantages:
---
We have a tank focused on dodging attacks, in addition to a high amount of health, which in relation to its cost is very profitable.
We have a card in fourth position that increases the physical damage of our cards, which in a battle condition like this is the most appropriate.
Our card in second position will give us the damage advantage, thanks to its enemy physical damage reduction.
The gladius card is one of my favorites, and being a card that increases its stats, in combats of only damage, it is the most appropriate due to its double attack ability.
The card in last position has the explosion ability, although I have it to reduce the enemy armor of the tanks.
So we also have a letter to reduce enemy speed.


Desventajas:
---
EL enemigo aprovecho la segunda condición de batalla, por lo que coloco 2 cartas de beneficio de muerte en última posición, que me parece una de las mejores opciones.
Cuenta con un tanque con buen daño salud y armadura, adecuada para la resistencia.
Cuenta con una carta con la habilidad Snake, que le ayudara con la limpieza desde la parte de atrás.
Su daño se enfoca en daño a distancia, y aumento de stats, considero que debo usar más cartas de daño físico, para que pueda hacer mejor uso de la segunda condición de batalla.
Disadvantages:
---
The enemy took advantage of the second battle condition, so I put 2 death benefit cards in last position, which seems to me one of the best options.
It has a tank with good damage, health and armor, suitable for resistance.
It has a card with the Snake ability, which will help you with cleaning from the back.
His damage focuses on ranged damage, and stats increase, I consider that I should use more physical damage cards, so that he can make better use of the second battle condition.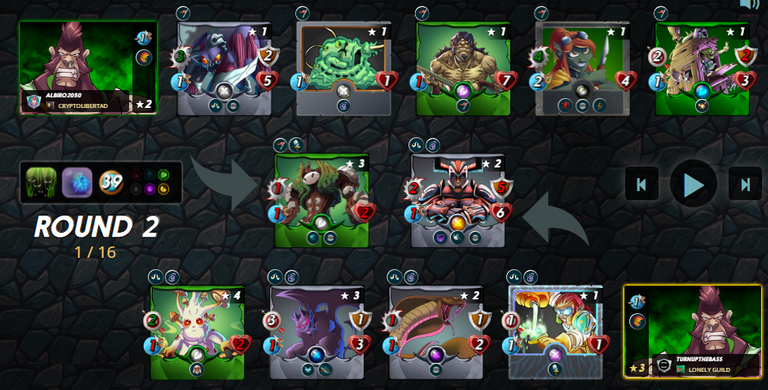 Como vemos, la carta gladius avanza en la zona trasera, pero mi tanque principal no ha esquivado ningún golpe (a veces aun con la habilidad de esquivar, no esquiva ni una sola, cosa contradictoria a su habilidad y es algo que se debe tomar en cuenta en las batallas, aunque la velocidad también influirá).
Aunque logramos quitar armadura, el enemigo aún tiene presencia de daño, aun con la reducción.
---
As we can see, the gladius card advances in the rear zone, but my main tank has not dodged any hit (sometimes even with the ability to dodge, it doesn't dodge a single one, which contradicts its ability and is something that must be taken in counts in battles, although speed will also play a role).

Even though we managed to remove armor, the enemy still has damage presence, even with the reduction.

Avanzamos, y la carta gladius ha obtenido una gran cantidad de daño y velocidad, así también, contamos una carta en la tercera posición, que nos permitirá retrasar al enemigo, optimizando el daño aliado.
---
We advance, and the gladius card has obtained a large amount of damage and speed, likewise, we have a card in the third position, which will allow us to delay the enemy, optimizing the ally damage.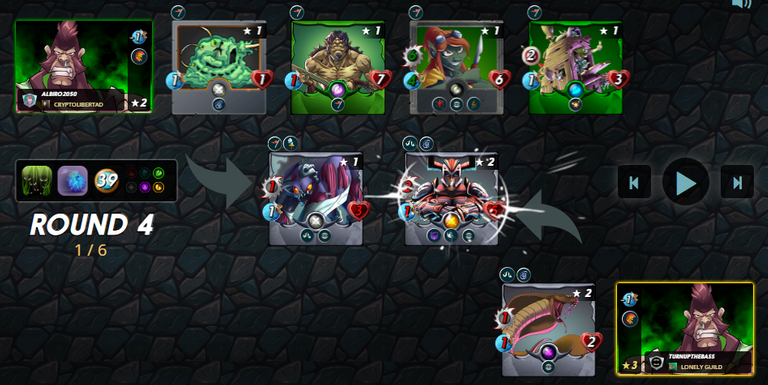 Como vemos, la victoria esta más que asegurada gracias a la carta gladius, pues su daño en muy bien enfocado.
Recomiendo usar el invocador con la habilidad de espinas cuando se tiene esta condición de batalla, pues casi siempre los mazos con los que uno se enfrentara son enfocados en el daño físico. Así también algunos que reduzcan el daño.
---
As we can see, victory is more than assured thanks to the gladius card, since its damage is very well focused.

I recommend using the summoner with the thorns ability when you have this battle condition, since almost always the decks that one will face are focused on physical damage. So also some that reduce damage.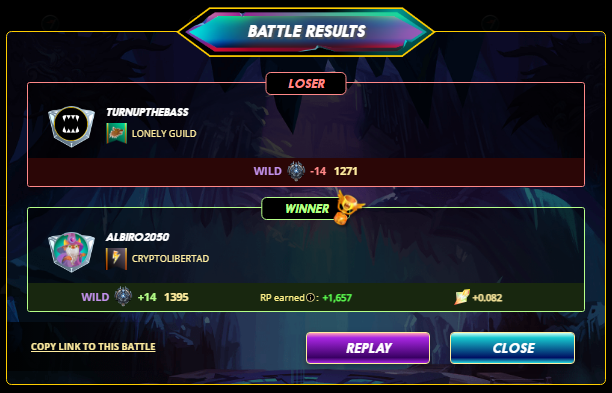 ---
Sin nada mas que decir, gracias por su atención, mucha suerte a todos y que un X10 llegue a sus vidas.
With nothing more to say, thank you for your attention, good luck to all and may an X10 come into your lives.

Todos elementos de las imágenes tomados de la página oficial splinterlands.com.. Los divisores tomados del Discord oficial de Splinterlands.
Para ver la batalla click aqui
---
All elements of the images taken from the official page splinterlands.com.. The dividers taken from Official Splinterlands Discord.
To see the battle click here

Referido aqui
Referred here

---
---