BATTLE MAGE SECRETS "ONLY ODD" - Splinterlands [ES/EN]

Muy buen día, comunidad Hive NFTGame Latino
Good day, community Hive NFTGame Latino
---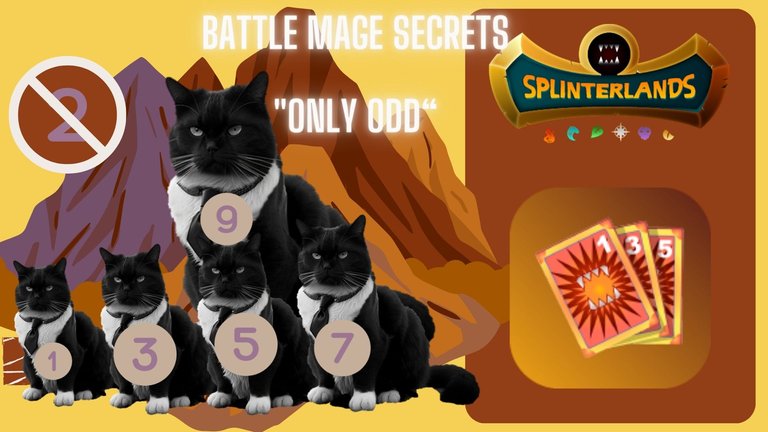 ---
Image designed in canva with elements from the Splinterlands game.
---

Esta es mi participación en BATTLE MAGE SECRETS Weekly Challenge! de la comunidad de Splinterlands.
En esta ocasión toca realizar una batalla con la condición ODD ONES OUT.
---
This is my participation in the BATTLE MAGE SECRETS Weekly Challenge! community of Splinterlands.
This time it's time to carry out a battle with the ODD ONES OUT.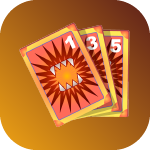 ---
ODD ONES OUT
---
Descripción:
Solo se pueden usar unidades con costos de maná impares.
Los invocadores no se ven afectados por esta regla.
ODD ONES OUT
---
Description:
Only units with odd mana costs may be used.
Summoners are not affected by this rule.


Ventajas:
---
Contamos con una carta en primera posición que reduce la armadura de los enemigos, así también obtiene daño por la carta en segunda posición.
Nuestra carta en segunda y última posición cuentan con la habilidad oportunista, que eliminaran con facilidad desde la carta más débil.
La carta en tercera posición reduce la velocidad de los enemigos, el cual nos ayudara a tener prioridad de ataque.
La carta en cuarta nos proporcionara una ventaja de resurrección, que recuperara también su armadura.
Así también una de las más útiles, aunque en esta batalla no se presenció, la carta en quinta posición otorga armadura a todos los aliados.
Y por último, salud aumentada por el invocador que usamos.
Advantages:
---
We have a card in first position that reduces the enemies'armor, so they also get damage from the card in second position.
Our card in second and last position has the opportunistic ability, which they will easily eliminate from the weakest card.
The card in third position reduces the speed of the enemies, which will help us have attack priority.
The card in fourth will provide us with a resurrection advantage, which will also recover its armor.
Also one of the most useful, although it was not witnessed in this battle, the card in fifth position grants armor to all allies.
And finally, health increased by the summoner we use.


Desventajas:
---
El mazo enemigo se enfoca en el daño mágico, el cual para nuestro tipo de mazo es muy difícil de competir.
Cuenta con una carta en cuarta posición que puede atravesar la armadura, lo que en conjunto con las otras cartas de daño mágico, son un combo interesante.
Sus cartas principales cuentan con una gran cantidad de salud, que es perfecto si se enfoca a daño colectivo.
Aunque tenga una carta de reducción de daño mágico en tercera posición, no nos afecta demasiado.
Cuenta con dos cartas en la última posición con la habilidad de SNEAK, que le permitirá atacar a la carta en la última posición.
Disadvantages:
---
The enemy deck focuses on magic damage, which for our type of deck is very difficult to compete with.
It has a card in fourth position that can pierce armor, which together with the other magic damage cards, is an interesting combo.
Your main cards have a large amount of health, which is perfect if you focus on collective damage.
Even though it has a magic damage reduction card in third position, it doesn't affect us too much.
It has two cards in the last position with the SNEAK ability, which will allow it to attack the card in the last position.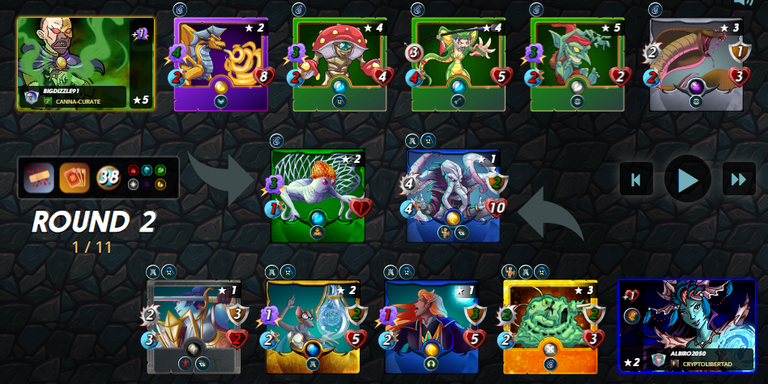 Como vemos, tuvieron la facilidad de eliminar mis cartas aun con la buena cantidad de armadura. Aunque los enemigos no cuentan con armadura, a excepción de la última. Aunque dada la situación vemos que nos superan en daño.
---
As we see, they had the ease of eliminating my cards even with the good amount of armor. Although the enemies do not have armor, except for the last one. Although given the situation we see that they surpass us in damage.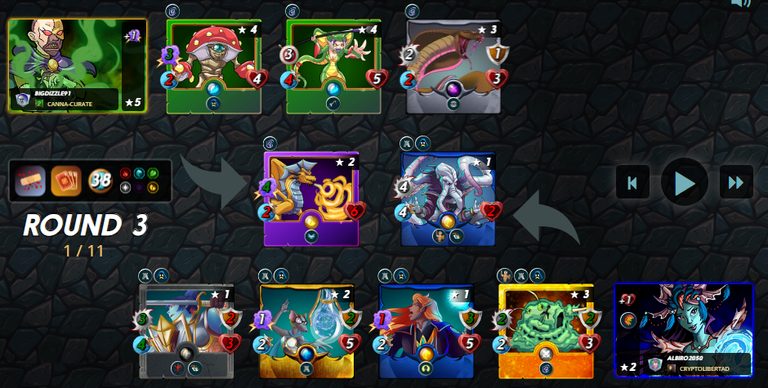 Después de un pequeño avance, nuestra carta con la habilidad oportunista en última posición empezó a obtener estadísticas por su habilidad Gladius. Aunque aun así la diferencia de daño en notable, y la armadura no es de mucha ayuda.
---
After a bit of progress, our card with the last opportunistic ability started gaining stats for its Gladius ability. Although the difference in damage is still notable, and the armor is not much help.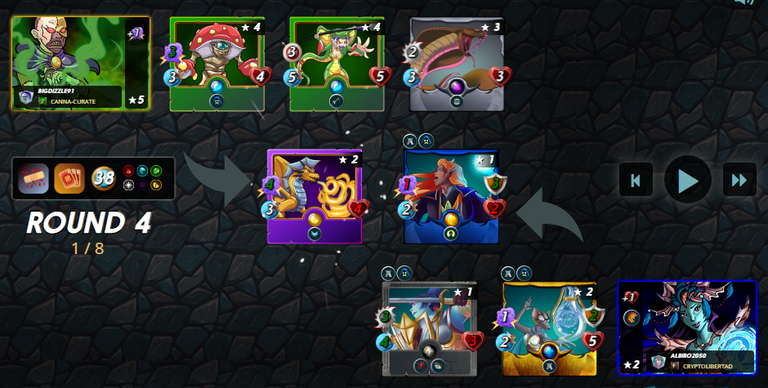 Como vemos, parece una completa derrota de parte nuestra, ya que nuestras cartas no cuenta con el daño suficiente. Así como la salud que tienen es poca.
---
As we see, it seems like a complete defeat on our part, since our cards do not have enough damage. Just as their health is poor.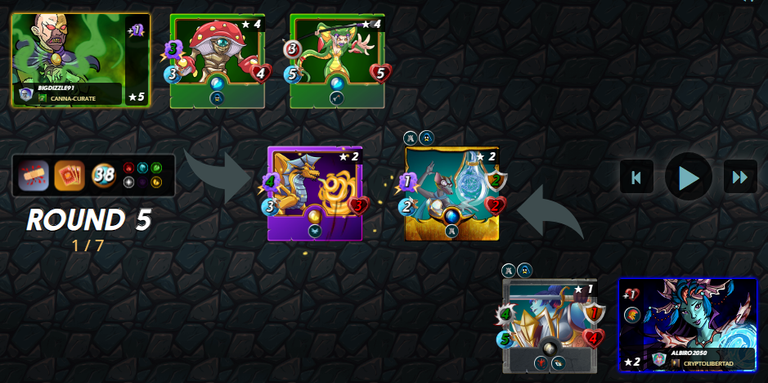 Estando en las últimas rondas, nuestra carta Gladius cuenta con salud suficiente para poder soportar algo de daño, y además con muchas más velocidad para poder atacar al tanque y obtener las estadísticas.
---
Being in the last rounds, our Gladius card has enough health to be able to withstand some damage, and also with much more speed to be able to attack the tank and obtain the statistics.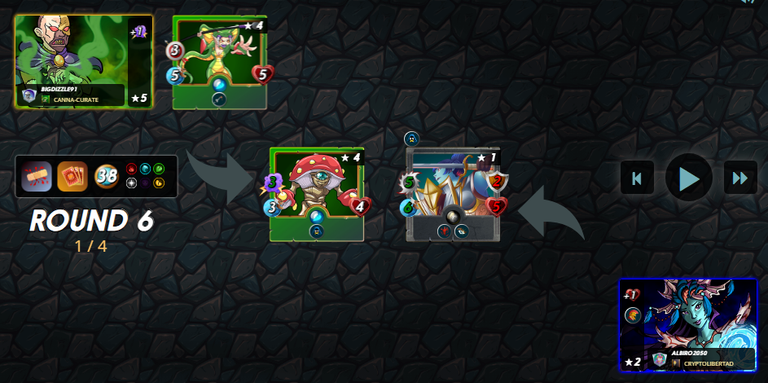 Con una gran remontada muy complicada, nuestra carta Gladius tiene la salud y daño suficiente para poder terminar la pelea.
---
With a great and very complicated comeback, our Gladius card has enough health and damage to be able to finish the fight.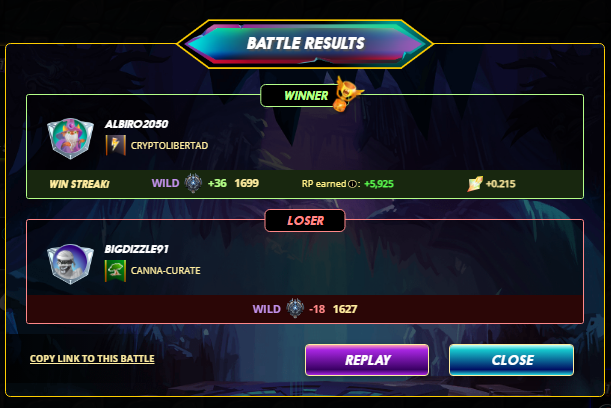 ---
Sin nada mas que decir, gracias por su atención, mucha suerte a todos y que un X10 llegue a sus vidas.
With nothing more to say, thank you for your attention, good luck to all and may an X10 come into your lives.

Todos elementos de las imágenes tomados de la página oficial splinterlands.com.. Los divisores tomados del Discord oficial de Splinterlands.
Para ver la batalla click aqui
---
All elements of the images taken from the official page splinterlands.com.. The dividers taken from Official Splinterlands Discord.
To see the battle click here

Referido aqui
Referred here

---
---