Comparte tu Batalla "EXPLOSIVE WEAPONRY with mistakes " - Splinterlands [ES/EN]
Muy buen día, comunidad Hive NFTGame Latino
Good day, community Hive NFTGame Latino
---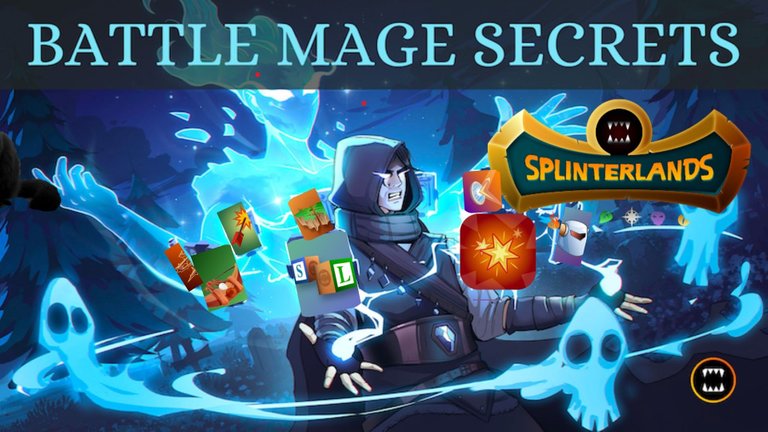 ---
Image designed in canva with elements from the Splinterlands game.
---

Esta es mi participación en BATTLE MAGE SECRETS Weekly Challenge! de la comunidad de Splinterlands.
En esta ocasión toca realizar una batalla con la condición EXPLOSIVE WEAPONRY.
---
This is my participation in the BATTLE MAGE SECRETS Weekly Challenge!community of Splinterlands.
This time it's time to carry out a battle with the EXPLOSIVE WEAPONRY condition.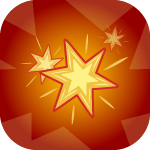 ---
EXPLOSIVE WEAPONRY
---
Descripción:
Todas las unidades obtienen la habilidad Explosión.
El daño adicional es equivalente al daño principal dividido por 2, redondeado hacia arriba.
Incluye una unidad con Reflection Shield en tu alineación para absorber el daño de la explosión y proteger tu línea trasera.
EXPLOSIVE WEAPONRY
---
Description:
All units gain the Blast ability.
Additional damage is equivalent to main damage divided by 2, rounded up.
Include a unit with Reflection Shield in your lineup to absorb blast damage and protect your back line.

Hablemos sobre esta condición de batalla.
---
La condición de batalla EXPLOSIVE WEAPONRY, es una de las condiciones más caóticas, en mi opinión, pues le da más relevancia a habilidades que permitan atacar a cartas en las posiciones secundarias, para priorizar reducir el daño enemigo.
en esta condición de batalla podemos tener 3 factores decisivos
Velocidad: Al tener la prioridad de velocidad, podemos eliminar al tanque o cartas anteriores, lo que nos permitirá reducir el daño del enemigo, aunque parte de esa finalidad es aprovechar la condición de batalla diversificar ese daño.
Daño: Como se muestra en la descripción de la condición de batalla, a mayor daño, podemos eliminar cartas con mayor facilidad. Y por ende avanzar en la línea enemiga.
Ataques repetidos: Hay cartas que tienen la habilidad de atacar 2 veces, aunque estas no siempre son de daño mágico, su daño físico suele ser alto o medio, lo cual nos permite aprovechar la condición de batalla. (También entran en juego cartas que cuentan con 2 tipos de daño).
Let's talk about this battle condition.
---
The EXPLOSIVE WEAPONRY battle condition is one of the most chaotic conditions, in my opinion, since it gives more importance to abilities that allow attacking cards in secondary positions, to prioritize reducing enemy damage.
in this battle condition we can have 3 decisive factors
Speed: By having speed priority, we can eliminate the tank or previous cards, which will allow us to reduce the enemy's damage, although part of that purpose is to take advantage of the battle condition to diversify that damage.
Damage: As shown in the description of the battle condition, the higher the damage, the more easily we can remove cards. And therefore advance in the enemy line.
Repeated attacks: There are cards that have the ability to attack twice, although these are not always magical damage, their physical damage is usually high or medium, which allows us to take advantage of the battle condition. (Cards that have 2 types of damage also come into play.)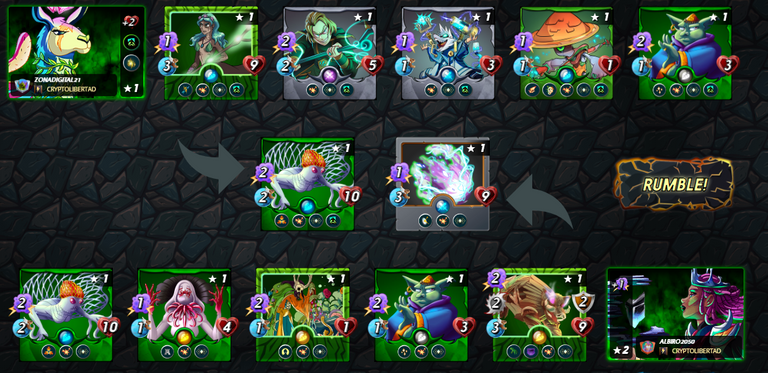 Con la condiciones existentes, los dos priorizamos el daño, así como la curación requerida.
En ambos casos optamos por 2 tipos de tanque, atracción de ataques y alta vida, lo cual es una estrategia adecuada, aunque la posición de mi enemigo fue la mas adecuada, ya que evita el daño y desgaste de su cartas, y en mi lado, el daño afecta a una de mi cartas traseras, lo cual hace que tenga una desventaja de resistencia.
---
With the existing conditions, we both prioritize damage, as well as the healing required.
In both cases we opted for 2 types of tanks, attraction of attacks and high health, which is an adequate strategy, although my enemy's position was the most appropriate, since it avoids the damage and wear of his cards, and in my side, the damage affects one of my back cards, causing it to have a resistance debuff.


Desventajas:
---
Nuestro enemigo cuenta con un invocador con 3 tipos de beneficios, en la que el aumento de vida es la más notable, pues retrasara mucho del daño, lo que permitirá a sus cartas optimizar su daño.
Cuenta con un daño aceptable, así como un sanador que no recibirá ataque alguno, lo cual debí tomar en cuenta antes.

Cuenta con 2 tanques que tienen un gran buff de invocador.
considero que si hubiera usado una carta que devuelve el daño como tanque, el resultado hubiera sido el otro.
Disadvantages:
---
Our enemy has a summoner with 3 types of benefits, in which the increase in life is the most notable, since it will delay much of the damage, which will allow his cards to optimize their damage.
It has an acceptable damage, as well as a healer that will not receive any attack, which I should have taken into account before.

It has 2 tanks that have a great summoner buff.
I believe that if I had used a card that returned damage as a tank, the result would have been the other.


Ventajas:
---
Aunque priorice el daño, mis cartas que no son tanques cuentan con poca vida, aunque como tan, el tanque principal es la prioridad.
Contamos con un sanador que no será dañado, y su sanación permitirá reflejar más daño de parte del tanque en primera posición.
Contamos con una resurrección para evitar poder optimizar el daño de alguna de las cartas.
Contamos con una carta de ataque doble, que nos permitirá poder realizar el mayor daño posible.
Considero que usar a Reyna Mycelia por la armadura que proporciona fue un error, pues no tome en cuenta la condición de solo cartas de daño mágico.
Advantages:
---
Although I prioritize damage, my non-tank cards are low health, but as such, the main tank is the priority.
We have a healer that will not be damaged, and its healing will reflect more damage from the tank in first position.
We have a resurrection to avoid being able to optimize the damage of any of the cards.
We have a double attack card, which will allow us to do the most damage possible.
I consider that using Reyna Mycelia for the armor she provides was a mistake, since I did not take into account the condition of only magic damage cards.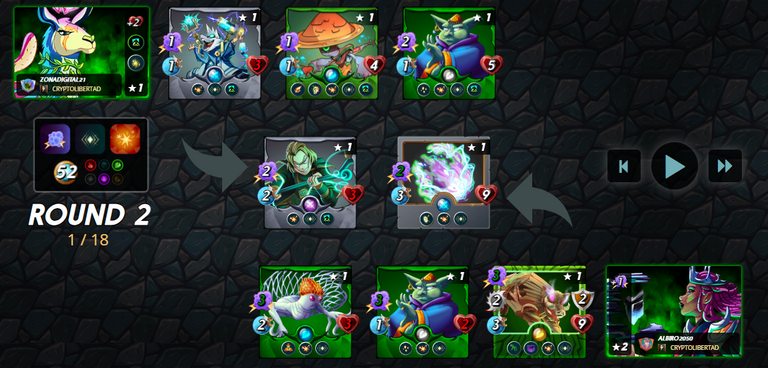 Como vemos por mi error en colocar la carta de atracción de daño, mis sartas en posiciones anteriores fueron eliminadas con facilidad.
Aunque pudimos eliminar a sus tanques principales, así también nuestro primer tanque no sufrió daño, y permitirá poder eliminar a los enemigos por el reflejo mágico.
---
As we see from my mistake in placing the damage draw card, my strings in previous positions were easily removed.
Although we were able to take out their main tanks, our first tank also took no damage, and it will allow us to take out enemies by magic reflection.

Con todo lo antes mencionado, a pesar de mis errores cometidos, la carta que pude darme la victoria fue OAKEN BEHEMOTH, por su ataque doble, así como su alto daño mágico beneficiado por el invocador.
---
With all of the aforementioned, despite my mistakes, the card that was able to give me victory was OAKEN BEHEMOTH, due to its double attack, as well as its high magical damage benefited by the summoner.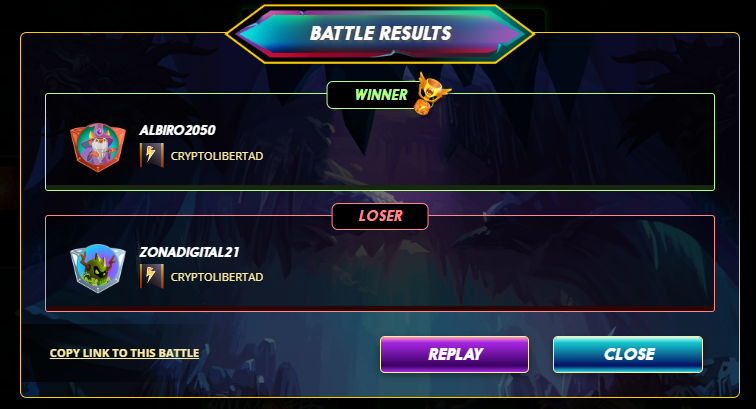 ---
Sin nada mas que decir, gracias por su atención, mucha suerte a todos y que un X10 llegue a sus vidas.
With nothing more to say, thank you for your attention, good luck to all and may an X10 come into your lives.

Todos elementos de las imágenes tomados de la página oficial splinterlands.com.. Los divisores tomados del Discord oficial de Splinterlands.
Para ver la batalla click aqui
---
All elements of the images taken from the official page splinterlands.com.. The dividers taken from Official Splinterlands Discord.
To see the battle click here

Referido aqui
Referred here

---
---