My participation in the weekly challenge/GARGOYA SCRAPPER |ESP | ENG|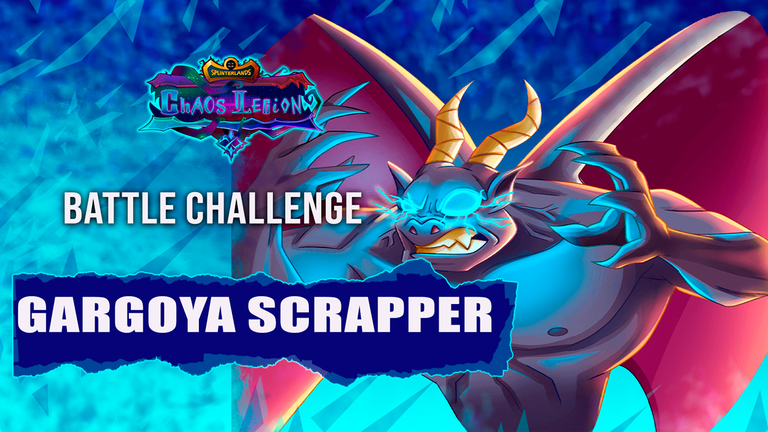 First of all a warm greeting to all, today friends I will be sharing my weekly challenge battle with you whose selected card was GARGOYA SCRAPPER, which belongs to the splinter of life and is also part of the CHAOS LEGION edition, then I will be describing how my lineup was structured and also I will tell you a little about the different mechanics and rules that governed the battle.
Primero que nada un cordial saludo a todos, hoy amigos estaré compartiendo con ustedes mi batalla del reto semanal cuya carta seleccionada fue GARGOYA SCRAPPER, la cual pertenece a la astilla de la vida y también forma parte de la edición CHAOS LEGION, luego estaré describiendo como fue estructurada mi alineación y también les contaré un poco sobre las diferentes mecánicas y reglas que rigieron la batalla.
Now then; about the rules applied in this battle were the following:
REVERCE SPEED which consists in that the monsters with the lowest speed attack first and have the highest probability of evading attacks. We also have an amount of 18 mana, based on this amount of mana and our previous diagnosis of the opponent and the rules of the moment we proceed to assemble our strategy taking into account that we must perform our challenge battle with the life element and also this time we can play with only four of the 6 splinters, according to the rules of the game, but we must select the one we need to perform the challenge battle.
Ahora bien; sobre las reglas aplicadas en esta batalla fueron las siguientes:
VELOCIDAD INVERSA que consiste en que los monstruos con menor velocidad atacan primero y tienen mayor probabilidad de evadir los ataques. También contamos con una cantidad de 18 de maná, en base a esta cantidad de maná y a nuestro diagnóstico previo del oponente y a las reglas del momento procedemos a armar nuestra estrategia teniendo en cuenta que debemos realizar nuestra batalla de desafío con el elemento vida y además esta vez podemos jugar con solo cuatro de las 6 esquirlas, según las reglas del juego, pero debemos seleccionar la que necesitamos para realizar la batalla de desafío.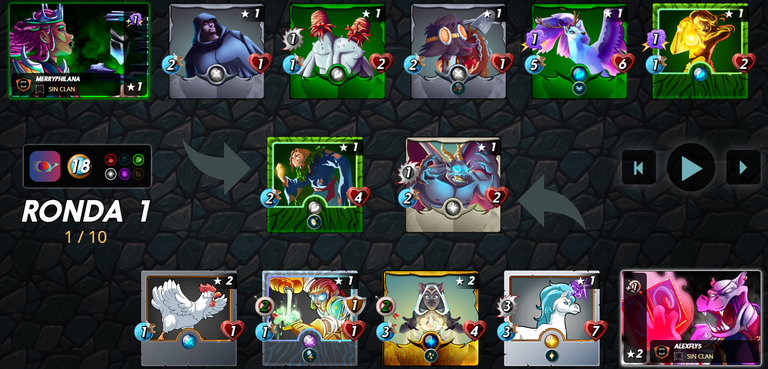 My Battle 🏆
---
Tell us about your lineup. Explain why you place each card in that position and why they fit well VENARI KNIFER ?
¿Cuéntanos sobre tu alineación. ¿Explique por qué coloca cada tarjeta en esa posición y por qué encajan bien con VENARI KNIFER ?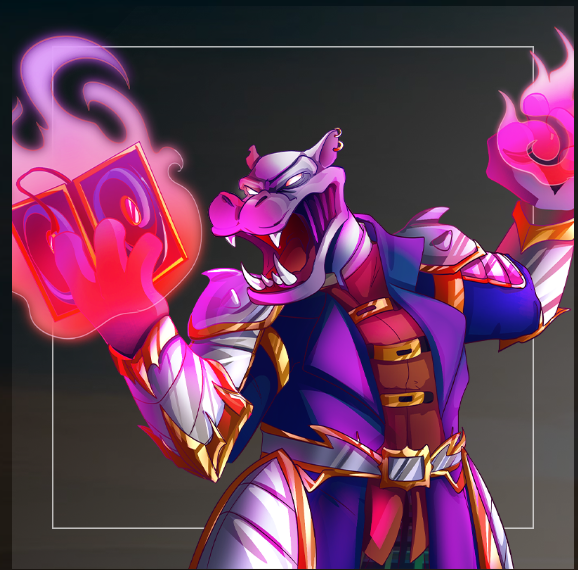 The summoner I used was GENERAL SLOAN, which had a cost of 4 mana and whose rarity is rare and also had the ability to grant one more ranged attack.
El invocador que utilicé fue el GENERAL SLOAN, que tenía un coste de 4 de maná y cuya rareza es rara y además tenía la capacidad de conceder un ataque a distancia más.
---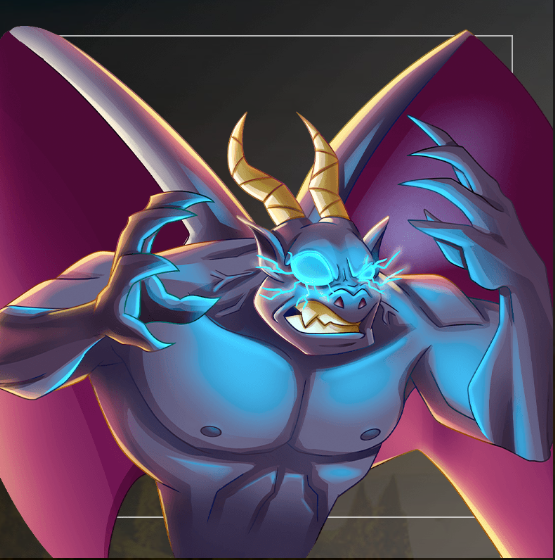 Subsequently the card that occupies the first place in my lineup is GARGOYA SCRAPPER, it has a cost of 1 mana, and its statistics are comprised as follows, 1 melee attack, 2 speed, 2 health and its rarity is common, it is important to note that from level 3 develops the ability of void which is to reduce magical attacks.
Posteriormente la carta que ocupa el primer lugar en mi alineación es GARGOYA SCRAPPER, tiene un coste de 1 maná, y sus estadísticas se componen de la siguiente manera, 1 ataque cuerpo a cuerpo, 2 de velocidad, 2 de salud y su rareza es común, es importante destacar que a partir del nivel 3 desarrolla la habilidad de vacío que es reducir los ataques mágicos.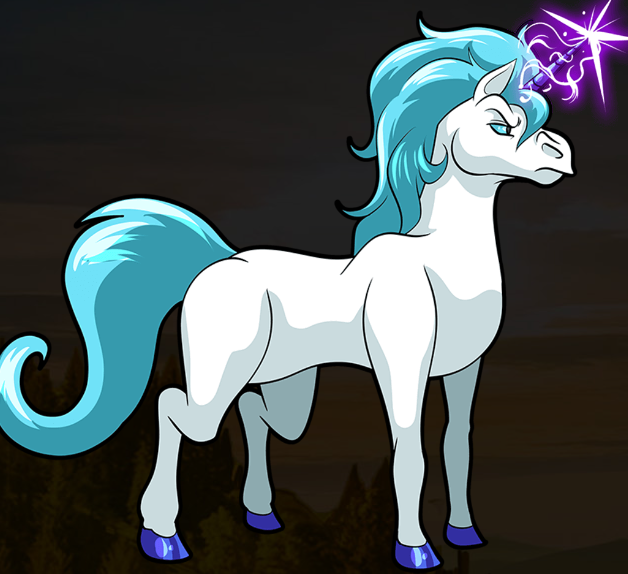 Then occupying the number 2 position in my lineup is SACRED UNICORN, which has a cost of 7, a melee attack of 3, and 3 speed, 7 life, also has the ability of HEAL which is to repair a portion of the health of the monster each round, on the other hand the rarity that has this card is legendary.
Luego ocupando el puesto número 2 en mi alineación está el SACRED UNICORN , que tiene un coste de 7, un ataque cuerpo a cuerpo de 3, y 3 de velocidad, 7 de vida, además tiene la habilidad de HEAL que consiste en reparar una parte de la salud del monstruo cada ronda, por otro lado la rareza que tiene esta carta es legendaria.
---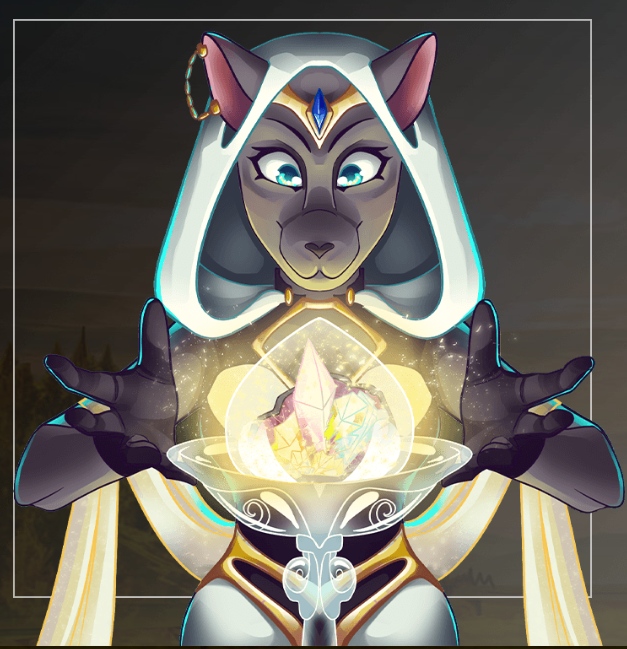 Next in the position number 3 of my lineup you will see VENARI CRYSTALSMITH, this card is a very useful card because of its statistics and in combination with the summoner that I played makes it stronger.
whose card has a cost of 4 mana, a speed of 2, and distance attack of 1, with a health of 4 and has a rare rarity, it is worth noting that also has the ability of tank heal which is to regenerate a part of vidad of the monster of the first position and from level 6 develops the ability of dispel.
A continuación en la posición número 3 de mi alineación verán a VENARI CRYSTALSMITH, esta carta es una carta muy útil por sus estadísticas y en combinación con el invocador que jugué la hace más fuerte.
cuya carta tiene un coste de 4 de maná, una velocidad de 2, y un ataque a distancia de 1, con una salud de 4 y tiene una rareza, cabe destacar que también tiene la habilidad de curar tanque que consiste en regenerar una parte de vidad del monstruo de la primera posición y a partir del nivel 6 desarrolla la habilidad de disipar.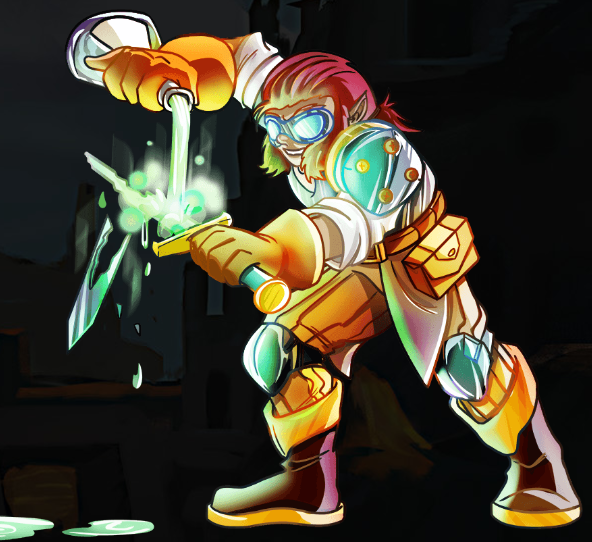 Next in the number four position of my lineup is the card HALFLING ALCHEMIST, which belongs to the neutral splinter and has an epic rarity, it also has the following characteristics: 2 mana, 1 ranged attack, 1 speed, 1 armor and 1 health. However, this card has the HALVING ability, which consists in reducing the attack power of the enemy monster by half when hit by it.
La siguiente en la posición número cuatro de mi alineación es la carta HALFLING ALCHEMIST, que pertenece a la astilla neutral y tiene una rareza épica, además tiene las siguientes características: 2 de maná, 1 de ataque a distancia, 1 de velocidad, 1 de armadura y 1 de salud. Sin embargo, esta carta tiene la habilidad HALVING, que consiste en reducir el poder de ataque del monstruo enemigo a la mitad cuando es golpeado por él.
---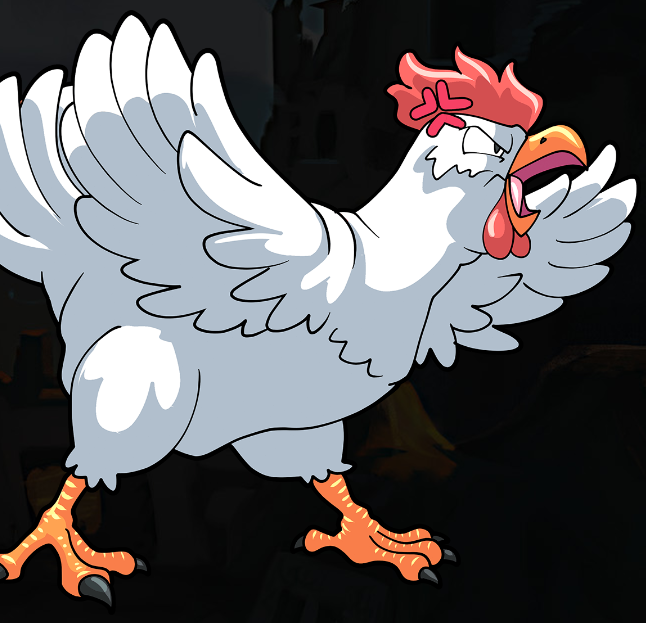 Occupying the last place of my formation is FURIOUS CHICKEN this card consists of the following statistics, one of speed, 1 of health and has a cost of 0 mana whose rarity is rare.
Ocupando el último lugar de mi formación está POLLO FURIOSO esta carta consta de las siguientes estadísticas, una de velocidad, 1 de salud y tiene un coste de 0 maná cuya rareza es rara.
---
Tell us about your lineup. Explain why you place each card in that position and why they fit well VENARI KNIFER ?
¿Cuéntanos sobre tu alineación. ¿Explique por qué coloca cada tarjeta en esa posición y por qué encajan bien con VENARI KNIFER ?
My strategy was based on resistance because the cards that had less speed attacked first according to the rules of the game so I played the card selected in the first position, as it is a melee attack card and a speed of 2, complemented with the card of the second position, which thanks to its ability to regenerate itself and an amount of life of 7 is a very good option to play it in the second position. and the other cards played and combining their stats and skills met the goal.
Mi estrategia fue basada, en resistencia por que que las cartas que tuvieran menos velocidad atacaron de primero según las reglas del juego por lo cual jugué la carta seleccionada en la primera posición, ya que es una carta de ataque cuerpo a cuerpo y una velocidad de 2, complementada con la carta de la segunda posición , que gracias a su habilidad de auto regenerarse y una cantidad de vida de 7 es muy buena opción de jugarla en la segunda posición. y las otras cartas jugadas y combinando sus estadísticas y habilidades se cumplió el objetivo.
Do you like GARGOYA SCRAPPER, why or why not?
¿Te gusta GARGOYA SCRAPPER? ¿Por qué o por qué no?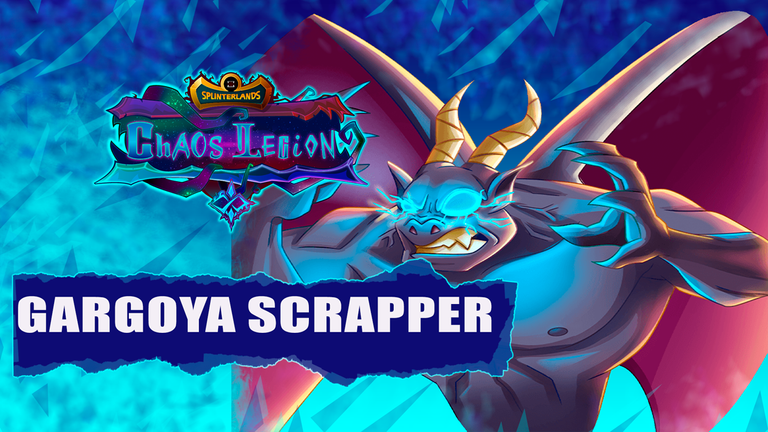 If I'm honest I don't really play much with this card, it can't be combined very easily in a lineup because of its stats. Well everything will depend on the battle we do in a certain occasion and if it suits us to play it.
Si soy sincero no juego mucho con esta carta de verdad, no se puede combinar muy fácil en una alineación debido a sus estadísticas. bueno todo dependerá de la batalla que realizamos en determinada ocasión y si nos conviene jugarla.
Traducción realizada con el traductor Deepl
---
---