Short interim report during 48th brawl - Kurzer Zwischenbericht während 48. Rauferei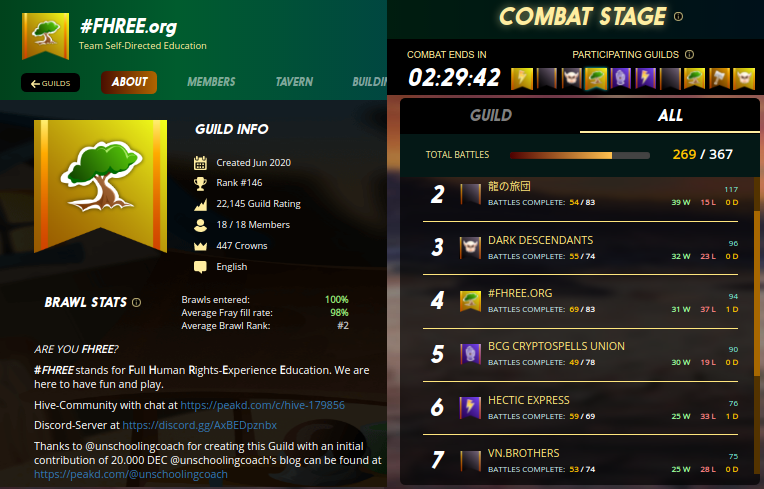 ENGLISH
Some reports I still have in the pipeline, a bit constipated from RL activities. But right now it is too exciting to hide this in the guild chat:
Good to see all of you actively brawling. We are at 4th place right now, just as we started from guild rank. 3rd and 5th place still near! What do you expect from this? Any clues?
I would love to see your comments and own posts here on-chain! Haven't you discovered the weekly Social Media Challenge yet? As you can see here, even short reports and sneak peeks are worthwhile. Made a little pretty with a modified screenshot and a link to a battle. Done.
Here's a battle from @anjadani in the latest brawl. Gladiator fun! (Screenshot taken after pressing the "Rumble" button and before starting the first attack!)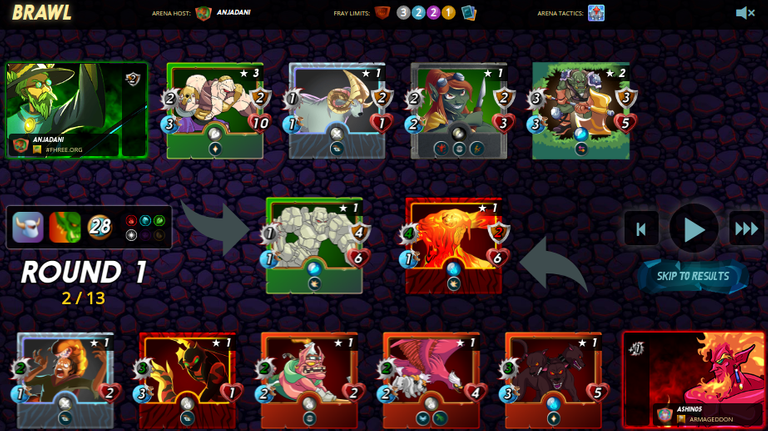 https://splinterlands.com?p=battle&id=sm_wR5q3UmNQhYIrapsAp0R&ref=anjanida
We hope to see you soon!
PS: If you want to read more from us, please have a look at our summary from 2019: Recap, Present, and Prospects
PPS: This post is mentioned at https://www.instagram.com/p/CWfxgJQNiyU/
---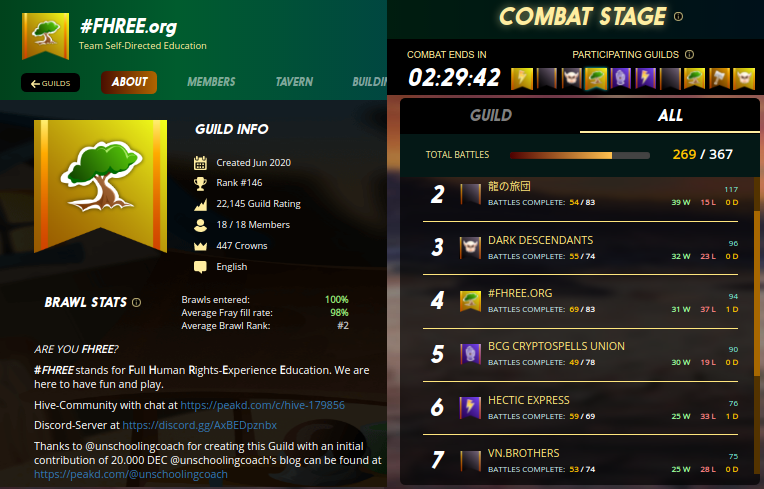 DEUTSCH
Einige Berichte habe ich noch immer in der Pipeline, etwas verstopf von RL Aktivitäten. Doch grade ist es zu spannend, um dies hier im Gilden-Chat zu verstecken:
Schön zu sehen, dass ihr alle aktiv zankt. Wir sind im Moment auf Platz 4, so wie wir vom Gildenrang her gestartet sind. Platz 3 und 5 sind noch in Reichweite! Was erwartet ihr euch davon? Irgendwelche Hoffnungen?
Ich würde mich sehr freuen, eure Kommentare und eigenen Beiträge hier on-chain zu sehen! Hab ihr die wöchentliche Social Media Challenge noch nicht entdeckt? Wie ihr hier sehen könnt, lohnen sich auch kurze Berichte und Einblicke. Ein bisschen hübsch gemacht mit einem modifizierten Bildschirmfoto und ein Link zu einem Kampf. Fertig.
Hier ist ein Kampf von @anjadani in der aktuellen Rauferei. Gladiatoren-Spaß! (Bildschirmfoto gemacht nach drücken das "Rumble" Knopfes und vor Beginn des ersten Angriffs!)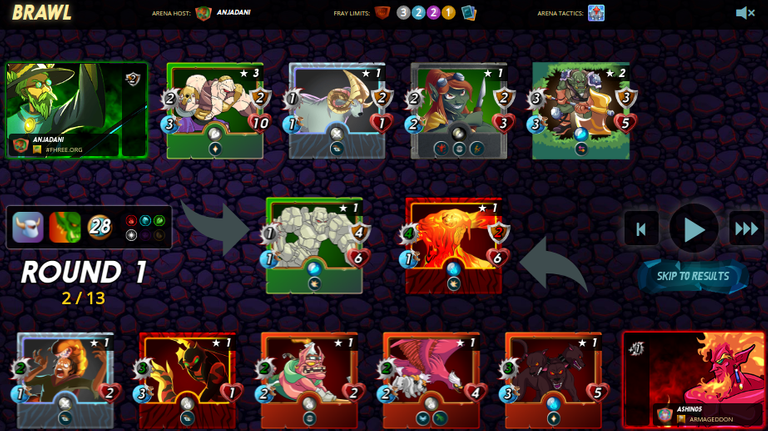 https://splinterlands.com?p=battle&id=sm_wR5q3UmNQhYIrapsAp0R&ref=anjanida
Hoffentlich auf bald!
PS: Wenn du mehr von uns lesen möchtest, wirf bitte einen Blick auf unsere Bilanz aus 2019: Rückblick, Gegenwart und Ausblicke
PPS: Dieser Beitrag ist erwähnt auf https://www.instagram.com/p/CWfxgJQNiyU/
---
---