SHARE YOUR BATTLE Weekly Challenge! MYCELIC MORPHOID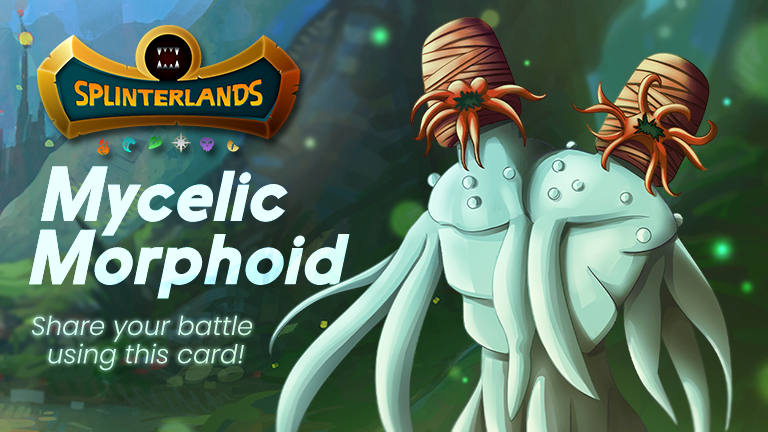 Hi everyone! It's time for the a weekly battle challenge, and the challenge this week is the Mycelic Morphoid.
---
Ruleset

Super Sneak: All Melee attack Monsters have the Sneak ability
Risk of the Commons: Only Common and Rare Monsters may be used in battles
Only the Life, Water, Death and Earth Splinters can be used
Mana Cap: 32

---
Cards & Line Up
The Summoner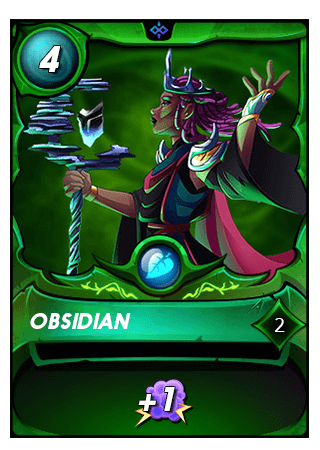 vs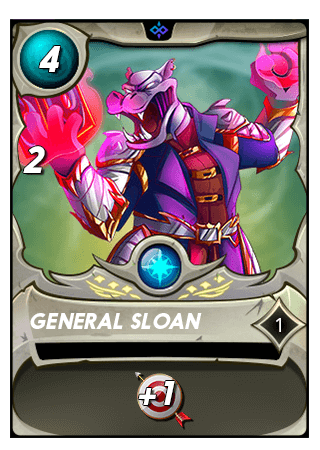 Summoner: Obsidian
- This increases the Magic attack of my whole deck by 1.
The Line Up
Position 1

Position 2

Position 3

Position 4

Position 5
vs
| Position 1 | Position 2 | Position 3 | Position 4 | Position 5 | Position 6 |
| --- | --- | --- | --- | --- | --- |
| | | | | | |
| Position | Name | Description |
| --- | --- | --- |
| 1 | Unicorn Mustang | It has high damage (3) and high health (10) and reduces Magic damage from attacks. |
| 2 | Regal Peryton | It'll benefit from the +1 Magic attack boost and acts as a secondary tank. It's high speed of 6 and Fly ability also allows it a good chance to dodge attacks. |
| 3 | Goblin Psychic | It has high Magic attack (2+1) and can heal the tank to let the tank last a little longer. |
| 4 | Mycelic Infantry | Placed in position 4, as it has the Shield ability, which will let it last longer should the opponent rake advantage of the Super Sneak ruleset. It has a good damage of 3 and can help take out the opponent backline in this ruleset. |
| 5 | Mycelic Morphoid | Placed in the last position, as it has the Thorn ability, which will hopefully do some damage to the the opponent if it gets attacked. |
Strategy
This strategy doesn't take full advantage of the Super Sneak Ruleset, as only the last 2 cards can utilise it. However, the strategy here is to try to take out the tank fast and hit the weaker backline at the same time. Unfortunately, the opponent used the Shieldbearer in the first position, which meant that I had to take out the tank first! I think I was also lucky that the opponent's card selection meant that he didn't concentrate all the attacks on the tank first. I might have otherwise lost. The Mycelic Morphoid also did its job, by taking out the opponent's Celestial Harpy with its Thorns.
Thoughts about the Card
I like the Mycelic Morphoid, but it's only good from level 3 onwards, as it has the Thorn ability. It is low cost card and can help to deal some damage to Melee attack Monsters if it's strategically placed.
---
Battle
Watch the battle here
---
---