Peakmonsters.com - Why I like to use this tool as a Splinterlands player


I was thinking about the next topic to I would like to cover, and the team at the PeakD discord channel just shared this
1 day challenge:
In what ways has PeakD.com or PeakMonsters effectively interacted with users to make a better User Experience?
I think this is a superb topic. This post will be mainly focus on the functionalities I use a lot and I believe improved my Splinterlands experience incredibly. I will include also a short guide how to use them.
---
Topics:
Check past rewards
Bidding for Collection Power
Check the value of my deck
---
Check past rewards
From time to time I click on the somehow miss to see my Daily Quest Rewards when I claim them. I really can't explain what happens. Sometimes I simply forget and want to check again. Peakmonsters has the tool for that, and you can check the rewards of the last 30 days including other market activities, like renting, buying or gifting cards.
To get there
Click your name on the top right corner of the screen.
Now select My Explorer in the dropdown menu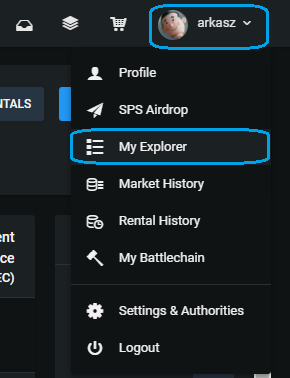 Now you will see a list of transactions. Click on (View details) to see what you got :)

This time I won Pelacor Mercenary, 24 DEC and 1 Legendary Potion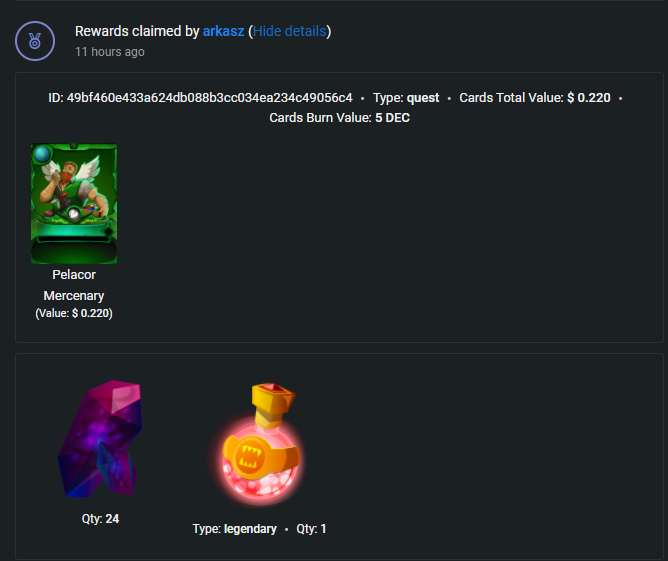 As you can see, below the Pelacor Mercenary you can right away see it's market value as well. Cool feature :)
---
2. Bidding for Collection Power
In the last month with the influx of new players it was from day to day harder to get cards for power. I have tried to rent out cards multiple times, but received the message, that the card is already rented out more often then not. This was a very frustrating experience and I often felt being cheated for not getting what I wanted.
The end of season massacre was a different beast. I tried to rent a card the last day of the season and it took me around 3 hours to get a card I liked - I believe often through a third party application, and in the meantime rental prices skyrocketed.
This was solved by a handy feature by Peakmonsters. The bidding system for collection power.
Currently I'm trying to stay get in the Silver 1 league, so I need to have at least 70.000CP so how can I rent cards in that value:
In the middle top left corner you can see multiple options. Choose the Rent option.
Now you will have a button on the right side. I'm already searching for CP to rent so the button shows my current settings. If you don't have a yet, then the button should read something like: Bid for Collection Power.

When you click on it the first time you will be asked, if you want to trust a few Peakmonster accounts with your keys, so they can handle the bidding process
On the next screen you can set up your bid. Let's go through the options:
Your BID: How much CP would you like to get for 1 DEC
Min: At least how many power do you need
Max: At most how much power do you need
Min per card: What should be the CP of the lowest card you will rent
So what does this mean. In our example I'm willing to pay 1 DEC for 1000 CP (YOUR BID).
I'm asking to get between 67500 CP (I have 2500 CP in my account) and 72500 CP. This range is important for the algorithm to have some opportunity to find more combination of cards which could fulfill my bid.
This also means, that I would pay between 67.5 DEC to 72.5 DEC daily for the cards.
You should always check the Current Bids table as well and check for a filter, which is near to your ask. That way you can see what bids were fulfilled recently and what offers were made recently. If you check the table, then you will see, that my 1000 CP/DEC won't be filled any time soon, as I'm heavily underbid at the moment so if I want to get cards, then I will need to adjust my BID.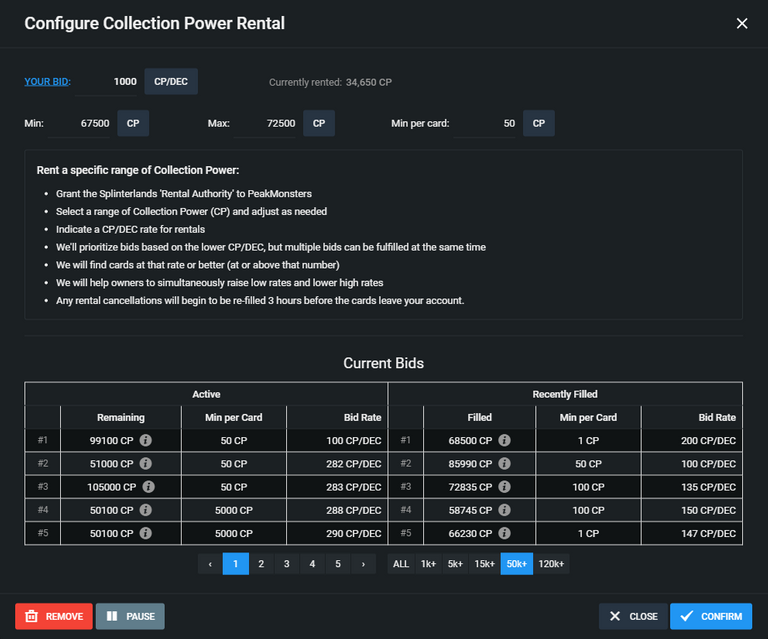 This tool saves a lot of time and nerves. Thank you Peakmonsters for implementing it.
---
Check the value of my deck
Last but not least let's check the value of my deck.
Go to My cards in the top left corner

Filter your Owned cards at the bottom of the right panel - and select Yes:

Now only your cards will be shown in the selection and on the top left you can see your accounts name and below that the Listing Price and Market Price of your cards and below that an overview of your rents.

Little tip. If you want to know which of your cards are ending the renting period so you can extend it or check which cards are getting cancelled, then use the following filters: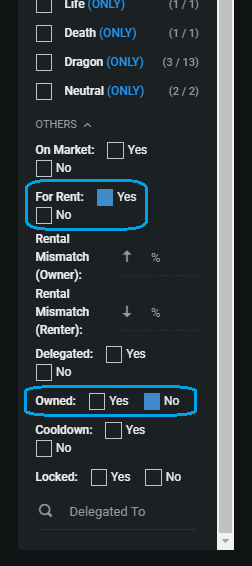 These were some of my favorite features in Peakmonsters.com. Hope you will find it helpful :)
---
---