Splinterlands: End Of Season Market Frenzy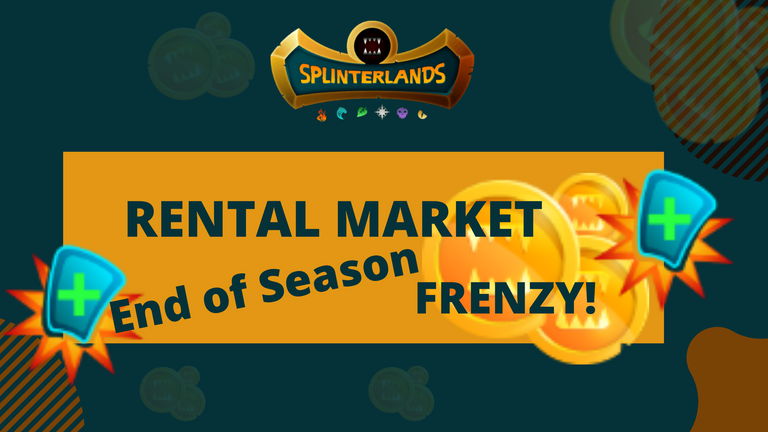 Splinterlands Rental
Splinterlands has become too popular the past weeks that any stat related to it is always off the charts. For new (and old alike) users, renting cards have become very useful in order to increase their collection value and rise up in the leagues.
Today, with just a few hours left for the season the market rental has gone crazy. I was there and got caught in the middle of the frenzy.
Silver Or Gold?
My rating is already for Silver II but I am 4k short of collection value and cannot league up, so I decided to check the rental market.
I was also feeling a bit competitive that I thought I might as well try to get up to Silver I collection power - 70k, so I kept my eye on Alpha Gold Foil cards.
If I were to rent an Alpha GF card, a rare will rank me up to Silver II and with another epic I can potentially league up to Silver I.
Given this thought, I still have a slight hesitation because last season, I spent 2000 DEC renting a Legendary gold foil but I was not able to maximize it (you may be aware of the connection issues we had last end of season) and even the 22 Loot chests did not let me break even.
Anyhooo...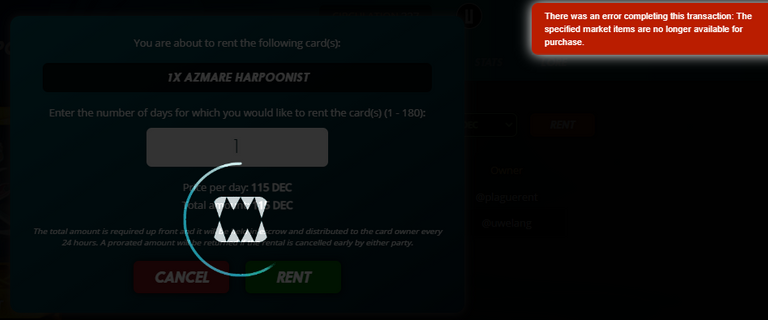 There was an error completing this transaction. The specified market items are no longer available for purchase.
As you can see in the photo above, I went on sniping for cards but it was crazy. The cards list and prices change dynamically and at some point it was really frustrating.
There was even a time when I clicked on a GF Scarred Llama listed for 650 DEC! 650 DEC!!!
Well of course I was not able to get it. It was gone in a blink.
So back to the list we go. Filter gold foils, check new listings. Click. Fail. Repeat.
I was not willing to spend over 500 on a day's rental. NO.
So I kept on sniping.
Until...
I got this Goil Foil Alpha card for 479 DEC. Now that's a great deal!
This added 150,000 to my collection power in which I could potentially reach Gold II. Of course, I know I won't be able to get to that anymore.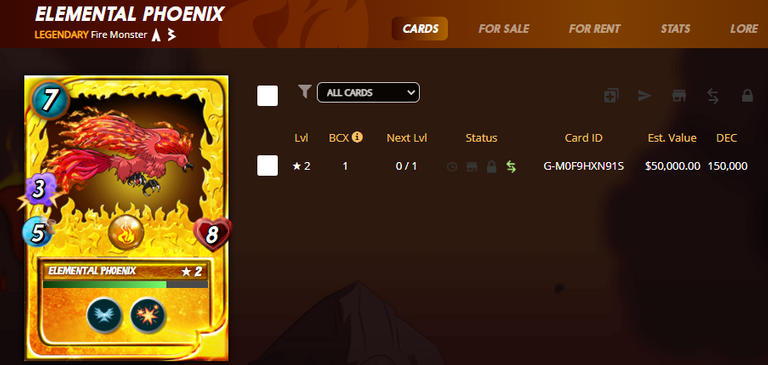 Renting Out
Now I have extra room to rent out my Gold Foil cards too. I don't have much, but thay can at least help me recover some DECs back.
How about you? How's the final stretch of the season so far? Already chilling out, or stressed?
I'm excited to see how the rewards will turn up tomorrow. Hopefully, I will get my value back from the loot.
---
Not playing Splinterlands yet?
Don't miss out on this amazing blockchain game and #play2earn now. Battle, trade, and earn! You can use my referral - https://splinterlands.com?ref=arrliinn to get started.
Cover Image Created via Canva.
Photos as screenshots taken from the game Splinterlands.com


---
---