Introducing the Hive Power Up Month - Let's grow every day!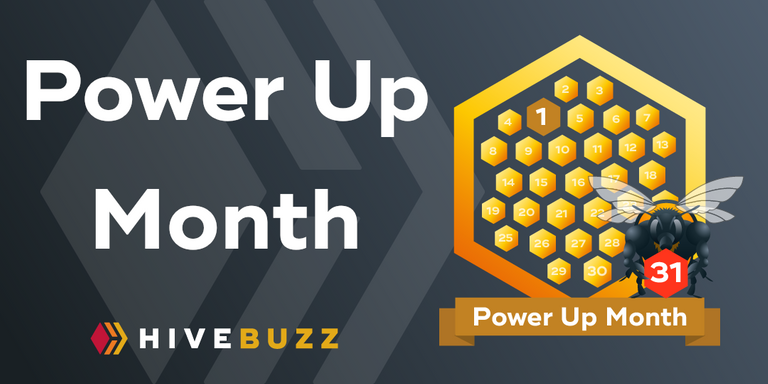 As many of you already know, the Hive Power Up Day (PUD) is taking place on the first day of every month. The idea is to provide the people from the community with a funny incentive to power up their HIVE, have their vote more valuable and strengthen their influence on the blockchain.
HiveBuzz supports the Hive PUD initiative for more than one year now and has created the well-known Power-Bee badge to reward participants.

Dieser Beitrag ist ins Deutsche übersetzt: hier


Este post está traducido al español - aquí


Une version en français de ce post est disponible - ici
Listening feedback from users
Although over time the Hive PUD has become a very popular event for users, we have also received some very interesting feedback.
Among them, many users told us it's sometimes hard to gather enough HIVE to power up at the end of the month, especially when you are a newcomer.
Others told us they don't want to stack their HIVE till the end of the month and prefer to do regular power-ups to directly benefit from better curation.
Then in her post about missing a Hive Power Up Day:

@bulldog-joy wrote:
Now listen up people and join the #hivepum. The Hive Power Up Month.
Every time I will post in June, via PEAKD btw, I will switch the Payout of the post to 100% Hive Power!
I am going to keep track on the HP so by the end of the month I will know if it was worth doing it or not. We all know that Powering up is always worth something, because it means staking and gaining...Pooooweeeerrrrr.
This was the trigger for us to start thinking about a new challenge and badge: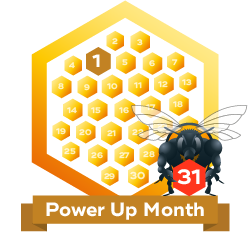 How to get this new Power Up Month badge?
This new PUM challenge will start on September 1st. It will last all month and here are the rules:
For each day of the month, you have 2 options:
Option 1:
As per @bulldog-joy suggestion, publish a post (a good opportunity to get the Daily and Monthly Author badges too) and set the payout mode to "100% Hive Power" or "Power Up 100%" depending on which frontend you use.
To do so, click on Advanced settings to change the payout mode before publishing.
Your post must generate a payout to be eligible
You cannot upvote yourself (to avoid cheating with rule 2 and deserve your badge)
Option 2:
If you aren't planning on posting or have no idea what to write about someday or just aren't a blogger at all, you can alternatively:
power up at least 1 HIVE instead of publishing.
You cannot powerdown during the month, i.e. not start a powerdown or generate HIVE from a running powerdown.
You can switch between options from one day to another. The main goal is to have some HIVE powered up every day of the month.
IMPORTANT:

HiveBuzz will use UTC date and time to validate posts and power-ups date. Therefore, check your timezone and convert your local time to UTC before doing so!
Strictly follow the above rules and this badge will be yours!
Badges will be distributed to the successful participants at the end of the Power Up Month.
---
Have fun and Power Up!
---
HiveBuzz is a project created by @arcange
---
---